Posted on
Tue, Sep 21, 2010 : 10:55 a.m.
'Ariel and Zoey (Eli, Too!)' celebrating TV launch at the Michigan Theater on Sunday
By Jenn McKee
In the last few years, local tween performers (and identical 11-year-old twins) Ariel and Zoey — and, more recently, their 9-year-old brother Eli — have laid the foundation for a music career, performing for military families at bases across the country; singing the national anthem at a Detroit Pistons game at the Palace and a Mets game at Shea Stadium; and doing a set at Top of the Park.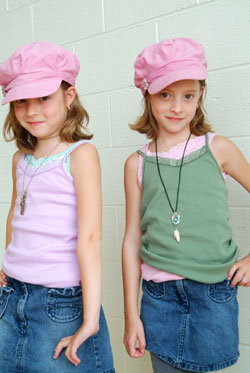 But with the launch of their new, half-hour, nationally syndicated television show, "Ariel and Zoey (Eli, Too!)," these youngsters are taking their aspirations in a whole new direction.
The show is expected to be shown in most major markets; local viewers will be able to find it on RTV (Retro TV — channel 297 on Comcast in Ann Arbor, channel 437 on Charter, or channel 7.2 from WXYZ-TV in Detroit over the air), but the day and time have yet to be announced.
Local fans can get a first peek at the show at a launch event at the Michigan Theater on Sunday, September 26 at 4 p.m., which will be hosted by local radio host Lucy Anne Lance and include a live performance.
Here's a trailer for the show:
13 months ago, during Ariel and Zoe's military base tour, "ideas started churning in my head," said Matt Engelbert, the duo's father and manager. "I started thinking that we could do a show, and that there's no other kids' show out there right now that's music-based."
To this end, Engelbert got together with reps from Gearhouse Creative, a Livonia-based production company, to hash out ideas and get the ball rolling on a new children's variety show.
"It all came together very quickly," said Engelbert, who studied voice and practiced law before focusing on guiding his kids' careers full-time. "I do all the writing for the show. I knew what I wanted it to look like. The one concern was, Ariel and Zoey and Eli are very comfortable on stage, but that doesn't always translate to being comfortable in front of a camera. Fortunately, though, it was pretty easy for them."
Though Engelbert didn't model the show on any other, he said it resembles "Sesame Street" a little in terms of its format, since there's a lot going on in a typical show; plus, he noted that "Ariel & Zoey (Eli, Too!)" targets kids older than "Sesame Street"'s audience and often includes guest interviews.
Who are the guests? The roster is impressive and thus far includes "American Idol" finalist David Archuleta; U-M football star alums Brian Griese, Steve Hutchinson, and Charles Woodson; celebrity pastry chef Courtney Clark; bluesman Madcat Ruth; native Ann Arbor band Tally Hall; and many more.
"We write really good letters," Engelbert said, when asked how he got so many guests to make time for an appearance. "We write really persuasive letters. … And when the musical acts come on, they usually perform a song or two with Ariel and Zoey and Eli and collaborate with them, which is this really great thing. … These folks have been very generous with their time so far. We've been really pleased."
Engelbert also credits his production team, whose talents in graphics and music set the show apart from the pack. A Chicago-based syndicator picked up the show, based on seeing its pilot, and in fact, the show has already begun to air in other far-flung parts of the country. Not that that was originally part of the plan.
"What that ended up doing was, it cost me three weeks of post-production time, which we really could have used," said Engelbert. "Not that I can complain too much. But Mike Kudreiko and I pretty much had to work non-stop. Between him and me, there was no extra time in the day for a while, because … (the episodes) had to be put to bed, and we'd thought we'd have another month with them."
PREVIEW
"Ariel and Zoey (Eli, Too!)" TV series launch event
Who: Local twins Ariel and Zoey, and brother Eli, Engelbert.
What: This event celebrates the debut of the syndicated television series "Ariel and Zoey (Eli, Too!)." Attendees will see highlights from the upcoming season, a live musical performance, and enjoy a meet-and-greet with the cast. (A portion of the proceeds will support the Ann Arbor Public Schools art and music programs.).
Where: Michigan Theater, 603 East Liberty Street.
When: 4 p.m. Sunday.
How much: $5. Tickets available at Ticketweb or at the door 30 minutes before the show.
Shooting for season two of "Ariel & Zoey (Eli, Too!)" is scheduled to get under way in October, when Engelbert and his family will aim to shoot about half an episode per week throughout the school year, resulting in approximately 15 new episodes. Each half-hour show consists of five segments, and each segment takes 3-5 hours to film, so Engelbert's plan is to space them out so as not to disrupt the kids' school life. (Ariel and Zoey are both home-schooled for the last hour of each school day, and Engelbert is quick to note that teachers and administrators in the Ann Arbor Public School system have been very supportive of the kids' projects.)
If shooting for the next season goes as smoothly as did the first, Engelbert will be happy.
"When we knew we were going to be shooting outdoors, the weather was good," said Engelbert. "When a guest said he would be on show, he showed up. Every segment went really smoothly, knock on wood. … We've learned a lot."
Jenn McKee is the entertainment digital journalist for AnnArbor.com. Reach her at jennmckee@annarbor.com or 734-623-2546, and follow her on Twitter @jennmckee.