Posted on
Fri, Oct 26, 2012 : 1:49 p.m.
Ariel & Zoey & Eli Too offering sneak peek of TV show at Michigan Theater
By Bob Needham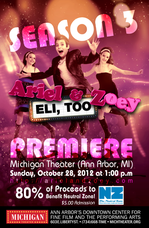 Ariel & Zoey & Eli Too
, the young local entertainers who have a syndicated TV show, will offer a sneak preview of their third season in a live appearance at the Michigan Theater on Sunday.
The event is scheduled for 1 p.m. Sunday, Oct. 28 at the Michigan Theater, 603 E. Liberty St. in Ann Arbor. Admission is $5, of which $4 will go to benefit the Neutral Zone teen center. Tickets are available at ticketweb.com.
For more on Ariel & Zoey & Eli, check out their website.