Posted on
Fri, Aug 12, 2011 : 5:01 a.m.
Ark show Thursday by Sumkali and vocalist Parag Ray reflects growing interest in Indian music
By Roger LeLievre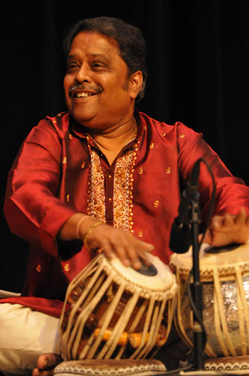 Lots of folks meet their perfect match over the Internet. For Ann Arbor Indian fusion group
Sumkali
, it was a Web posting by Windsor, Ont.-based Indian vocalist
Parag Ray
that brought the two musical entities together.
"She was wanting to play music, she searched on-line for Indian musicians and just gave me a cold call one night and wondered if we were interested in doing anything," recalled local tabla player John Churchville of his meeting with Ray.
"Two days after she called me we invited her to Indian night at Crazy Wisdom Tea Room. … She came, she was awesome and since then she's been working with our group."
Ray, who is originally from Kolkatā (formerly Calcutta), and Sumkali will team up for a night of classically influenced Indian music Thursday at The Ark. Ray is no stranger to Ann Arbor; besides the upcoming show, she performed here earlier this year at Kerrytown Concert House with Dave Sharp's Secret Seven.
Indian music is becoming more and more popular in the West, Churchville said.
"It's the instruments more than anything, I think. The music itself, sure, but I'm hearing tabla drumming on commercials. You hear sitars in ads… the culture is kind of infiltrating in a lot of ways and the music is sneaking in there," he said.
"When we do Indian music night at Crazy Wisdom Tea Room, people say they've never heard anything like it. I say 'Well now that you've heard it, you're going to hear it everywhere, because it's all over the place, once you know what you're listening to.'"
Sumkali is a 10-member ensemble, with Westerners making up about half the group, Churchville said, adding that the cross-cultural challenge is finding the common thread.
PREVIEW
Sumkali, with Parag Ray
Who: Rising Indian vocalist joins local Indian music group led by tabla drummer John Churchville.
What: Classical traditions and sounds of Indian music with a touch of American jazz and funk.
Where: The Ark, 316 S. Main St.
When: 8 p.m. Thursday, Aug. 18.
How much: $15. Tickets available from The Ark box office (with no service charge); Michigan Union Ticket Office, 530 S. State St.; Herb David Guitar Studio, 302 E. Liberty St.; or Ticketmaster.com.
"What I've found is that more and more that challenge goes away once you sit down and start playing the music," he said.
Parag Ray has been in Windsor since 2000 and is a trained Hindustani classical singer.
"The mainstream or Bollywood music is not typically what interests me and I hope that no one defines Indian music by those industry standards," Ray explained. "The transgression of the Indian classical music in Western world is, however, very interesting (and) has a lot to do with great Indian musicians such as Ravi Shankar, Nusrat Fateh Ali Khan and Zakir Hussain's presentations and their avid interest in sharing their work with the Western artists and audience.
"Local bands like Sumkali and Dave Sharp's Secret Seven are also reasons for the increasing appetite for Indian music here," she added. "Their true dedication to travel, learn and integrate their knowledge of Western music with the Indian classical forms and instrumentation bodes to a bright future of music here in general."
Churchville said that once he discovered Indian music, in 1998, he never looked back.
"I went to Cal Arts (California Institute of the Arts) … the night I saw a tabla performance it changed everything. These guys played music that just spoke to me - I understood. The drumming suddenly felt like rock and roll, it felt like I was at a blues concert, I felt the emotion, I felt the groove, it instinctually felt right to me," he recalled.