Posted on
Sun, Aug 25, 2013 : 10:50 a.m.
Veteran-turned-author Luis Carlos Montalvan and his service dog Tuesday to appear at AADL
By Roger LeLievre
Capt. Luis Carlos Montalvan, 17-year U.S. Army veteran and best-selling author of the inspirational memoir "Until Tuesday: A Wounded Warrior and the Golden Retriever Who Saved Him," will appear at the Ann Arbor District Library downtown Thursday night.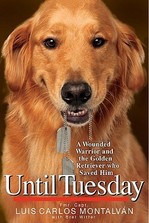 Courtesy
Accompanying him will be his faithful service dog Tuesday, the golden retriever mentioned in the title of Montalvan's bestselling memoir, which was co-written by Louisville, Ky.-based author Bret Witter.
From issues relating to service members, veterans and their families to those pertaining to Americans with disabilities, Montalvan, who received two Bronze Stars and the Purple Heart, is a vocal public advocate. A movie about their journey is in production.
This event includes a book signing and books will be for sale.
Luis Carlos Montalvan will appear at the Ann Arbor District Library, Downtown (main) Branch, 343 S. Fifth Ave., Thursday, Aug. 29 at 7 p.m. Admission is free. Details at www.aadl.org or 734-327-4200