Posted on
Mon, Oct 17, 2011 : 5:26 a.m.
Art Walk artist profile: Annette Baron
By AnnArbor.com Staff
Washtenaw County's annual Art Walk takes place this weekend, offering residents a chance to visit artists' workshops and galleries to highlight the local visual arts. More than 30 locations are taking part in the event, with a map available here. In conjunction with the Arts Alliance, which sponsors the event, each day this week AnnArbor.com will spotlight a participating artist. For more information, see the Art Walk website.

Name: Annette Baron.
Age: 55.
Community: Ypsilanti.
Artistic medium: Glass, Glass, Glass. Furnace Glass Blowing, Fusing & Slumping and Bead Making.

Art Walk exhibit location: 838 Railroad St. Ypsilanti. baronglassworks.com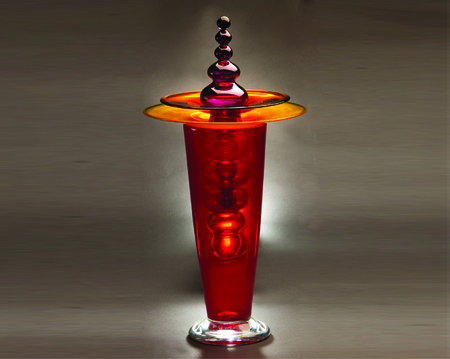 Why did you decide to participate in Art Walk?
Baron Glassworks is a long-time participant in the Art Walk. My students and I always look forward to this event where we can share our studio with the community. The Art Walk is a time to showcase our work and the classes that we offer. Individuals with no prior experience can make a piece of blown glass with an experienced instructor. Info at
baronglassworks.com
.
What would you like people to know about your work?
Throughout my career I have turned to the vessel as metaphor. A vessel can be the smallest hollow in an object or have no physical presence at all. It can present, protect and preserve or obscure and conceal. The body is a vessel for the soul. Glass is a vessel for light.
In much of my work I use simple colorations and forms that are assembled into 'Stacks' of intersecting pieces. Relying on the translucency of glass my compositions explore the interaction of color in the Polychrome Group and the subtle acceleration of color saturation in the Monochrome Group.
Why is Art Walk important to the community?
The Art Walk has become an essential part of the arts community in Washtenaw County. The entire community is welcome to discover and explore the vast range of art and art experiences that exist in our unique area.
P.S. About my passion: Why I share this experience through teaching. Working with molten glass is a confounding mix of spontaneity and restraint. Once started, a piece must remain in motion until completion. No time to reconsider, no back tracking. Fire and heat dictate the flow of time and motion. Molten glass is a graceful substance that must be formed while alive with heat. The glass blower appears to be in control of the glass. In reality, the artist is reading and responding to the material as the work takes on its final shape. This experience is like no other. It is transforming.