Posted on
Wed, Oct 19, 2011 : 5:35 a.m.
Art Walk artist profile: Chelsea Center for the Arts
By AnnArbor.com Staff
Washtenaw County's annual Art Walk takes place this weekend, offering residents a chance to visit artists' workshops and galleries to highlight the local visual arts. More than 30 locations are taking part in the event, with a map available here. In conjunction with the Arts Alliance, which sponsors the event, each day this week AnnArbor.com will spotlight a participating artist. For more information, see the Art Walk website.

Name: Chelsea Center for the Arts
Age: 16 (first opened in 1994).
Community: Chelsea and the surrounding communities.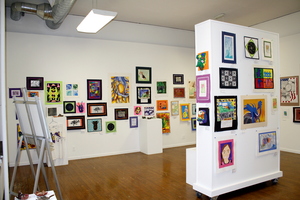 Artistic medium:
Quality instruction in music, and the visual and literary arts. Exhibitions, workshops, lectures and special events further enhance our mission of engaging our community in meaningful artistic experiences.
Art Walk exhibit location:
400 Congdon Street, Chelsea. (Corner of Congdon and Summit)
Why did you decide to participate in Art Walk?
Chelsea is a richly vibrant and artistic community, and Chelsea Center for the Arts is proud to be a part of that.
What would you like people to know about your work?
CCA is here for the community, and through the generosity and support of our patrons, donors, sponsors and friends.
Why is Art Walk important to the community?
Art Walk showcases each location and what is unique about that area. Also, it is a celebration of all things art!