Posted on
Tue, Oct 18, 2011 : 5:27 a.m.
Art Walk artist profile: Paul Hickman
By AnnArbor.com Staff
Washtenaw County's annual Art Walk takes place this weekend, offering residents a chance to visit artists' workshops and galleries to highlight the local visual arts. More than 30 locations are taking part in the event, with a map available here. In conjunction with the Arts Alliance, which sponsors the event, each day this week AnnArbor.com will spotlight a participating artist. For more information, see the Art Walk website.

Name: Paul M. Hickman + Urban Ashes
Age: 46
Community: Ann Arbor - Northwest side

Artistic medium: Limited Edition Digital Prints (photo montages of complex chromatic textures and compositions) + Urban Ashes Furniture & Picture Frames (made with urban salvaged wood)
Art Walk exhibit location: Gallery/Studio/Residence - 715 Pomona Road, Ann Arbor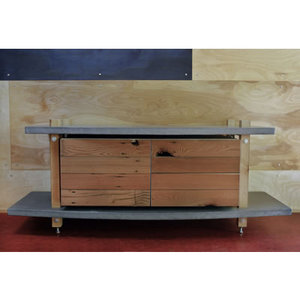 Why did you decide to participate in Art Walk?
As an Ann Arbor artist/designer, I like the idea of opening up my studio/gallery to the public and meeting many new people that I would never get a chance to do with the non-storefront studio space I work out of.
What would you like people to know about your work?
I would like people to be aware of the wide range of art and functional objects I create utilizing locally sourced salvaged materials. My professional career has allowed me to obtain a broad and often unconventional design base for my current work in furniture, picture frames and digital prints. One of my main goals is to let the materials or elements of each piece speak for themselves within an imposed structural format.
Why is Art Walk important to the community?
Art Walk is important because it is good for the local economy. It shows the public that they do not need to wait for the July art fairs to find great art in Ann Arbor. We have the talent here year round and supporting the local artists keeps the money in Ann Arbor instead of it going to other states or countries when the public buys from non-local artists. I also feel the event is extremely important as a rare chance to see behind the scenes, allowing the public to see directly into the studios and lives of practicing artists. This makes "The Arts" more accessible and fosters stronger connections between the art buying community and the local artists.