Posted on
Fri, Mar 8, 2013 : 5:11 a.m.
Acclaimed Artemis Quartet making its first Ann Arbor appearance with intriguing program
By Susan Isaacs Nisbett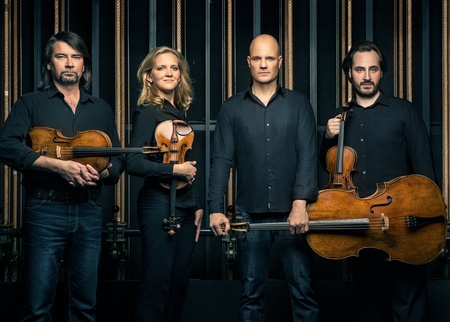 In a town like Ann Arbor, where the world's great musicians come regularly to the doorstep, it's still occasionally our turn to play catch-up.
Chamber music fans do just that Wednesday, when the Berlin-based Artemis Quartet makes its University Musical Society debut at Rackham Auditorium.
Founded in 1989 and quickly winning some coveted awards, the Artemis turned professional in 1994 and has continued its ascension ever since: residence at Konzerthaus Vienna; a regular series a the Berlin Philharmonie; professorships at the Universitat der Kunste in Berlin and the Chapelle Reine Elisabeth in Brussels; and an upcoming season playing and programming at Paris's Salle Pleyel.
Though the quartet is known for its classics, it's also known for an interest in contemporary music—for its own sake and for its ability to wake up the ears not just of audiences, but of the musicians themselves.
The program the group brings to Rackham Wednesday is virtually guaranteed to be ear opening: two Mendelssohn Quartets (D Major, Op. 44, No. 1; and f minor, Op. 80) bookend selections from J.S. Bach and Astor Piazzolla arranged for string quartet and played in alternation.
PREVIEW
The Artemis Quartet
Who: Highly regarded German chamber ensemble.
What: Mendelssohn quartets surround interleaved selections from Bach and Piazzolla that form an unusual, interesting central section for this concert.
Where: Rackham Auditorium, 915 W. Washington St.
When: Wednesday, March, 13, 7:30 p.m.
How much: $20-$42. Tickets available from the UMS Michigan League Ticket Office, 734-764-2538, and online at ums.org.
"We've made a sort of suite," cellist Eckart Runge said in a recent phone conversation from Berlin.
Runge, the sole Artemis founding member still playing with the group—"I'm the last of the Mohicans," he quipped—said the program came about through the group's recent interest in Mendelssohn.
"We've been focusing on a lot of Mendelssohn this year, which is kind of new for our quartet," he said. This year, we played four of the (six) quartets plus the octet, so we got a really good overview of the quartet work. We've been enjoying them—we really think the quartets are underrated—and it's amazing how classical and yet romantic they are."
Those last qualities—classical and romantic at once—gave rise to the "stuffing" of the current program, in which pieces by Bach, drawn from the "Art of the Fugue" and "The Well-Tempered Clavier," alternate with Piazzolla tangos originally written for a stage play.
"We thought it would be very interesting," Runge said. "Mendelssohn had a strong connection to Bach—he was one of the people who rediscovered Bach and performed his music, which hadn't been performed in Germany for many years."
The link between Bach and Piazzolla was counterpoint.
"Since we love to experiment with non-classical music and we had had a Piazzolla project a couple of years before, we were asked to do it again," Runge said. "But we thought it would be a great idea to combine it with Bach. Piazzolla has a strong connection to the contrapuntal tradition through his teacher, Alberto Ginastera, in Buenos Aires. That's where he encountered Bach. He wrote tango fugues—many of them. It seems like a contradiction, but the two forms are much closer than you would think.
"The tango is a regimented art form, just like the fugue, and the interaction of voices fascinated Piazzolla. So he integrated polyphonic writing, with several voices on the same level of importance, into his style. He called it 'Tango Nuevo,' or New Tango." We thought it would be an intriguing combination. We've played it a couple of times now, and we're excited to bring it to the States."
In picking the Bach and Piazzolla pieces, the quartet sought out complementary pairings, ones which highlight not only counterpoint, but rhetorical devices and improvisatory aspects. "We think of it as one big movement or suite," he said, "and we invented transitions between the pieces."
So no need to applaud after each Bach or Piazzolla selection. Save it for the end, when it will certainly be merited, given the reputation that precedes the Artemis before its UMS debut.