Posted on
Wed, Jun 13, 2012 : 10:23 a.m.
Artist Marcia Polenberg throws a 'birthday party' with her solo show at Clay Gallery
By Jennifer Eberbach
Currently on exhibit at the Clay Gallery, a series of artworks by Marcia Polenberg create a scene from a child's birthday party that tells a compelling story about wonder, inspiration, and mortality. "The Birthday Party & Invited Guests," which will be on display through June 30, is an installation of artworks in terracotta, stoneware, painting, drawing, print, and collage that do well to work together as a whole. All of the artworks are for sale individually.
At the center of the scene, sculptural busts of children are gathered around the table to celebrate the birthday of a macaque monkey.
Upon approaching the central installation for the first time, I was immediately drawn into the scene by all of the bright colors, the energetic faces of the children, and its delightful silliness. The way it is set up, the gallery visitor becomes one of the "invited guests" and there is a sense that you are part of the scene.
You are also in the company of other guests—depictions of artists and thinkers who have inspired Polenberg as an artist. A series of busts, paintings, drawings, and mixed media 2D works depicting these deceased or aged people circle the table like parents keeping a watchful eye over the party.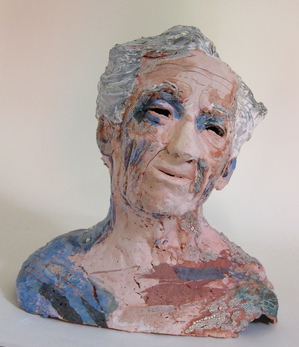 The "invite guests" include busts of writer Elie Wiesel, artist William Morris and his wife Jane, artist Auguste Rodin, and Rembrandt. And 2D works depict poet Stanley Kunitz, artist Robert Rauschenberg, current Ann Arbor artist Ellen Wilt, Michigan painter Tom Nuzum, photographer Richard Avedon, artist Elizabeth Catlett, artist Frida Kahlo, and writer Philip Roth.
Inspired by an old photograph that survived in her family photo album, she updates the memory of going to a neighborhood kid's birthday by depicting her own granddaughter, a friend's daughter, and a multicultural array of kids' faces from photographs she has seen.
When she found her old photo, she thought, "what a wonderful thing it would be to preserve that sense of childhood happiness. I wanted to capture wonderment on their faces. As you get older, you can get jaded and may not even want to celebrate your birthday. But as a kid it is really important and magical."
"Then the children are surrounded by adults who are like caretakers from the past. They are guardians who may inspire the next generation some day," the artist explains. "Giving them form in an artwork keeps them alive. It's a little reminder of our strength and our mortality," she says.
Polenberg depicts a number of her favorite artists and thinkers in bust form—a typical way to honor men and women of note. However, the way she treats the surface of the works is much less ordinary. "The facade of what people look like on the outside is nowhere nearly as interesting as what someone is on the inside. There is so much beneath the surface," she says. It is with that in mind that she works with color in "a painterly way," repeatedly firing on layer upon layer of slips and glazes. She says this brings out each person's humanity, personality, and even their flaws.
Sometimes she fires pieces as many as 10 times to achieve the look she wants. The different colors and textures in the glaze accumulate "just as our experiences accumulate with age," she says. By comparison, the youthful faces of the children are smooth and untainted by life experience.
She does not shy away from hinting at character flaws. For example, two busts of William Morris, an Arts & Crafts movement artist, and his wife, Jane, hint at how infidelity entered into their marriage. "Jane had a major affair with another artist. At one point, William was in Iceland and she was living in his home with her lover. I decided to depict her as her lover depicted her, yet she is there with her husband," she explains.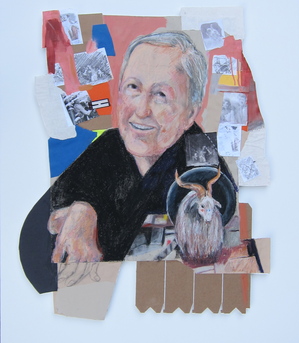 Polenberg's 2D works, a combination of painting, drawing, and collage, similarly depict artists and thinkers who inspire her. As with the busts, she tries to "go beneath the surface" by including elements that express their personalities and creative contributions to society. For example, an artist who has had a big influence on Polenberg is Robert Rauschenberg. She depicts him in his later years in a style that pays homage to his famous 'combine paintings'. A sign of his mortality, his right hand rests limply due to a stroke.
Another homage she pays in the show is to the macaque monkey, an endangered animal. Aside from the "birthday boy," another sculpture of a macaque looks on as one of the invited guests. "I went to the Detroit zoo a couple of years ago and discovered these macaques. Then I found out they were being phased out of the breeding program, which is all the more reason to give him a place of honor," she explains.
Featured on shelves along the back wall of the gallery, cupcake sculptures, monkey head-shaped coffee mugs, mugs shaped like human faces, cats, and other animals, and other small pieces are also for sale. You might think of them as the gifts at the party, which might make good gifts for yourself or a friend.
The juxtapositions between youth and age, the endless possibilities of childhood and our inescapable mortality, and the past and present work well to create an installation that invites deeper contemplation.
The Clay Gallery is located at 335 S. Main St., Ann Arbor. For more information, see the website, claygallery.org/