with gallery:

Artist Margaret Parker reflects on her art and contribution to 'Percent for Art'

Posted on Wed, Apr 18, 2012 : 5:33 a.m.
After dedicating a lot of time and effort to Ann Arbor's Public Art Commission over the past decade as a commissioner and former chair, local artist Margaret Parker is happy to turn all of her focus to her own art now. At a turning point in her career, she is excited about her newest artworks and says her past effort to bring a "Percent for Art" program to Ann Arbor "has been my biggest accomplishment, so far."
Parker and other AAPAC commissioners were under public scrutiny—both praised and criticized—for encouraging the City Council to adopt an ordinance in 2007 that sets aside 1 percent of the budget for all capital improvement projects for public art. Up to $250,000 can be spent on a project. The City's purchase of the water sculpture installed at the new municipal center by famous German artist Herbert Dreiseitl sparked particular debate.
Parker's opinion on the matter is clear: She is all about setting aside money for more public art in Ann Arbor. "It's way too easy to cut the arts. People question its value. But things that make you think and feel, and art that expresses what your community is about is invaluable," she says.
"What I loved about it was that there we were in City Council chambers having a big discussion about art. Everyone took it seriously, and no one said they didn't want public art. There are some who didn't want the public to pay for it." she explains.
Her interest in advocating for public art began decades ago, when she and her husband, Downtown Home and Garden owner Mark Hodesh, lived in Maine. The U-M art school graduate was doing murals at the time. "Maine had a statewide percent for art program, so I went to the state to find out how to get involved," she says. When the couple moved back in Ann Arbor, she started looking for funding opportunities.
"I was on the Public Art Commission in one way or another for over 10 years. I felt really strongly about art, and I found out that I was good at talking about it. I feel strongly that art shouldn't only be in galleries. It should be where everyone can see it," Parker says.
These days, Parker is taking what she learned from her stint on the commission and applying it to furthering her own career as a fine artist.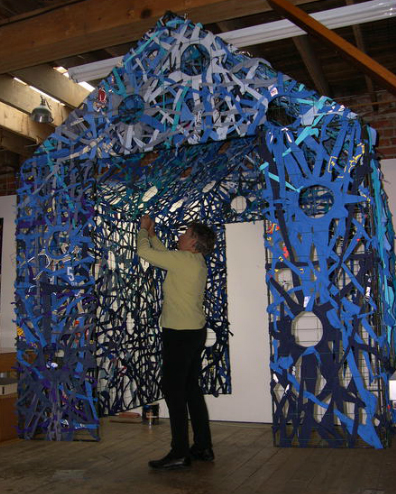 Her favorite material to work with right now is T-shirts. She tears them up and weaves them together into sculptures and installation pieces. Her newest piece of T-shirt art, "Dream House," was on display during the Ann Arbor Film Festival at Downtown Home and Garden.
In "Dream House," blue T-shirts are woven around a wire frame resembling a house. The installation is large enough to walk through. A 30-minute video fills the floor.
"The piece is about the foreclosure crisis. With a lot of my work, I'm interested in how everyday people fit into larger social constructions, even crises. This one is all about how foreclosure makes people feel and a lack of control over what is happening to you," she explains.
The video includes a number of different elements that together juxtapose the dreams that people have about what home means to them and the threat of losing it all. She assembled it with the help of Joey Ostranger, Brian Schmidt, and Shoshana Hurand, and musician Ken Kozora provided the score.
For part of the film, Parker toured foreclosed houses in Washtenaw County "looking for evidence of fairy tales," like a glass slipper she found left behind on a windowsill. Another piece of footage she uses is of her and her grown daughter playing with a doll house.
Parker also collaborated with young people at 826Michigan who took a workshop taught by Hurand and Onna Solomon. The kids wrote stories about home. The film's soundtrack includes some of the kids reading their stories aloud—what home means to them, their best memories, and their scariest moments.
The video also has water imagery scattered throughout. "The water imagery builds up and gets more intense over time. It starts with footsteps in the snow, then light rain, then it starts washing down fast, it becomes a river, and finally you see water falling in a dam. It's like the effects of the foreclosure crisis. It starts small and you do the best you can, but he gets faster and faster and pretty soon you can't stop the flood," Parker says.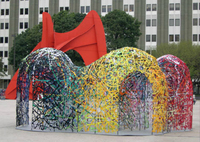 Parker's new installation is reminiscent of another T-shirt structure she set up at Calder Plaza in Grand Rapids during ArtPrize in 2010, titled "C'ood: a democracy experiment." The crowd participated in weaving T-shirts onto the outside of the walk-in domed tunnel.
The artist recently returned from a trip to Los Angeles, where her artwork, "Kali: she who destroys regenerates," was on exhibit. The exhibition, "Momentum," celebrated the 40th anniversary of the Women's Caucus for Art and the women's movement. The show was a part of a region wide show, "Pacific Standard Time," and held at the Los Angeles Art Association / 825 Gallery.
"Kali: she who destroys regenerates" consists of stripped T-shirts shaped like a burst. It is an example of one of several of her pieces that she installs in the corner of rooms. "T-shirts always suggest a person to me. In the case of "Kali," Americans always want everything bigger. Bigger is better. So, the strips of t-shirt expand outward. But the piece, like many Americans, also feels like it's backed into a corner at the same time," she explains.
Parker has worked in a number of different media over the years—paint, charcoal, prints, terracotta and bronze just to name a few. When she finds a materials she likes to work with, she has a tendency to create a bunch of artworks with it in a row. For her next T-shirt works, she is going to experiment with making smaller pieces.
View more of Margaret Parker's artworks and find out more about the artist on her website, www.margaretparkerstudio.com Parker is currently working on a temporary installation that will be part of an outdoor show in East Lansing to usher in MSU's Broad Art Museum, "Broad Without Walls," which will be up in East Lansing from April 28-May 8. More information: broadmuseum.msu.edu/events/BroadwoWalls.php