Posted on
Mon, Mar 11, 2013 : 5:12 a.m.
Radio icon arwulf arwulf muses on 30-plus years on local airwaves
By Roger LeLievre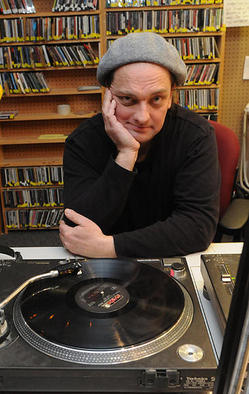 Local fans of non-mainstream, non-commercial radio—especially those who are addicted to great but hard-to-find jazz—are probably familiar with
arwulf arwulf
. He's been on the air at the University of Michigan's
student-run, free-form
radio station
WCBN
(88.3-FM) for more than 30 years as host of the adventurous and experimental program "Face the Music."
He has also been a jazz broadcaster at WEMU, the public-radio affiliate at Eastern Michigan University, for 25 years, where he hosted the show "Sunday Best." A native Californian, arwulf (a.k.a. Theodore Grenier) came to Ann Arbor in 1968 at age 11 and graduated from Earthworks High School, the short-lived predecessor to Community High, in 1976. He works full time as an educational media consultant for the College of Literature, Sciences and the Arts at the U-M. A jazz historian, poet and writer, he sometimes plays the clarinet, or paints found objects with bright pigments.
We recently e-mailed him some questions, and here are his replies.
First a recap. You've been on WCBN for more than 30 years, and you were also on WEMU for a long time. Can you summarize your broadcast history thus far?
I was probably fated for broadcasting through DNA. My parents met in 1939 at multinational WBNX in the Bronx ("the station that speaks your language"). When in 1977 I started sitting in at WCBN, I realized that radio was as natural for me as breathing or sharing a meal. In 1980, the students asked me to begin broadcasting regularly on Thursdays from 7-8 p.m. I named the program "You've Got to be Modernistic" after a record that James P. Johnson waxed in 1929. The show got rechristened "Face the Music" for sociopolitical reasons during what is now rather morbidly remembered as "The Reagan Era." I got involved at WEMU in 1987 through the efforts of several people, including Michael G. Nastos and Michael Jewett.
Thirty-plus years is a long time to have a show on the air anywhere. Why do you think "Face the Music" has lasted so long?
The mix has always been built around a core of vintage recordings, especially arcane pop music and hot jazz. From the get-go I also used the look-out-what's-going-to-happen-next approach that is the lifeblood of WCBN's free-form aesthetic—or anti-aesthetic as the case may be. For years I was incredibly confrontational with the medium, turning the show into a sort of experimental absurdist theatre. This was done according to the principles of what I called "culture shock therapy." It was loads of fun and many people came to depend upon it for psychological support.
You mentioned talking the show in a new direction.
Since leaving WEMU in early February 2012, I have modified the 'Face the Music' show's format to feature more hot novelty dance music, old-fashioned melodies and honest jazz, garnished with the rambunctiousness that prevails at WCBN. It's always been my intention to subvert the dominant paradigm by helping people to shed the superficialities of mainstream pop culture and de-program their own minds. That's an essential component in WCBN's educational mission and in my own artistic methodology. We continue to learn from John Cage, William S. Burroughs and Lenny Bruce.
You've also said you are enjoying the show more now than ever. Why?
Let's chalk it up to working in a collaborative, stress-free environment as a community volunteer. I serve as musicologist, cultural historian, advisor and creative role model for the students who staff and run the place. These young people are eager to learn more about their own cultural heritage, and they do not fit into anybody's demographic hypotheses.
WCBN is the University of Michigan's longest-running alternative education project. It is deeply rooted in Ann Arbor's progressive educational and cultural traditions. There's a reason we air so much freely improvised jazz and other forms of musical catharsis. Any time I fill in on a free-form show it's an opportunity to play Albert Ayler, Pharoah Sanders and Anthony Braxton. WCBN is all about freedom of expression. People need that in order to survive. We love the sounds of saxophones speaking in tongues!
Who are your listeners? Thanks to the Internet, I imagine you have an audience worldwide. Do you have any sense of that?
Many who have moved away still listen regularly, and it's exciting to learn that we've made new friends at all points of the compass. Streaming our signal to San Diego and New Jersey while transmitting a tangible wavelength that can be picked up by receivers in local cars, kitchens and bedrooms—that's a healthy combination. May it continue.
As far as WEMU goes, you severed ties with the station in 2012 after nearly 25 years. Is there anything you'd like to say, or clarify, about that?
Stuff happened and they lost me. More specifically, let's dismantle a few rumors: I did not retire, I most certainly wasn't fired, and I wasn't burnt out on my show, which I really loved researching and sharing with the people. I quit very suddenly and deliberately because of irreconcilable personal, professional and creative differences with the management. I do wish them the best. With unprecedented funding cuts, listener support has become more crucial to the survival of public radio stations, especially those that still air any music at all.
Was there a defining moment for you as a young person that sent you towards music in general and jazz in particular?
I landed in Ann Arbor in 1968 and came up in an environment teeming with live music. The entire city was palpitating with free concerts in the parks and the legendary Ann Arbor Blues and Jazz Festivals, where I worked as a Psychedelic Ranger in the early '70s. So thank you John Sinclair, for real. I also want to salute the U of M students who formed a booking agency called Eclipse Jazz and brought an amazing range of artists to town during the late '70s and throughout the '80s. My response to all of this was to get on the air and share music with the public.
Starting with your name, you are a proud non-conformist. Why is that important to you?
Conformity to me is about Convention rather than Tradition. Tradition (the word's etymological root is the same as that for "trade") means literally the handing along of culture, and to my understanding it works both ways—we also give back to our ancestors. Convention just means: get in line and mimic everyone else. I feel it's better to nourish and sustain your imagination.
Music means different things to different people. What does it mean to you?
Music becomes who you are, and transforms you. We can communicate with music in ways that transcend socially imposed divisions. Radio for me is Ritual. Not entertainment. Real radio, if you're doing it right and giving to the people with an open heart, is ultimately very humbling. I am essentially a radio mystic. Every program I conjure is an intuitive experiment, and the spirits of innumerable African American musicians have guided and sustained me throughout my broadcasting career. I'm deeply honored to be one of several rotating hosts for WCBN's Sunday morning classical radio program, which we call 'Dead White Guys.' Because you know I'm also terrifically old- fashioned. I listen to and study European traditions every single day of my life. Mahler, Kodaly, Schumann and Grieg. It's in my bones.
What do you think the future holds for you as a creative member of this community?
A return to performance poetics is in order. I've spent more than a decade working on a set of 15 poems inspired by the string quartets of Dmitri Shostakovich, and plan to voice them in collaboration with a team of improvising musicians. My main occupation is as an Educational Media Consultant for Instructional Support Services at the University of Michigan's College of LS&A, so I'm fortunate to work right at the epicenter of a constantly evolving intellectual mosh pit where you can see the world changing on a minute-by-minute basis. I also work part time at Encore Records on Liberty Street, helping people find music that is meaningful to them. Recently I've been collaborating with U of M's Center for Japanese Studies and the Department of Screen Arts & Culture by assembling musical soundtracks for silent films. That is so cool. I can hardly believe that it's happening.
"Face the Music" airs 7-8 p.m. Thursdays on WCBN, 88.3-FM or online at wcbn.org