Posted on
Wed, Dec 5, 2012 : 5:39 a.m.
'New Fiber' exhibit at EMU shows diversity of art form
By Jennifer Eberbach
As a general category, fiber art encapsulates diverse traditions, techniques, materials, and forms.
Fiber art can be knit, woven, sewn, or stitched - just to name a few methods. It hangs on the wall, sits as a sculpture, or fills the gallery as a mixed-media installation. It is a traditional quilt and a contemporary found-object sculpture at the same time. Today's fiber art is all of it.
As much as fiber art is steeped in ancient and modern traditions, in today's contemporary art world there is also plenty of room to experiment, innovate, and push traditional techniques to new limits.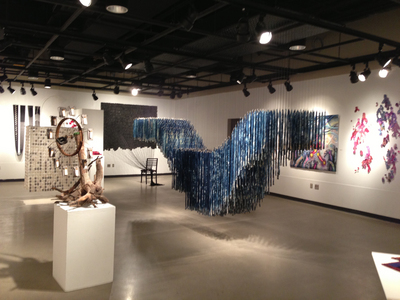 Rarely is fiber art's diversity as evident as it is in
"New Fibers,"
a national exhibition by
Fiber Art Network of Michigan
. The exhibition is held at the
University Gallery
at Eastern Michigan University every two years.
This year's exhibition juror, Baltimore fiber artist Susie Brandt, was looking for "something unexpected" when she reviewed photographs of the 272 artworks that were submitted for her consideration, she explained in her introduction to the exhibition's full-color catalog (available for free at the gallery). The 27 artworks on display gave her that experience.
"By definition, works in Fiber are rooted in those ancient craft traditions that give form to raw filaments. As I peered into the glowing computer screen, I looked for pieces that coaxed surprising new forms from those long established processes. Selected works had to move past virtuosity, beyond clever process to provoke something unexpected," Brandt writes.
As a whole, this year's "New Fibers" packs surprises—unusual materials and experiments in fiber art techniques. Some works, upon first glance at least, might feel more expected—quilts and tapestries that use traditional techniques in a more overt way. But well-tread traditions evolve as living generations carry them through, and you can still sense that many of these were done by contemporary artists, living in the now. In all, the exhibition tells a story about meeting tradition from a present perspective as much as it showcases the vast potential fiber art has to leap forward in bold, new directions.
The juror awarded 3 artworks cash prizes. First-place winner
Amy Gross'
"A Red Collection" is a wonderfully pleasant grouping of 30 round wall sculptures resembling organic forms. Red yarn, embroidery thread, fabric, velvet and intricate bead work depict plants, mushrooms, and other forms from nature. They are like little planets unto themselves. She calls them "biotopes"—essentially defined as uniform habitats. Their uniform red makes them a little odd or alien, but they nearly trick you into thinking they are alive.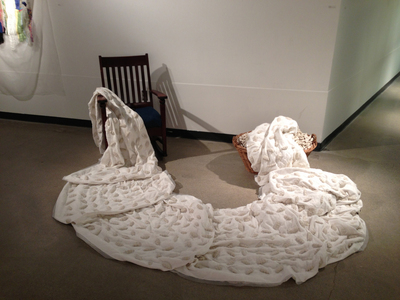 Naomi Falk's
"Recall(ed) Quilt" was awarded second place. It grew longer during the exhibition's opening reception. She sat in a chair at one end of a long train of sheer organza and quilted pieces of porcelain into it. Each piece of porcelain—a gripping hand print indented on it—represents a person who has died in the Iraq war. She calls them "bones." The delicate artwork remembers the fallen in a beautiful and highly respectful way. It is also a clear example of how fiber artists are using traditional techniques, such as quilting, in new and inventive ways.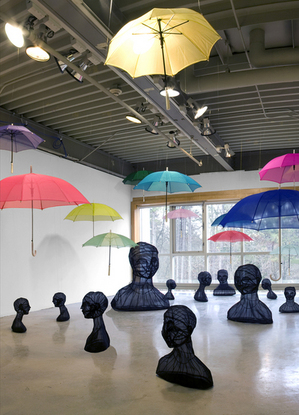 In third-place,
June Lee's
large installation "Loss" fills the front window of the University Gallery. Lee handcrafted organza umbrellas in bright, bold colors. They float above a gathering of people—busts of differing sizes made out of black organza. A sense of loss can be felt when viewing the dark figures. They never seem to look at one another, perhaps lost in their own sense of loss. It reminds me of people at a funeral. As a whole, the bright umbrellas and the dark figures invoke an emotional feeling when seen in the gallery setting.
FAN member and Exhibition Chair Brooks Harris Stevens, who teaches fiber art at EMU, shared her thoughts about what makes the top 3 artworks special with AnnArbor.com. "All 3 of them really took on the title 'New Fibers.' They all represent different things going on with fiber art that are new, something different. Concepts within the artworks are expressed through either traditional media or techniques, but they are new and different," she says.
Another example of an artwork that utilizes fiber techniques in an innovative way is Andrew Hawkes' mixed-media installation "it's not my fault," which consists of 1,346 pieces of black paper nailed to the wall, just as many black strings drape out from them and collect on a chair. A pair of scissors rests ready to cut. In his statement about the work when it was on display at this summer's ArtPrize in Grand Rapids, Hawkes explained how it is about cutting the cords between him and his "obsessions." He also said he was inspired by rituals from around the world like leaving slips of paper at a Buddhist wishing wall or driving nails into wooden effigies, as they do in the Congo. A striking piece against the white gallery wall, you can imagine the artist sitting in the chair, contemplating letting go of each of his obsessions as they collect in a pile behind him.
The exhibition also includes many artworks hanging on the walls that explore new ways of utilizing traditional fiber art techniques and materials. Ruth Tabancay's "Garden Transformed" looks a lot like a traditional quilt until you realize it is made of tea bags. In Charlotte Forsythe's "Full Circle," thread and fibers are displayed as objects unto themselves, not just a means of creating an object. Representing Ann Arbor in the exhibition, Lois Bryant's "Abstract Concrete" playfully juxtaposes the real object—a chunk of concrete—and a representation of the object—the chunk is nestled in fibers resembling concrete.
Other artists represented in the show include Susan Aaron-Taylor, Marie Bergstedt, Don Burns, Betty Busby, Zac Cheng, Elise Deringer, Kelly Dorman, J. Casey Doyle, Xia Gao, Suzanne Hesh, Susan Iverson, Robin Johnston, Eilleen Lauterborn, June Lee, Beth Markel, Jason Pollen, Leisa Rich, Paula Schubatis, Gretchen Wagner, Allison Watkins, and Kathy Weaver.
This year's "New Fibers 2012" will be on display through Dec. 16. The University Gallery is located on the second floor of the EMU Student Center.