Posted on
Tue, Oct 2, 2012 : 5:03 a.m.
Aspen Santa Fe Ballet bringing new works to Power Center for Ann Arbor debut
By Susan Isaacs Nisbett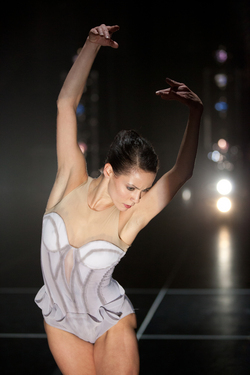 Lineage can tell a lot about a dancer or dance company.
Take the not-random example of the Aspen Santa Fe Ballet, the 11-member contemporary ballet company that makes its Ann Arbor debut Saturday and Sunday at Power Center, courtesy of the University Musical Society. The company's performances also include a 1-hour Saturday afternoon family performance.
Tom Mossbrucker, the company's artistic director since its 1996 founding, is an alumnus of the Joffrey Ballet; minus the reconstructions of early 20th-century works, the Aspen Santa Fe group's eclectic repertoire brings to mind the Joffrey's in its New York days.
Robert Joffrey, said Mossbrucker in a recent phone conversation, "loved new works. We were among the first to have Paul Taylor and Twyla Tharp, and that did Mark Morris. That did have an impact on me."
So did Joffrey's love of people, a quality shared by Joffrey co-founder (and later, company artistic director) Gerald Arpino.
"He loved dancers and people and he loved it when you brought something of yourself onto the stage," Mossbrucker said of Arpino. "When I first got into the company, Arpino came up to me and said, 'I don't know who you are yet, but I will soon.'"
PREVIEW
Aspen Santa Fe Ballet
Who: Contemporary American dance company.
What: Program of contemporary ballets by Jorma Elo, Jiri Kylian and Norbert De La Cruz III.
Where: Power Center for the Performing Arts, 121 Fletcher St.
When: Saturday, 8 p.m.; Sunday, 2 p.m. Special 1-hour family performance, 1 p.m. Saturday.
How much: Saturday evening and Sunday afternoon, $20-$48. Saturday afternoon family performance, adults $12, Kids $8. UMS Ticket Office in the Michigan League, 734-764-2538 or ums.org.
So in building his own company, Mossbrucker wanted to assemble a roster of dancers "with something special," he said. "Aspen is a small town, and I wanted it to have an ownership feeling about the ballet company, to feel like it was family. All of our dancers are great, but they're all special, too. They are charismatic, or really dynamic on stage."
And the ownership idea has worked. The company has in fact carved a niche not only in Aspen but in Santa Fe, and dancers have stayed with the company longer than Mossbrucker might have hoped. "We didn't really expect it," he said.
One thing that might have kept the dancers happy (aside from the gorgeous settings the company enjoys in its two Western homes) was also unexpected: the number of commissions—now around 26 works—the company has generated since its inception.
"Over the years, that became one of our hallmarks," he said.
It happened first by necessity, since the company had only six dancers at the beginning. "We needed smaller works, so we started to do creations," Mossbrucker said. "When we worked with a choreographer we liked, we asked them back.
Commissioning works that highlight the strengths of the dancers and developing ongoing relationships with the choreographers" became the norm.
The list of collaborators is long and deep. Topping it are two well-known European choreographers Jorma Elo and Jiri Kylian, each of whom has made four ballets for the company; and American Nicolo Fonte (eight dances), who is influenced by his years in the Spanish company of choreographer Nacho Duato.
But the company's aesthetic, which glances strongly across the Big Pond, is not monofocal.
Look, for example, at the program the company presents at Power Center this weekend.
Elo and Kylian are both on the bill, represented by ballets in the European contemporary-ballet idiom, Elo by his 2011 Aspen Santa Fe commission "Over Glow;" and Kylian by his seminal "Stamping Ground," from 1983, made for Nederlands Dans Theatre and inspired by tribal dancing of Australian aborigines.
The third piece on the program, "Square None," is by Norbert De La Cruz III, an emerging native Filipino talent raised in Los Angeles whom Mossbrucker might never have engaged save for serendipity.
"It came about in a very odd way," Mossbrucker related.
"We 're interested in new choreographers and up and coming choreographers, but we had never commissioned anyone as young as Norbert. Every year we go to the Juilliard School to audition dancers, and two or three years ago we went to consider two dancers whom we were going to look at the senior showcase. Little did we know we would find Norbert."
De La Cruz had made a piece for his classmates to dance, and Mossbrucker and his colleagues just loved it, he said. "The craft of it was so unusual for someone of his age."
But the company doesn't really "do" completely unknown choreographers, Mossbrucker said, and so they filed De La Cruz in their minds as someone to watch.
Then the Jerome Robbins Foundation contacted the company; there was grant money to be had for a new choreographer as part of the foundations New Essential Works program; De La Cruz, whose Juilliard work was shown to the Robbins panel, catapulted from the "watch" list to the "do now" list.
"Square None," the work on the Power Center bill, is the result. "We are really excited about him," said Mossbrucker, noting that De La Cruz is now making a second work for the company.
And if lineage plays out in the way Mossbrucker has run his company, it also plays out on the program.
"Jorma," he said of choreographer Elo, "danced for Jiri Kylian, and Jorma has been mentoring Norbert, giving him feedback."