Posted on
Thu, Apr 1, 2010 : 5:38 a.m.
Aubree's offers delicious pizza and pub fare
By Julie Halpert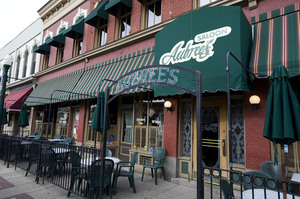 AnnArbor.com
The pizza alone at Aubree's is worth the short trip for Ann Arborites to the quaint Depot Town historic district in Ypsilanti where this restaurant is located. Owners Bill and Sandee French opened this restaurant 35 years ago, initially as Aubree's Saloon. Seven years ago, they expanded and remodeled, and changed their name to reflect the greater focus on pizza. Now, there are three other locations, in Ypsilanti Township, Marquette and Northville Township.
Aubree's is a casual watering hole, with (at least for now) a large smoking area that you need to pass through before seeking refuge in the non-smoking section. Lighting is dark. Furnishings are basic, with simple tables, booths and chairs. Large flat-screen televisions and the bar are a focal point — what you'd expect in a pub environment. You probably don't head to Aubree's for the ambience, though. It's that pizza.
---
RESTAURANT REVIEW
Aubree's Pizzeria and Tavern
39 East Cross Street, Ypsilanti
734-483-1870
Aubree's Pizzeria & Tavern in AnnArbor.com restaurant guide
Hours: Monday-Saturday, 11 a.m.-2:30 a.m. Sunday, noon-2:30 a.m.
Plastic: Visa, Mastercard, American Express, Discover.
Liquor: Yes.
Noise level: Moderate.
Wheelchair access: Fine.
Smoking section: Yes.
Prices: Moderate. A small cheese pizza is $7.99. Sandwiches and hamburgers are in the $8 range.
Value: Very good.
---
We sampled the round pizza with a basic plain crust, but you can also opt for many other crust flavors: butter cheese, garlic butter, Cajun, ranch, sesame, poppy and onion. Deep dish is also available. And there's a gluten-free option.
The crust had a sweet taste and its appearance and texture was similar to Chicago-style pizzas. And it's topped with homemade sauce with big chunks of tomatoes, along with heaps of fresh, melted cheese. It was served piping hot, and the combination of the ingredients and spices was, well, just heavenly. We ordered half the pizza with mushrooms and they were fresh and perfectly cooked, tucked within the sauce.
We didn't take full advantage of the many toppings you can get here. There are over two dozen in all, ranging from the standard mozzarella, Italian pepperoni and green peppers, to more exotic options like Hawaiian pineapple, artichoke hearts, marinated chicken breast and hickory-smoked bacon. If it's too daunting to create your own mix, Aubree's has several gourmet specialty pizzas that incorporate different combinations.
I couldn't get enough of "Aubree's Bread," a great way to begin a meal here — thick, chewy breadsticks rolled in parmesan and garlic, served hot. Aubree's wonderful homemade pizza sauce nicely complemented the breadsticks.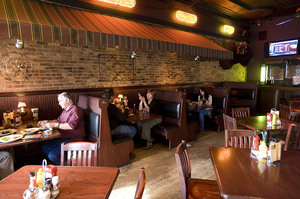 Another highlight was the fish and chips, as good as I've had in any establishment. The fish was fresh and coated in a thick, crispy beer batter, accompanied by great-tasting fries. The cornbread side dish was so sweet it tasted like angel food cake.
I found that what Aubree's does well, it does very well. However, we did encounter a couple of misses. Spinach-artichoke dip was saturated with cheese and lacked spinach; it was nearly inedible. The chicken in the grilled chicken wrap was rubbery and overcooked, and the cucumber dill sauce, lacking in flavor, was watery. The sandwich unraveled, since the wheat tortilla wasn't well wrapped, making for a messy eating experience.
There are only two desserts here and they were out of one of them, the turtle cheesecake. The molten lava cake could have come directly from a cake mix, with a processed, dry taste. Even my kids, who usually attack anything with chocolate, shied away from it after one bite.
Our server was quick to deliver our appetizers and entrees, but we had to wait quite a while for dessert and the check, despite the fact that the restaurant had nearly cleared out by then.
Especially if you stick to the pizza and pub fare, Aubree's is a great place to eat.
Julie Halpert reviews restaurants for AnnArbor.com.