Posted on
Mon, Oct 31, 2011 : 5:51 a.m.
Audra McDonald bringing cabaret show to town before returning to Broadway in 'Porgy & Bess'
By Roger LeLievre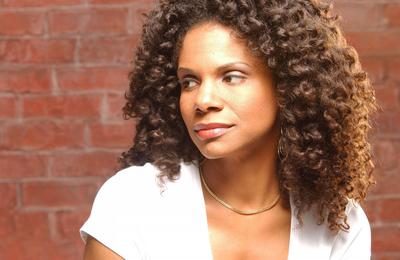 photo by Eddie Malluk
Singer/actress
Audra McDonald
, taking a break before her star turn on Broadway as Bess in a remounting of the classic American musical "Porgy & Bess," will return to Ann Arbor for a solo show Friday.
The performance, in Hill Auditorium, will be McDonald's fourth appearance here courtesy the University Musical Society.
Although it may come as a surprise to learn that her Ann Arbor program won't include anything from the Gershwins' iconic show, McDonald said there's a perfectly good reason for the omission.
"There's no arias for Bess," she said, "and I'm up there all by myself. … After doing 'Porgy & Bess' all summer (at the American Repertory Theater's run in Cambridge, Mass.) "it's good to take a bit of a break before I go back into it full time again. Gershwin will be represented, but 'Porgy and Bess' will not."
The program will include works by Sondheim, Kander and Ebb, and Irving Berlin, she said, as well as songs from younger composers she admires, including Adam Guettel and Gabriel Kahane. McDonald will be backed up by longtime pianist Andrew Einhorn as well as a bass player and a drummer.
PREVIEW
Audra McDonald
Who: Acclaimed singer and actress, presented by the University Musical Society. With Andy Einhorn (piano), Mark Vanderpoel (bass) and Gene Lewin (drums).
What: Broadway classics and American standards.
Where: Hill Auditorium, 825 N. University Ave.
When: 8 p.m. Friday, Nov. 4.
How much: $10-$50. Info: www.ums.org or 734-764-2538.
As fans know, McDonald has not only a luminous soprano but a gift for audience rapport as well. The Juilliard-trained performer has been working pretty much non-stop since her Broadway debut in "The Secret Garden" in 1993. She earned Tony awards in 1994, 1996 and 1998 for "Carousel," "Master Class" and "Ragtime," and again in 2004 for the revival of "A Raisin in the Sun."
On television, McDonald has performed in numerous PBS specials and starred in "Mister Sterling" on NBC and in "Private Practice" on ABC (she played Dr. Naomi Bennett). In 2001, she was nominated for an Emmy for her performance in "Wit," the HBO film of the Pulitzer Prize-winning play. Her four-year run on "Private Practice" ended last season, and although she said she will miss the family she found on the show, "commuting (from New York) to California really gets old."
She said playing Bess in "Porgy & Bess" is an honor and a thrill—and a bit daunting as well.
"It's exciting to do a piece like this that has been done before by so many great artists before. … I'm the next in line to add to this history of this piece," she explained. "I always knew that I'd like to play the role sometime in my life, but I never quite thought I was ready. I felt like once I turned 40 I was probably old enough, I had lived enough of a life to play that role now."
The production has been greeted with some controversy, not only because of alterations in the script and staging, but because of charges of racial stereotyping that have followed "Porgy & Bess" from its beginnings.
"It's been controversial in its entire history for one reason or another," McDonald said. "I wasn't expecting the controversy but I'm not surprised. … And a lot of people feel that an iconic work can't be touched."