Posted on
Sun, May 29, 2011 : 5:57 a.m.
Australia's aerial dance troupe Strange Fruit added to Ann Arbor Summer Festival's Top of the Park lineup
By AnnArbor.com Staff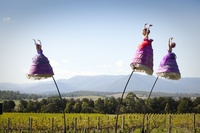 The Ann Arbor Summer Festival is pleased to announce the much-anticipated return of Australia's Strange Fruit to Top of the Park from June 30 through July 2.
Performing beautiful acrobatic dance on 15-foot sway poles, the company will present its latest show for six performances on Ingalls Mall as part of the festival's 28th season, which runs which runs June 17 through July 10.
Strange Fruit is a Melbourne-based performing arts company that produces and performs a remarkable style of work that fuses theatre, dance and circus, using a unique elevated medium. Perched atop 15-foot-high flexible poles of original design, the troupe delivers a sublime performance, bending and swaying in the air.
Originally based on the image of a field of wheat swaying in the breeze, the poles' strength and flexibility allow the performers to bow to impossible angles, swaying back and forth. The company will perform its latest show, "The Three Belles," featuring a trio of female performers.
Strange Fruit will perform six times during its Ann Arbor engagement. The performance schedule is: Thursday, June 30 at 7:30 p.m. and 9:30 p.m.; Friday, July 1 at 4:30 p.m. and 8:30 p.m.; and Saturday, July 2 at 4:30 p.m. and 8:30 p.m.
With a world-renowned repertoire that celebrates a wide variety of themes and stories, the company has achieved near-cult status.
Since forming in 1994, Strange Fruit has established itself as one of Australia's iconic outdoor theatre companies, having performed at over 450 international festivals and events, in over 50 countries, on six continents and to well over 5 million people. Strange Fruit last appeared at the AASF in 2007, with its production of "Swoon." Its upcoming Ann Arbor engagement marks the beginning of its 2011 North American summer tour, which also includes New York and Toronto. Strange Fruit is one of the many outdoor attractions featured at this year's Ann Arbor Summer Festival. Other special projects include: a screening of 1925 silent film classic "The Phantom of the Opera" on June 28 featuring live carillon and accompanying operatic soprano vocals; a demonstration of daredevil acrobatics on July 6 at Top of the Park with the cast of Tom Tom Crew, a free promotional teaser for its indoor shows; and the four-day exhibition of the Amococo luminarium by the U.K.'s Architects of Air. The luminarium will make its Michigan premiere on Palmer Field, a short walk from the Top of the Park site, from June 23 through June 26. Admission is $5 per person, with children under 3 admitted free.