Author Harry Dolan populates Ann Arbor with a few more 'Very Bad Men'
Posted on Sun, Jul 10, 2011 : 5:41 a.m.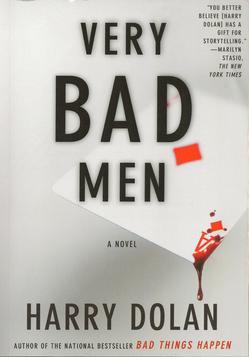 In the case of Harry Dolan, some very good things have been happening.
The local writer's first mystery novel, a thriller called "Bad Things Happen" (Amy Einhorn Books/Putnam, 2009) that is set here in Ann Arbor and introduces us to his magazine-editor-with-a-shady-past protagonist David Loogan, landed him a two-book contract.
It also got reviewers from the New York Times,the Washington Post and the Chicago Tribune to sit up and take notice. Oh, and this guy named Stephen King liked it so much he sent an F-bomb-bedazzled compliment directly to Dolan's email inbox. Not bad for a debut novel.
He's followed it up with "Very Bad Men," in which Loogan and the love interest he picked up in the first book, AAPD detective Elizabeth Waishkey, are trying the prevent the last in a series of murders promised in a manuscript delivered to Loogan's office. In an interesting twist, there's no guessing about who committed the first two — we meet Anthony Lark in Chapter 1.
In an even more interesting twist, he turns out to be about as sympathetic as a murderer is likely to be, and for a while we are treated to an entertaining race between skilled sleuths who don't have all the information and a slightly deranged killer with a detailed plan who isn't really cut out for the job. (Their encounter during the Art Fair is a delight that will make us all giggle... and look askance at anyone wearing cargo pants.)
Of course, that's hardly the whole story, and as the tale wends on, we find that the possible candidates for whodunit have expanded to include senators, candidates, bodyguards, mistresses and cops from all over the state.
But of course maybe the funnest part is following everyone around town. How did Dolan decide to set his stories here?
"It's really because I was living in Ann Arbor that I decided to set the books here. … Most crime novels are set in larger cities, but I've never lived in those places and didn't feel comfortable setting a book there. For the first book, I set it at this mystery magazine, and the characters were associated with the university, and they were the kind of highly-educated people that you would find here."
Does he now find himself walking around with an eye peeled toward, say, good places to hide a body? He laughed. "Yeah, I do think about that as I'm going around town. But I also find that there are certain limits, like the murder rate — I looked it up and it's maybe one or two a year, and I kill a lot more than that! I made a conscious decision in the second book to get outside of Ann Arbor, so some of it is set in Sault Ste. Marie. It helps to expand it, so not everyone's dying here."
Although Dolan said he wrote as a kid and teenager, reading "a lot of science fiction and fantasy and writing short stories in that vein — not very good ones," he didn't really get started writing for publication until he was at Colgate University for a degree in philosophy.
There, he said, "I worked on a magazine called 'The Mage,' which published science fiction and fantasy stories, and I took a class with a novelist named Frederick Busch, who taught for several years at Colgate. He encouraged me; he saw something in my writing and encouraged me to pursue it."
That pursuit included a slight turn away from the sci-fi/fantasy genre and into mystery, particularly as he began to read more Lawrence Block and Raymond Chandler. Why the switch?
"I'd written sci-fi," answered Dolan, "but I found that those ideas, the kind of ideas you have to have to write those stories, didn't come naturally to me. So I found that mystery writing was more my style."
Does his philosophical training, both at Colgate and at University of North Carolina at Chapel Hill where he got his master's, have any bearing on his writing now?
"I'm not sure how much influence it has. It has some, and more on ethical issues... the characters in the book think in that way; they try to justify their actions. Even the villain has his reasons, and he thinks he's morally justified. I guess it reveals itself there."
In Dolan's case, the amazing journey from toiling over an unsolicited manuscript to starring in a national book tour — one that authors can spend decades slogging through — has taken barely a couple of years. What's that been like?
"It's hard to believe — there's a lot of luck involved," he explained modestly. "It's a lot of having a good agent and a good publisher and getting quotes from good people on the book."
Like maybe, say, that Mr. King guy we mentioned earlier? How did that good thing happen?
"My book came out in July 2009, and it was a few months later that I got an email from my agent who said Stephen King was reading the book — she'd found out from his agent, who was a friend. He was on tour for 'Under the Domes,' and he said, 'Let me read you something' and then went and got 'Bad Things Happen' and read from it. (Just after that), I opened up my email and it said 'Message from Stephen King,' and it had that quote which you can't print in the paper." (But which he found a way to get on the cover of "Very Bad Men." Who wouldn't?)
"The success is a lot of good fortune and generosity of people like that. He didn't have to do that, he's not gaining anything, but it's very kind of people to do that.
"The main thing that the success of the first book has gotten me is more time to devote to writing, because I had previously had to make a living with freelance editing. And it's great to hear from people; through modern technology, it's so easy for people to just drop me a line. I was never the kind of person who send fan mail, so that was kind of a surprise, but sometimes you get someone saying 'Your book kept me up until 5 in the morning!' and of course that's always great to hear."
That "more time to devote to writing" definitely includes some more David Loogan. Having accepted a second two-book contract from Putnam, Dolan assured us that "I'm working on another one now that involves the murder of an intern at (the fictional literary magazine) 'Gray Streets'... but I can't say too much more that that."
Harry Dolan stops at Nicola's Books with "Very Bad Men" on Monday, July 18 at 7 p.m.
Leah DuMouchel is a freelance writer who covers books for AnnArbor.com.