Posted on
Sat, Oct 27, 2012 : 5:10 a.m.
Avalon Housing celebrating its 20th anniversary at the Ann Arbor Art Center
By Jennifer Eberbach
In 20 years, Avalon Housing has grown from a single supportive housing apartment community to 25 locations with around 400 tenants. Their model takes affordable housing a step further by managing cases and connecting tenants to resources and services, offering programs such as after school programs, operating food pantries, and much more.
To celebrate Avalon Housing's accomplishments and its 20th anniversary, the Ann Arbor Art Center will host "Opening Doors to End Homelessness," an exhibition of artworks made by tenants and a gala fundraiser featuring a silent auction of artworks by 25 local working artists.
Avalon Housing tenants' artworks will be on display at the Ann Arbor Art Center beginning Oct. 30.
The gala and silent auction, on Nov. 2 from 6 to 9 p.m., will feature live acoustic jazz by Deondre Richmond, a strolling dinner buffet provided by EAT Catering, wine and beer, and attendees can view the tenants' artworks.
The theme of the event, "Opening Doors to End Homelessness," speaks to Avalon Housing's mission and philosophy. To highlight this, the gala will be decorated by a number of doors that were salvaged during apartment rehabs and turned into art by Avalon Housing staff, members of the Women's Caucus for Art, and kids in an Avalon Housing after school program. The doors will probably end up hanging as art in their five community centers and main office.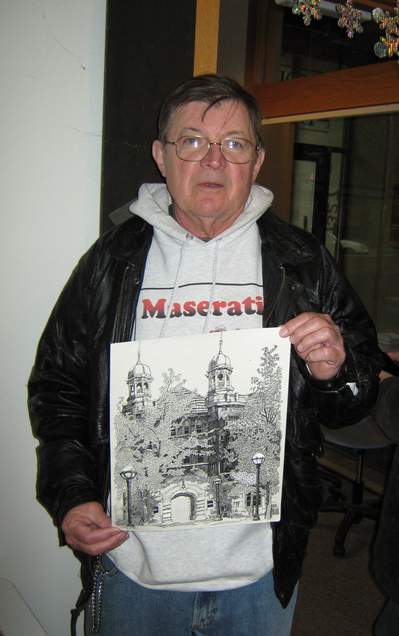 As for the tenant art, it is impressive. For amateur artists, their paintings, drawings, photographs—and even a toothpick sculpture—are very well done and inspiring. Avalon Housing showed some artworks made by residents in a small exhibition at their main office earlier this year. They loved the idea of sharing their tenants' artistic talents with a wide audience at a bigger event.
Kim Wilcox, director of development and communications, points out that making art is good therapy for many of the tenants. Many have battled homelessness, health and mental-health issues, substance abuse, and poverty. "Many use it as art therapy," Wilcox explains.
The silent auction will feature artworks by talented area artists (non-tenants) including Jessica Lively, Karin Wagner Coron, Matruka Sherman, Ethel Potts, Clayton Lewis, Chris Lewis, Glenna Schweitzer, Barbara Melnik Carson, Margaret Parker, Stephen Kinnard, Jude Walton, Lynn Ochberg, Mark Mardirosian, Dawn Zuber, Motawi Tileworks, Ted Tavora, Lynn Whitney, Cheryl Bradetich, Allison Correll, Susan Clinthorne, Laurie Longo, Karin Bodycombe, Rich Wood, Jill Ault, and Jonathan Wright.
Money collected from tickets, donations, and the silent auction will support Avalon Housing's various programs. "We help them get attached to the resources they need such as medical care, for instance, we operate food pantries, after school programs, fitness programs, things like computer training, health fairs, and get-togethers that build community. It takes all of those things to keep people stably housed," Wilcox says.
Avalon Housing is still rehabbing properties, as well. Demolition on Pauline, a property that was recently burned down, has been under way and the plan is to move tenants into 32 units by the end of 2013.
Wilcox shares her thoughts about the value of permanent supportive housing as a national model for affordable housing: "Our work is to keep vulnerable individuals housed, safe, healthy, and living independently. It takes a very coordinated effort—that is what is unique about supportive housing," she says.
She also sees supportive housing as a cost-saving model. "When the most vulnerable people are housed, they aren't in the emergency rooms, court systems, and streets," Wilcox says. Avalon Housing hopes to spread this message and celebrate their tenants and successes at the upcoming fundraiser.
Reserve advance tickets for Avalon Housing's anniversary gala by contacting Kim Wilcox at kwilcox@avalonhousing.org or call 734-663-5858 ext. 212. You can also register online at www.avalonhousing.org