restaurant review
Cool, casual tastes of Japan and Korea on the menu at Ayaka
Posted on Thu, Jan 14, 2010 : 5:19 a.m.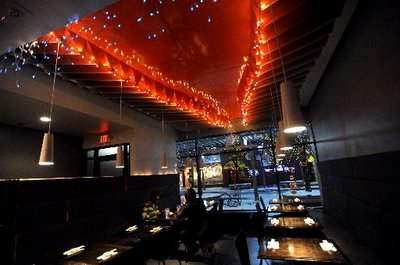 Melanie Maxwell | AnnArbor.com

Ayaka, my Japanese informants tell me, means something like "beautiful flower" or "colorful flower." But piscine delights, rather than flora of any sort, are what Ayaka, the new Japanese-Korean restaurant on South University, conjures — on its menu and in its décor.

Sushi, sashimi and seafood of all stripes are menu mainstays. And a finny ceiling sculpture in gray, orange and white covers the dining area, giving an oceanic blessing to diners at the tables below. The space, with room for just 24 plus a few more at the sushi bar, is narrow, sleek — and comfortable. Gray banquettes line the walls; light comes in through big front windows during the day; mugs of tea arrive steaming at the table as you settle in.

But both the university-area location and the pebble-sized quarters encourage casual, quick meals. And the service is prompt, too. Even so, it's possible to linger here for a late lunch or enjoy a relaxed dinner with friends.

My first meal here, though, was of the quick lunch variety. However, there is a limit, which I exceeded in my hungry zeal, to how fast a person should slurp up tempura udon swimming in a tasty, but scalding broth. Despite my lack of judiciousness, it was the perfect 1-bowl meal for a freezing day.

So was my companion's katsu don, one of several rice bowls served up with very good miso and salad. The rice was excellent, pearly and glistening, cohering just the right amount — and the topping, breaded pork cutlet, onions and eggs, was savory and beautiful to boot, dotted with green scallion shreds and pink-tinged batons of fish cake. Makes me want some just to write it.

And if you're in the mood for nice mound of rice, consider, too, the bibimbop, which, despite my lifetime loyalty to Eastern Accents' A+ version, is very, very good here, with barely dressed zucchini slices, bean sprouts, warm spinach and excellent-quality seasoned beef in addition to the ubiquitous egg-on-top. The bibimbop hot sauce was deeply flavored, with a kick that came on late but strong.

Other Korean dishes include Hwaidupbop (spicy fish rice bowl) and Al bop (fish-egg rice bowl.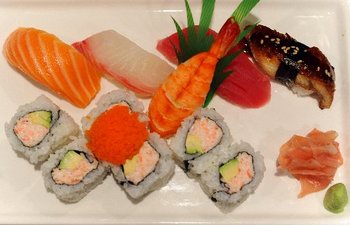 Melanie Maxwell | AnnArbor.com
Sushi was the big event when I dined at Ayaka in the evening, and though we over-ordered (as is often required when dining for science), I'm afraid to report we left very little on the pretty platters of rolls and nigiri sushi. Very fresh mackerel, salmon and tuna disappeared; so did eel sushi and omelette sushi and briny yellowtail-scallion rolls and creamy but spicy California rolls garnished with a mound of orangey fish eggs. If you order a fire crunch roll, one of more than a dozen specialty rolls, save it for last. It was so hot that I shudder to think of how high the jalapeno-spiked 911 roll would register on the Scoville scale.
If sushi's not your thing, the menu offers lots of other options. Wasabi shumai were fairly incendiary, but very tasty. Less spicy appetizers we enjoyed on various visits included agedashi tofu, lightly fried tofu cubes in a warm soy broth; fried gyoza dumplings; and a plump, succulent fried soft-shelled crab. Tempura is good here, but a little on the greasy side sometimes. But ton katsu, crispy fried pork cutlet, is a monument to fine frying, worthy of being mooched off a neighbor's plate though you are already too full. Mochi ice-cream in the predictable, but wonderful Japanese flavors — green tea, plum, mango — make a nice cool finish to a meal.
Ayaka Japanese Restaurant 1205 South University Avenue Ann Arbor 734-214-1212 Ayaka Japanese Restaurant in AnnArbor.com restaurant guide Japanese food, and selection of Korean dishes, including bibimbop. Hours: Monday-Friday 11 a.m.-10 p.m.; Saturday, noon-10 p.m. Sunday, 1-9 p.m. Liquor: No. Plastic: MasterCard, Visa, Discover. Prices: Inexpensive, with appetizers under $8, sushi ranging from $2 by the piece to $11 for specialty rolls, and most rolls in the $5 range. Many sushi combos, rice bowls, and lunch specials under $10. Value: Excellent. Noise level: Pleasant. Wheelchair access: Yes. Smoking section: No. The Bottom Line: Casual, sleek, serene, and quick; a perfect place for a bite of sushi, a rice bowl, some bibimbop, or a good, easy dinner.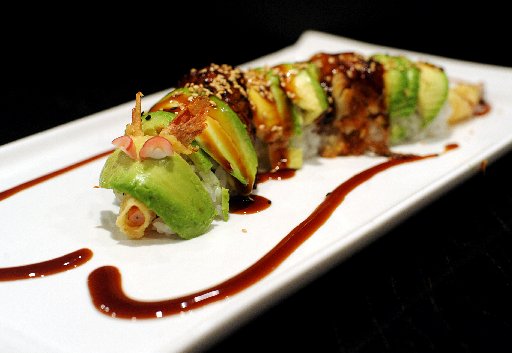 Melanie Maxwell | AnnArbor.com