Posted on
Wed, Jan 27, 2010 : 11:20 a.m.
Bad Plus bringing unique sonic mix to Ann Arbor
By Kevin Ransom
It's probably accurate to say that the music of The Bad Plus isn't designed for mass consumption.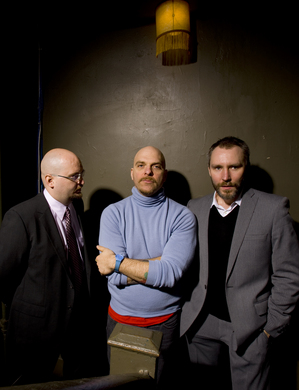 John Christenson
Their music could best be described as "avant-progressive-jazz-rock," making liberal use of dissonance, sometimes creating a furious din. But this piano-bass-and-drums trio also has respect for the integrity and role of melody — although they generally don't adhere to the original melody when they do their interpretations of pop and classic rock songs.
You might even say that The Bad Plus — who come to the Lydia Mendelssohn Theatre on Thursday, February 4 for 2 shows sponsored by the University Musical Society — specialize in gleefully deconstructing well-known pop and rock tunes. Over the 10 years since they began making records, they've dismantled and re-assembled the songs of acts like Nirvana, David Bowie, Heart, Tears for Fears, The Bee Gees, Burt Bacharach, Rush and Pink Floyd, among others.
The latest example of their ambitious reinterpretations is "For All I Care," a CD that was released last year.
Their origin actually dates back to their junior high school days, when drummer/singer David King and bassist Reid Anderson hooked up to play in rock bands in their native Minnesota. Then they met pianist Ethan Iverson, a Wisconsin native. Starting in 1990, the trio performed together for a short time, then went their separate ways for most of the decade before re-forming in 2000.
---
PREVIEW

The Bad Plus

Who: Progressive-jazz-rock trio featuring Reid Anderson on bass, Ethan Iverson on piano and David King on drums / vocals.

What: Ambitious deconstructions of well-known pop/rock songs, mixed in with their interpretations of modern-classical pieces.

When: Thursday, February 4, 7 and 9:30 p.m.

Where: Lydia Mendelssohn Theatre, 911 North University Avenue.

How much: $30-$40.

Details: Calendar listing on AnnArbor.com.
---
They've released 5 albums since then, and on "For All I Care," they alternate between their wigged-out pop/rock covers and their avant-jazz/rock interpretations of modern-classical pieces. The disc is also the first Bad Plus recording to feature a guest vocalist as a "fourth member" of sorts. That would be Wendy Lewis, a stalwart of the Minneapolis alt-rock scene.
On "For All I Care," Lewis delivers sometimes-sultry, sometimes-languid vocal readings of songs like Nirvana's "Lithium," Yes's "Long Distance Runaround," Heart's "Barracuda," the Bee Gees' "How Deep Is Your Love," Wilco's "Radio Cure" and Pink Floyd's "Comfortably Numb." But, behind her, King, Anderson and Iverson are constantly shifting gears — unspooling dissonant sonic collisions and constructing whiplash time signatures one minute, and then offering up a faithful reading of the song's main riff the next.
Iverson says that, when the band was preparing to record the album and choosing songs, "we just made a long list of tunes, and finally selected the ones that felt best. In every case, though, we needed to love the song first." And, when the band is deciding how to interpret a song, a key factor is that, in the end, "it has to sound like Bad Plus. We're always ourselves. We can't be different than who we are."
The addition of Lewis probably came as a surprise to die-hard fans. But, "after 4 albums as a trio it was time for a collaboration project," said Iverson in an e-mail interview from Turkey, where the band was on tour. "We could have met with a saxophonist or guitarist, but we decided to work with the human voice. Dave King and Wendy go back many years; they used to be in a rock band together. She's a natural, strong musician who isn't afraid to mix it up with a challenging band.
"Wendy's connection with the audience is just tremendous," Iverson continues."There has been a very strong positive response. I think some people even 'got' the Bad Plus for the first time" as a result of adding Lewis on vocals. "Sadly, though, Wendy won't be with us on this tour."
At this point in the band's career, deciding how to put the Bad Plus imprint on well-known pop/rock songs is no longer a big challenge, says Iverson.
"That's become part of the basic Bad Plus signature — at this point it is actually a pretty natural process," he says. "For example, (on "Long Distance Runaround"), we transferred the Bill Bruford drum part to the piano — that seemed obvious to us. And the heavy dissonance in the Pink Floyd song is also natural. Wendy said she sang that one as a warning, not as celebration of the heavy drug vibe."
The band's rendition of "Lithium" is extremely intricate, leading one to assume that that arrangement required much more than spontaneous improvisation. "Yeah, that one's got a very hard rhythmic matrix that we had to practice over and over," affirms Iverson. "And of course, it's a great song to begin with."
Listen to a selection of songs by The Bad Plus:

Mark Jacobson, UMS programming manager, says he's been an admirer of The Bad Plus "since 2003, when I caught them opening a concert in Montreal. They continue to stretch listeners' notions of what constitutes source material for improvisation, and they play in a genre-less world — where historical, rhythmic, and harmonic commonalities exist between jazz, rock, and modernist classical music.
"The Bad Plus are so much fun live, you never realize that you've actually been participating in a mini-lesson in 20th-century music history," Jacobson says.
The Bad Plus performing live in New York last year:
The Los Angeles Times hailed The Bad Plus as "among the potential leaders of what might be called the Nu Jazz movement — an eclectically blended, acoustically-framed, dynamically powerful variation on mainstream jazz."
But while the group's music is certainly eclectic, dynamic and acoustically-based, Iverson doesn't have much use for the "Nu Jazz" label — or for the notion that the group is leading a movement.
"I'm pretty sure 'Nu Jazz' didn't stick," he says. "We prefer 'avant-garde song band.' To us, 'jazz' equals 'improvisation,' and 'rock' equals 'song.' We try to do both."
Kevin Ransom is a free-lance writer who covers music for AnnArbor.com. He can be reached at KevinRansom10@aol.com.