dance preview
Ballet Preljocaj bringing edgy, adult take on 'Snow White' to Power Center
Posted on Tue, Apr 17, 2012 : 5:26 a.m.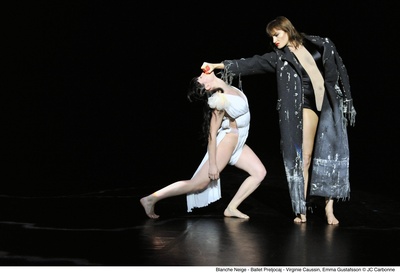 photo by JC Carbonne

Snow White is suddenly the fairest of them all, all over again.

No fewer than two films this year—Tarsem Singh's "Mirror Mirror," now playing at a theater near you; and Rupert Sanders' "Snow White and the Hunstman," set for a June 1 release—bring the fairy-tale heroine, lips red as blood, and her Evil Queen mother, heart dark as night, to the silver screen.

But the 2012 interest in the tale, collected by the Brothers Grimm 200 years back, in an 1812 volume of stories, doesn't surprise French choreographer Angelin Preljocaj.

A contemporary ballet-maker more known for abstract works than narrative dances, he made a full-evening ballet of "Blanche Neige"—French for "Snow White"—4 years ago, in 2008, for the 26 dancers of his Aix-en-Provence-based company, Ballet Preljocaj. It premiered in Lyon, at the prestigious Biennale de la danse, and it plays Ann Arbor's Power Center Thursday-Saturday, courtesy of the University Musical Society.

What attracted him to "Snow White"?

"I find it an extremely complex story, especially when you compare it to other fairy tales, like 'Sleeping Beauty,' that can be summed up in three "sentences," Preljocaj said last week, speaking in French by phone from Aix. "It's very rich on the dramatic level; everything has deep resonance."

It is also a very modern story, he feels.

"We are living much longer than before, and it's not unusual for a women of 50 to look young, to be seductive, to wear the same clothes as their daughters, the same heels."

So the psychological conflicts between the Evil Queen and Snow White—of a mother who sees herself, albeit pathologically, competing with her daughter—makes sense to us.

"It's a conflict that's symptomatic of our time," said Preljocaj, who also drew on the psychological analyses of Bruno Bettleheim for his "Snow White."

Preljocaj's initial dance training was as a classical ballet dancer, and in making "Snow White," he was in many ways renewing ties with the 19th century—not only with the fairy tales collected by the Grimms, but with the great narrative ballets of the 19th century and with late-19th century music, specifically that of Gustav Mahler, which he used for the ballet. (There is also supplemental contemporary music.)
PREVIEW
'Snow White'
Who: Ballet Preljocaj.
What: A modern, adult-oriented dance interpretation of the classic Grimm tale.
Where: Power Center for the Performing Arts, 121 Fletcher St.
When: Thursday, 7:30 p.m.; Friday and Saturday, 8 p.m.
How much: $18-$54, UMS Michigan League Ticket Office, 734-764-2538, and online at ums.org.
Choreographically, the challenge was "how to take up the narrative ballet in the 21st century, how to inject it with choregraphic material" that was modern and that did not rely, for example, on the pantomime that carries story details in ballets like "Swan Lake" or "Sleeping Beauty."
The many abstract ballets Preljocaj has made served, he said, as fundamental research—they were, if you like, "experiments," in the scientific sense, whose findings he could apply to this narrative work. "They gave me material that I could elaborate on," he said, "and bring to life in this context."
The strong emotional content of the choreography finds a match in Mahler's music, he said. He noted that the music, like the story itself, is both Romantic and modern at the same time. The costumes, by famed French fashion designer Jean Paul Gaultier, and set, by Thierry Leproust, reinforce the very adult, strong retelling of the tale. (Note that this is not a "Disney" ballet ; the UMS writes: "'Snow White' is a grown-up retelling of Grimms' fairy tale. Due to brief nudity and mature themes, it is not appropriate for young audiences.")
It's been 4 years since Preljocaj made "Snow White" (and more than a decade since his company danced here in Ann Arbor). The time has been productive for him, and he is working on a new ballet now that precludes traveling with the company on this tour. Still, he said, if Snow White remains eternally young, the ballet has matured since its creation.
"It has ripened in a very natural fashion," he said. "The dancers have made it their own, and the work is clearer and clearer. It's a living thing."