Posted on
Tue, Dec 4, 2012 : 8:42 a.m.
Band of Horses rocks the Michigan Theater to its rafters
By Will Stewart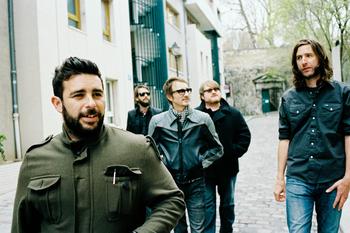 An authentic, sweaty rock 'n' roll show can be a rare commodity these days.
On Monday at the Michigan Theater, Band of Horses delivered a warts-and-all, feedback-drenched, monster-volume rock concert that started loud, got louder and eventually shook the old theater to its very foundation.
And, yes, whipped an adoring, standing-room-only audience into a frenzy.
Frontman Ben Bridwell and guitarist Tyler Reynolds opened the show as a duo, easing into their set with a gentle reading of "Ode to LRC," which gathered steam until the rest of the quintet joined in, setting the scene for the barrage of overdriven guitars, wailing Hammond organ and roomy-sounding drums that was to follow.
Making its first appearance in Ann Arbor, the Grammy-nominated band careened through a career-spanning, 90-minute set that balanced crowd favorites with enough deep cuts and oddities to keep the hard-core fans guessing.
Bidwell exuded a cool detachment, seldom interacting with the crowd between songs. Rather, he worked the stage in a businesslike manner, leading the band through its paces, while occasionally letting himself be taken in by the power of the music.
Reynolds, meanwhile, was the picture of composure, fingerpicking his way through the show, delivering the intricate figures that underpin the band's best numbers, like "No One's Gonna Love You" and "Great Salt Flats."
The band's not-so-secret weapon on Monday was organist-guitarist Ryan Monroe, whose organ was the glue holding the band's increasingly heavy jams together, and whose guitar solos on the set-closing "Funeral" provided the night's most elaborate musical fireworks.
And, sadly, some of the few really compelling moments.
Because, for all of its intensity and bombast, Monday's show was hindered by the sheer volume of the proceedings. A Band of Horses show without the band's epic jams wouldn't be a Band of Horses show. But, as on its records, the hooks for these jams are found in the nuanced interplay between the musicians.
On Monday, too many of those special moments were totally consumed by the show's sheer, tooth-rattling volume.
Thank goodness, then, for tunes like "Slow Cruel Hand of Time," during which the band took its foot off the gas and let their songs luxuriate on a pillow of steel guitars and stacked harmonies.
It's that dichotomy of overdriven, electric bombast and pastoral splendor that makes Band of Horses records so special. A little more of that balance on Monday could have transformed the band's show from authentically enjoyable to something truly spectacular.