Posted on
Thu, Nov 29, 2012 : 10:02 a.m.
Band of Horses' tuneful rock coming to the Michigan Theater
By Kevin Ransom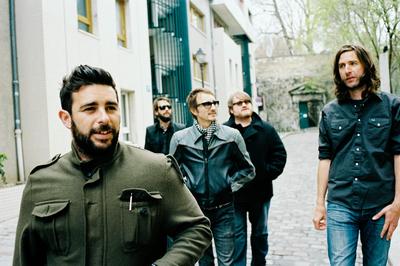 In the eight years since they formed,
Band of Horses
—who come to the Michigan Theater on Monday—have been on a musical journey.
Their 2006 debut album, "Everything All the Time"—recorded after they'd spent two years on the club circuit honing their skills—featured some big, anthemic, expansive songs, and the influence of Neil Young & Crazy Horse was evident in their primal sound.
By the time their third album, "Infinite Arms," came along in 2010, the lineup had undergone major changes, and their sound was tighter and more concise, with catchier melodies and more popcraft. And their sales increased from disc to disc—"Infinite Arms" debuted at No. 7 on the Billboard album chart.
On their new album, "Mirage Rock," released in September, they've retained some of that popcraft, and tighter arrangements, but they've also revisited some of the visceral, ragged, gritty guitar sounds and classic-rock influences of their debut.
That's partly due to the tutelage of the album's producer—the legendary Glyn Johns, whose resume as a producer is one of the most prolific, and most accomplished, in the history of rock. Dating back to the 1960s, he's produced or engineered dozens of albums by the likes of the Who, the Rolling Stones, Eric Clapton, Humble Pie, the Eagles, Joe Cocker, the Faces, and on and on.
Given their eclectic mix of wistful folk-pop, delicate vocal harmonies, stomping country-rock and gritty, revved-up rock n roll, Johns initially challenged them to define who they were as a band. But after pondering that question, they concluded that they didn't have to choose, that they could incorporate all of those elements and still retain a coherent musical identity.
So, we hear those various styles darting in and out of the tunes on "Mirage Rock." The lead-off track, "Knock Knock," kicks off with a gritty, crunching guitar, and is driven by an insistent, assertive guitar strum, but also makes room for some plaintive "oooh-oooh" vocal choruses. "How to Live" has a '60s power-pop kick that at times evokes the Who, but also moves to a loping, shambling, indie-rock swing.
The introspective "Slow Cruel Hands of Time" commences with a delicate guitar intro, and features an airy arrangement and introspective vibe, while the vocals of singer-songwriter-guitarist Ben Bridwell evoke the Jayhawks' Gary Louris. Indeed, the song just generally shimmers with a Jayhawks vibe—which means it also echoes with strains of the Byrds, Gram Parsons and the Everly Brothers, since those artists were all big influences on the 'hawks.
PREVIEW
Band of Horses
Who: Young indie-oriented rock band band that has built up a bigger and bigger audience in the six years since their debut album. With Jason Lytle.
What: The group's music is a mix of tuneful folk-pop; winsome vocal harmonies; gritty, crunching guitar riffs and some classic-rock influences.
Where: Michigan Theater, 603 E. Liberty St.
When: Monday, Dec. 3, 7:30 pm.
How much: $32.50 seats still available. Buy tickets by calling 800-745-3000, going to any Ticketmaster location or visiting ticketmaster.com.
The forward momentum of "A Little Biblical" is provided by terse guitar strokes that bolster a winsome melody, suggesting a Buddy Holly-by-way-of-Marshall Crenshaw lineage. Meanwhile, the ambient folk-rock ballad "Shut In Tourist," opens with a curlicue guitar lick. The melody is an enticing one, and Bridwell and his mates again engage in some swooning vocal harmonies, framed by deft guitar arpeggios.
And "Dumpster World," which may be the album's most intriguing track, is two songs in one. The first 2 minutes showcase a sinuous, nimble lead-guitar line riding atop a grimy rhythm-guitar riff and a beckoning, jazzy bass line. But then it shifts gears, kicks up the tempo, and the guitars become more slashing and distorted for another 2 minutes—as Bridwell's lyrics lament a bleak future for the world—before it returns to its more subtle beginnings for the final third of the song.
Overall, the album has a more organic sound than "Infinite Arms," which was a foregone conclusion before they even began recording it, given Johns' renowned commitment to the old-school, strictly-analog recording approach: He eschews computers and Pro Tools, and likes the bands he produces to record live in the studio, with few or no overdubs.
"We thought that would be a really interesting thing to do after our last album, which was a bit edit-heavy," Bridwell told Spin magazine. "It was really exciting to take a completely different approach. And I tell ya, those Rolling Stones records that he worked on are some of my favorites: 'Let it Bleed' and 'Sticky Fingers' and things like that.
"He made us try a much more immediate style of recording," Bridwell continued. "It's like, 'Okay, you're a band, you have to all be in the same room together and play at the same time.' That wasn't something we'd done much of before. A lot of the vocal takes on the album come from Glyn wanting me to be live and sing and play guitar at the same time. Before I could get away with just singing or just playing guitar and he really pushed me to try to do both at the same time. That's bonkers, man. It pretty scary."
And Johns is more interested in the overall feel of the song than he is in every note being perfect.
"He wasn't concerned so much with a song's performance, but if it had some sort of energy that he was looking for, that's the take that he wanted to be the keeper," said keyboard player Ryan Monroe to Relix magazine.
"I'd be like, 'Man, I flubbed that note on the bridge.' And he's like, 'Oh man, get over yourself. Nobody cares about that one note. It's the overall thing…..That's rock and roll, isn't it?' We learned to deal with small errors and Glyn seemed to think that those were the beautiful parts. And to be honest, those are some of my favorite parts of a lot of the records that he did."
Kevin Ransom, a free-lance writer who covers music for AnnArbor.com, can be reached at KevinRansom10@aol.com.