Posted on
Mon, Jun 17, 2013 : 5:07 a.m.
Bandmates, fans knew Michelle Chamuel had 'The Voice' even before TV show success
By Roger LeLievre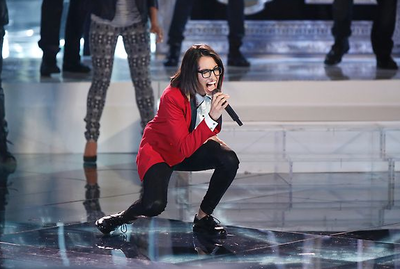 NBC
If you talk to people who knew vocalist
Michelle Chamuel
back in her Ann Arbor days, you'll find out what America has recently been discovering. The popular contestant on the TV singing competition
"The Voice"
really is something special.
Chamuel—a former University of Michigan School of Music, Theatre and Dance student—was the vocalist for the popular local bands My Dear Disco/Ella Riot from around 2008-2011. More recently she moved back to her native East Coast, and showed up as a "Voice" contestant this spring. She's one of three finalists as the show enters its final round tonight; the Blind Pig is hosting a free watch party.
Few probably know Chamuel better than multi-instrumentalist Tyler Duncan, her bandmate in My Dear Disco and Ella Riot, as well as her collaborator in the duo s/he. In a phone interview (he's on the road playing in Darren Criss' touring band but still calls Ann Arbor home), Duncan said that what America is seeing is someone who is "genuine, honest and ethical in every way—musically and personally.
"Knowing her as well as I do, I can say that is her, totally her," he said. "She's tapping into her really deep emotions when she's performing that aren't just for the camera, and she's putting on performances that feel like much more than a competition or a talent show.
"Michelle is cool because she is the most interesting of them all. She doesn't sing exactly like anybody else or do a certain thing," he added. "Michelle's got her own style. We keep seeing something real and powerful … and it's great for her. America has seen her and clearly her career is at a pretty exciting stage."
Jason Corey, associate professor and chair of performing arts technology at the U-M, said he had Chamuel in three of his classes and is not at all surprised by her recent success.
"I'm delighted that she's getting much wider recognition … she has a unique voice, I don't think she sounds like anyone else. I think that's a good thing. … I think she has a really good chance to win," he said.
PREVIEW
"The Voice" watch party
Who: All are invited.
What: A Tyler Duncan DJ set, followed by the live broadcast of "The Voice," on which former Ann Arbor resident Michelle Chamuel is a finalist.
Where: Blind Pig, 208 S. First St.
When: 7 p.m. Monday, June 17. The broadcast starts at 8.
How much: Free. For details, see the Facebook event page.
"She was a fantastic student and she always did great work," Corey recalled. "I remember in particular one recording that she did with a person who ended up being one of her bandmates, Robert Lester. It was one of the best recordings I had ever heard and the performance was just amazing. It sounded professional in terms of performance, in terms of production and in terms of engineering."
Theo Katzman, who was in the earliest incarnation of My Dear Disco, before it went from a seven-piece to a five-piece band, agreed.
"The secret to Michelle's success is that she has the rare ability to be emotionally completely honest, and she can channel that emotion and honesty through her voice," he said.
"She's a deeply moving performer, but unlike most performers, she's not putting on an act. What the audience is seeing is 100 percent real Michelle, and I think people are incredibly moved by the palpable sense of humanity and honesty that they experience when they watch her sing. Also, she's a monster vocalist with a unique sound, and that's rare in itself.
"I have no idea what the future holds for her, particularly if she wins 'The Voice,' but if she doesn't, I imagine that several people in the industry will try to snatch her up with a label contract of some kind," he added. "Either way, I've always known Michelle to be someone who follows her dreams, no matter what, and I'm sure she'll be fine. She's one of the greatest humans I know."
You won't get any argument about any of that from Rick E. Morrone of Dearborn, a longtime fan who first heard Chamuel when he was a communications student at the U-M Dearborn and spun My Dear Disco tunes on a weekly campus radio show he hosted.
"I'm totally, totally proud of her," he said. "She's not just a local star any more. She's a national star, and she's only going to be getting bigger and bigger, because (coach) Usher has taken a liking to her whether they win this thing or not."
Morrone recalls meeting Chamuel and the rest of My Dear Disco at a live show in Detroit. "I didn't know what she looked like listening to her and I didn't know what I expected her to look like … she was so tiny but she had this powerful voice that came out of her. I really took a liking to the whole group—all the members were so talented," he said.
"All the people at work know I knew her when, and have been watching the show … (Michelle) is, in their eyes, a clear winner. The others are good singers but they're not unique, and that's what 'The Voice' is all about - the voice. I've never heard a voice quite like Michelle's.
"She's got a nice future ahead of her that's for sure."
Finally, although he wasn't available for official comment, another U-M pal, singer/actor Darren Criss of "Glee" fame, gave a shout out in support of Chamuel's talent via a Twitter post recently.
"So glad @Usher's as into college pal @MichelleChamuel as I was in school. She was killin' it then, she's killin' it now. Good choice," he wrote.
"The Voice" airs at 8 p.m. Monday and Tuesday on NBC.