A2 Bookland:

Barbara Kingsolver's "The Lacuna" draws on history, illuminates life today

Posted on Thu, Nov 12, 2009 : 5 p.m.
"The only importance is beauty," a Mayan Indian woman, Maria of the Orchids, says in Barbara Kingsolver's "The Lacuna." However, it's clear in this terrific novel that fear, social inequality and the murderous impulse to power more often than not prevents most of us from anything but the briefest contemplation of beauty.

"The fellows running the show here are not very keen on controversial because it stirs people up," another character says. "The authorities…force people to stop asking questions."

There are many people in "The Lacuna" (events take place from 1929 to 1959) who do what they can to keep asking questions, despite their precarious circumstances, and so this is a big book that covers a variety of subjects—art, food, minority sexual identity, revolutionary politics in Mexico, the political culture of the United States, and the power of the media to shape our ideas about the world. It is a page turner that is also an astute meditation on behaving decently and living fully in an era of declining civil liberties.

"The Lacuna" tells the story of Harrison Shepherd, whose mother is Mexican and father American. He moves back and forth between Mexico and the United States after his parents divorce.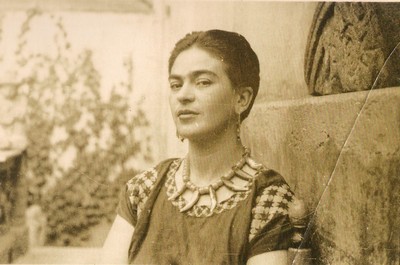 From the collection of Vincente Wolf, in the book "Frida Kahlo," edited by Elizabeth Carpenter
As a child he is taught to cook by a servant in Mexico. It is a skill which gives him an entrée into the chaotic lives of Diego Rivera and Frida Kahlo, who hire him in as a household staff member. He is also an inveterate journal writer, a device which gives Kingsolver the opportunity to describe what these two mercurial and impulsive artists were like. This section of the book brims with energy and life.
Rivera's artistic project was heroically ambitious. He set out to paint the history of Mexico, creating an iconic people's art with his famous murals, which still define in the eyes of the world his country and its struggles.
Kahlo's work was very different. She was in pain throughout most of her adult life as a result of injuries sustained in a streetcar accident. In her paintings—especially her self-portraits—she transforms her suffering into images that are sometimes difficult to look at, beautiful and entirely unique.
Both Rivera and Kahlo were active in revolutionary politics and lived large, passionate lives.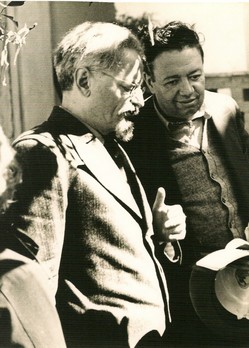 From the collection of Vincente Wolf, in the book "Frida Kahlo," edited by Elizabeth Carpenter
Eventually Shepherd goes to work for Leon Trotsky, who was given sanctuary and support by Rivera after he was exiled from Russia. Trotsky is portrayed as a complicated, brilliant man haunted by the murders of his family and political comrades. Shepherd is a member of Trotsky's household staff when Trotsky is assassinated by a Stalinist agent
He leaves Mexico traumatized by the murder and settles in Ashville, North Carolina, where he wishes to live quietly as a writer. His first and second novels, set in precolonial Mexico, are enormously successful, and his hopes for anonymity in Gringoland vanish.
His relationship with his secretary, Violet Brown, is another high point in the novel. It is a platonic love story, wonderfully imagined and delicately told.
Shortly after the end of World War II, Winston Churchill gave a speech in Missouri in which he coined the phrase Iron Curtain. The press picked it up and once the Soviets built an atomic bomb, the anti-communist witch hunts of the McCarthy Era begin. Shepherd is naïve regarding American politics and he underestimates the danger he is in given his celebrity and the notoriety of his former patrons.
"The Lacuna" is a pastiche of letters, journal entries, news articles, book reviews and HUAC testimony. It is a bit reminiscent in its formal organization of Dos Passos' U.S.A. Trilogy, but the voice is mostly Shepherd's, which is decorous and restrained. This gives the book its powerful and artfully appropriate sense of understatement.
I wouldn't hesitate recommending this book to anyone.
"An imperfectly remembered life is a useless treachery," Shepherd writes. The same can be said if we imperfectly remember (or never learn) our own history. After all, a lacuna is a missing part, a gap. Kingsolver brings us "something you never knew… the heart of the story."
For instance, I didn't know that in 1932 General Douglas MacArthur led troops against American Veterans in Washington D.C. during the Bonus Army riots, injuring hundreds of people. I didn't know that Diego Rivera owned a Thompson submachine gun or that the actor Edward G. Robinson purchased Frida Kahlo's paintings before her work became widely known. John Dewey, Howard Hughes, Andre Breton, and Richard Nixon also make surprise brief appearances in "The Lacuna."
One would hope that the political and social conditions that created nightmares like the House Un-American Activities Committee are a thing of the past, but we can't make that claim. America isn't a finished product, but a process that we're all involved in creating, as one of the characters in this extraordinarily readable novel reminds us.
• • •
In the middle of reading "The Lacuna" I wanted to look closely again at reproductions of Diego Rivera and Frida Kahlo's paintings. I went to the downtown branch of the Ann Arbor District Library and checked out two oversized books — "Diego Rivera: A Retrospective," from the Detroit Institute of Arts (1986); and "Frida Kahlo," edited by Elizabeth Carpenter, from the Walker Art Center (2007). The Frida Kahlo book contains wonderful photographs from the collection of Vincente Wolf, two of which are posted with this review.