Posted on
Sun, Dec 4, 2011 : 5:39 a.m.
Pianist Barbara Nissman returning to U-M for unique celebration of Alberto Ginastera
By Susan Isaacs Nisbett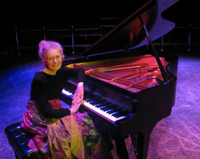 More than 40 years ago, the esteemed pianist
Barbara Nissman
met the influential Argentinean composer
Alberto Ginastera
through his music: She had learned his Piano Concerto No. 1 as she satisfied the requirements for her doctor of musical arts degree at the University of Michigan, which she earned in 1969.
Meeting the composer himself followed soon after: She played that same concerto in 1970, with the University Symphony Orchestra, at a festival of contemporary music here.
A lifelong friendship ensued, and Nissmann became a major champion of Ginastera's music. Over the years, she recorded his complete solo piano music and piano-chamber works, on the Pierian label. She was also the dedicatee of Ginastera's final composition, the Third Piano Sonata, which Ginastera wrote shortly before his death in 1983.
Now, coming full circle, Nissman has the chance to enlarge her Ginastera catalog yet again, and to do so at her alma mater: Saturday evening at Hill Auditorium, she appears as soloist with the University Symphony Orchestra, conducted by Kenneth Kiesler, for a special evening featuring all three of the piano concertos Ginastera wrote.
Nissman, Kiesler and the USO are also recording the concerti, for release in early 2012 on the Pierian label.
PREVIEW
"Viva Ginastera!"
Who: Barbara Nissman, piano, with the University Symphony Orchestra, Kenneth Kiesler, conductor.
What: All three of Ginastera's piano concertos in one evening, part of a mini-festival/residency.
Where: Hill Auditorium, 825 N. University Ave.
When: Saturday, 8 p.m.; pre-concert lecture at 7:15 p.m.
How much: Free. For more information, go to music.umich.edu.
The concert, part of a larger "Viva Ginastera!" residency, is free and open to the public. The residency includes talks and lectures, by Nissman, Kiesler and others; and additional Ginastera concerts Friday evening at Hill Auditorium (U-M Percussion Ensemble and the University Philharmonia Orchestra) and Sunday evening at the School of Music (Michigan Chamber Players). All events are free and open to the public (see details below).
The concert Nissman solos in on Saturday evening is a blockbuster, and not just because she's playing three concertos in one evening.
For one thing, it marks the official reintroduction of Ginastera's "Concierto Argentino, written in 1935 and later withdrawn by the composer. Aurora Nátola-Ginastera, the late widow of the composer, granted Barbara Nissman exclusivity to perform the work and to make its first official recording.
For another, the concert marks the first performance of the "original" version of Ginastera's Piano Concerto No. 2, written in 1972. This concerto was jointly commissioned by the Indianapolis Symphony and the late Austrian pianist Hilde Somer.
Somer, Nissman said in a recent phone conversation, changed the ending of the concerto and also transcribed the second movement—written for the right hand alone, a very unusual thing—to left hand alone.
Nissman had promised Ginastera's widow she would include the second concerto on her program when she played the "Concierto Argentino;" Ginastera himself had handed her the score on a visit she made to the couple in Geneva, saying "Barbara, you must learn this," Nissman recalled.
That was not all she recalled from that visit. It appears that after Somer commissioned the piece, she telephoned Ginastera repeatedly to ask if he had written anything on the concerto yet—which might have been fine, except that he was on his honeymoon with Aurora at the time.
Recalled Nissman: "He said, 'I decided to thank her for all those phone calls and make it as difficult as I could.'"
That he did—"There are retrogrades, canons, inversions, everything," Nissman said, mentioning various compositional techniques. "It's very cerebral."
Somer solved one of the difficulties—the movement written for right hand alone—by transcribing it for the left hand. In an interview Nissman heard, Somer said she requested a movement for left-hand alone. Nissman suspects Ginastera was repaying Somer for her calls with that tricky right hand movement. Somer returned the compliment with her transcription. But Nissman's score—unlike the version later published by Boosey & Hawkes—shows the right hand and that's what Nissman will play.
"It was conceived for the right hand, and it works better that way,"she said. "You can play the tempo indicated and the way he wanted it."
As for the last movement, Nissman notes it is based on the Chopin "funeral march." "It ends with the same two chords," she said. #8220;Somer added octaves that even if you were Horowitz you'd have to slow the tempo to play."
The "Concierto Argentino," which makes its official debut, is in the early tradition of Ginastera's "Danzas Argentinas," Nissman said.
Though Ginastera withdrew it after one performance, "it's a good work, not as sophisticated as No. 1 or No. 2," Nissman said. "But you see the seeds of where he was going. And people will love it. It's so accessible. It's signature Ginastera."
Still, of the three pieces, "No. 1, I find, is the true masterpiece," Nissman said. Nor can she forget the experience of that first exposure to the composer himself as she prepared the piece for performance.
"When we were rehearsing, he sat there in the back row, and the conductor would ask what note do you want here or there. He had written it 10 years earlier, and he had no clue what the conductor was talking about. That relaxed all of us.
"And then, there was this: "When you work on a composer, you have an image of what they had to look like, based on the music. Ginastera was out of central casting for a Latin American banker, with his pinstripe suit and tinted glasses. You wondered, 'How could he write such passionate music?'"
Complete "Viva Ginastera!" concerts and lectures:
Tuesday, Dec. 6 at 12:30 p.m. (free; no tickets required)
Institute for Humanities, 202 S. Thayer, Ann Arbor
Brown Bag Lecture: "Remembering Alberto Ginastera"
with Kenneth Kiesler, USO conductor, and Barbara Nissman, pianist

Thursday, Dec. 8 at 1 p.m. (free; no tickets required)
Britton Recital Hall, Moore Building, 1100 Baits Dr., Ann Arbor
Lecture: "Alberto Ginastera and the Cold War: A 'Musical McNamara' in the United States"
with Carol Hess, Michigan State University professor of musicology
Chamber Orchestra (members of Kenneth Kiesler's conducting seminar)
Ginastera/ Variaciones Concertantes

Friday, Dec. 9 at 8 p.m. (free; no tickets required)
Hill Auditorium, 825 North University Avenue, Ann Arbor
Percussion Ensemble/ Jonathan Ovalle, conductor/ Caroline Helton, soprano
Ginastera/Cantata para America Magica
University Philharmonia Orchestra/ Christopher James Lee, conductor
Ginastera/Symphony Celebration Op. 51, "lubilum"
Jovanni-Rey V. de Pedro (student soloist)
Ginastera/Sonata No. 1 for Piano

Saturday, Dec. 10 at 8 p.m. (free; no tickets required)
Hill Auditorium, 825 North University Avenue, Ann Arbor
(Pre-concert lecture with Carol Hess at 7:15 p.m.)
University Symphony Orchestra / Kenneth Kiesler, conductor/
Barbara Nissman, piano
Ginastera/Piano Concerto No. 1
Ginastera/Piano Concerto No. 2
Ginastera/ Concierto Argentino

Sunday, Dec. 11 at 8 p.m. (free; no tickets required)
Britton Recital Hall, Moore Building, 1100 Baits Dr., Ann Arbor
Michigan Chamber Players: "A Tribute to Alberto Ginastera."
Amy Porter, flute/ Nancy Ambrose King, oboe
Ginastera/Duo for Flute and Oboe
Jonathan Ovalle, marimba/ Joe Gramley, marimba
Ginasteras/Danzas Argentinas
Andrew Jennings, violin/ SuFan Yiu , violin/ Linnea Powell, viola/ Anthony Elliott, cello/
Amy Porter, flute
Ginastera/Impresiones de la Puna for Flute and String Quartet
Andrew Jennings, violin/ SuFan Yiu , violin/ Linnea Powell, viola/ Anthony Elliott, cello/Paul Schoenfield, piano
Ginastera/Quintetto for Piano & Strings