Posted on
Sun, Nov 11, 2012 : 8:32 a.m.
'Bat Boy' flying into the Arthur Miller Theatre, courtesy of U-M's musical theatre department
By Jenn McKee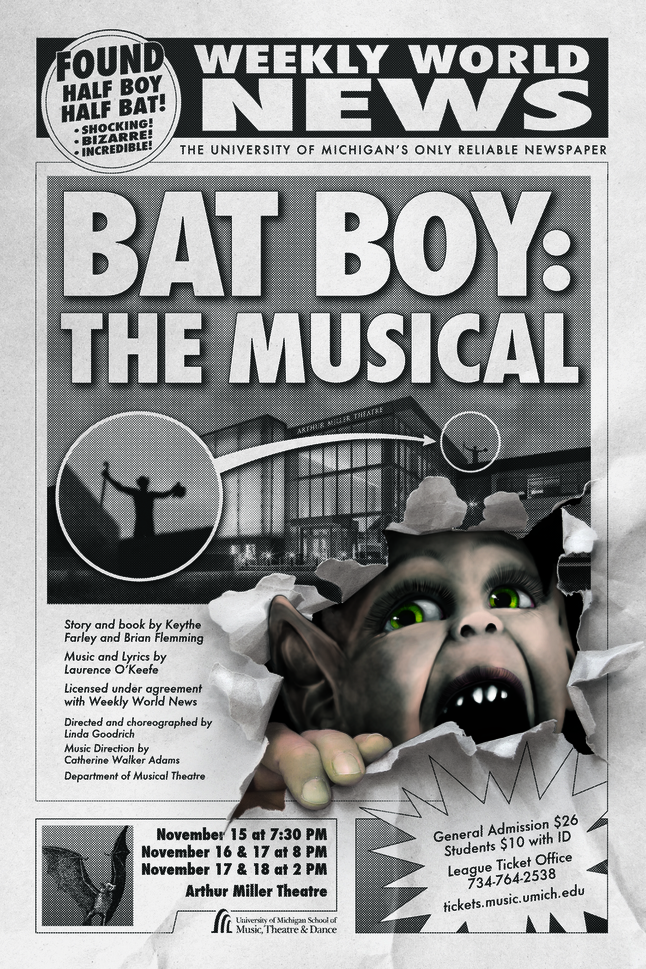 Campy tabloid headlines like "Found in West Virginia Cave — a half boy, half bat!", aren't usually the stuff of musical theater. But that's part of what makes "Bat Boy: The Musical," now being staged by the University of Michigan musical theater department, so appealing.
"It was the director, Linda Goodrich's, suggestion," said the show's music director, Catherine Walker Adams. "I'd heard some of the music, but I hadn't worked on the show before, and now it's turned into one of my favorite shows."
The acclaimed Off-Broadway hit show begins when three spelunking teens are attacked by a strange creature in a cave outside Hope Falls, West Virginia. The local veterinarian's wife decides to take in the Bat Boy and raise him as her own, and he slowly learns to speak, become civilized, and fall in love—with the veterinarian's daughter. But not everyone's ready to accept Edgar into human society.
"It's such smart writing," said Adams. "It's extremely interesting, irreverent, witty, and entertaining. And it has a very eclectic score. The styles and genres ranges from rap to classical and gospel. So the show's not without it's challenges, musically, but it's so much fun."
PREVIEW
"Bat Boy"
Who: University of Michigan department of musical theatre.
What: Ripped from the headlines of the Weekly World News, "Bat Boy" tells the story of a half-boy, half-bat creature that attacks three spelunking teens in West Virginia before he's dragged to their hometown. Written by Keythe Farley and Brian Flemming, with music by Laurence O'Keefe.
Where: Arthur Miller Theatre, in the Walgreen Drama Center, 1226 Murfin in Ann Arbor.
When: Thursday at 7:30 p.m. (sold out), Friday at 8 p.m., Saturday at 2 and 8 p.m., and Sunday at 2 p.m., Nov. 15-18.
How much: $26. Call 734-764-2538 or visit www.music.umich.edu/performances_events/.
"Bat Boy" debuted on Halloween in 1997 at
Tim Robbins
' Actors Gang Theatre in Los Angeles, and was written by
Keythe Farley
and
Brian Flemming
, with music by
Laurence O'Keefe
. The show moved to Off-Broadway in 2001, winning the Lucille Lortel and Outer Critics Circle awards for best musical.
"The hard part is integrating its variety of styles, and learning how to embrace those styles, both musically and in terms of the characters," Adams said. "Several actors are playing both men and women, and sometimes, they'll change character within a scene. … It's a little zany that way. … And the ensemble work, and the leads' work, too, is really vocally taxing and difficult. But it's been rewarding."
Since "Bat Boy" will play at the Arthur Miller Theatre, theatergoers can expect a more intimate musical theater experience—which may help to bridge the show's campy sense of fun to its darker elements (because Bat Boy is decidedly "other," the show explores issues like scapegoating, racism and hypocrisy).
"Linda's hand as the director has been spot-on," said Adams. " … Yes, the humor in the show is campy at times, but the characters have to be played honestly."
Jenn McKee is the entertainment digital journalist for AnnArbor.com. Reach her at jennmckee@annarbor.com or 734-623-2546, and follow her on Twitter @jennmckee.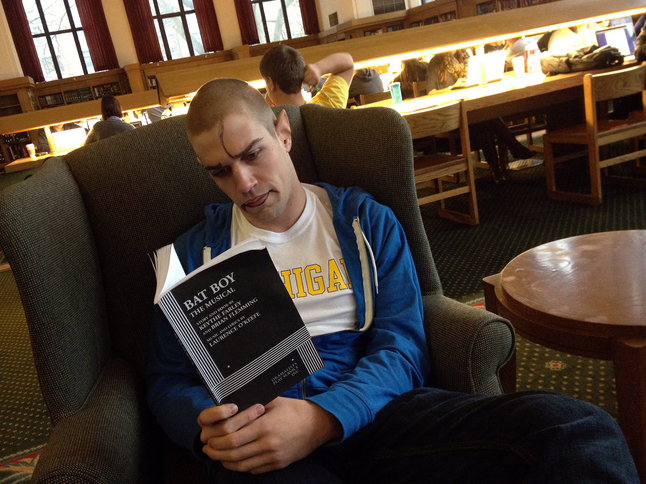 photo by Peter Smith Photography