Posted on
Thu, Nov 11, 2010 : 5:19 a.m.
Bayou Grill's Cajun cuisine worth a trip to Belleville
By Julie Halpert
Melanie Maxwell | AnnArbor.com
The last time I headed to Belleville was for the annual Strawberry Festival many years ago, and I had forgotten how quaint the town is. Though we went when after dark, we drove over a bridge built above Belleville Lake, a charming area surrounded by homes. The small downtown was under construction, so it was difficult to get a good feel for the area, but one of the busier places was the Bayou Grill.
The restaurant was owned from 1999 to 2008 by Yianni Christoudolu. But Brian Copsey bought it and shut it down for a two-year renovation that included expanding the bar and adding new flooring and décor, as well as outside dining. Copsey says the menu has remained primarily the same. "The old favorites are still here," he said.
Bayou Grill is one of the few restaurants in this area focusing on Cajun cuisine — and it generally does a fine job of it, based on my experience. The surroundings of this rustic looking place, with dark lighting, tile floors and tables covered with paper, are intended to transport you to New Orleans.
There are bright yellow walls, with drawings of ferry boats and Mardi Gras posters, along with an accordion hung on the wall. Multicolored lights are strung along the ceiling. The night we were there, a friendly singer serenaded us rather loudly, accompanied by what seemed like a high-tech karaoke machine. Though I appreciated his efforts, it made it hard to hear.
RESTAURANT REVIEW
Bayou Grill
404 Main Street, Belleville
734-697-2300
Bayou Grill in AnnArbor.com restaurant guide
Hours: Hours: Sunday-Thursday, 11 a.m.-midnight; Friday, 11 a.m.-1 a.m.; Saturday, noon-1 a.m.
Liquor: Yes.
Plastic: Discover, Visa, Mastercard.
Prices: Moderate. Many entrees are in the $13 to $16 range.
Value: Portions are enormous.
Noise level: Loud.
Wheelchair access: Yes.
Bayou Grill has a wide choice of Cajun favorites, from fried alligator (which we weren't adventurous enough to try) to po-boy sandwiches, jambalaya and crawfish étouffée. But for those who prefer more conventional dishes, the menu also includes pastas and American-style salads. There are also nearly two dozen types of specialty mixed drinks.
We started our meal with a traditional appetizer, fried zucchini, but even this had a Cajun flair, with a spicy breading prepared in-house, a secret recipe that Copsey wouldn't divulge. The bayou baked stuffed mushrooms were outstanding. The delicious filling contained seasoned seafood and crab meat, which was topped with a heavenly mornay sauce. That was the sauce I most enjoyed. I didn't particularly care for the spicy marinara that accompanied the shrimp and appetizers, which was thin and weak-tasting.
The same thin consistency was evident in the gumbo ya ya, an otherwise well-spiced soup full of fresh sausage, chicken, vegetables and gumbo. That same, perfectly cooked andouille sausage was perched on top of my white beans and rice, a giant platter so large I could barely make a dent in it.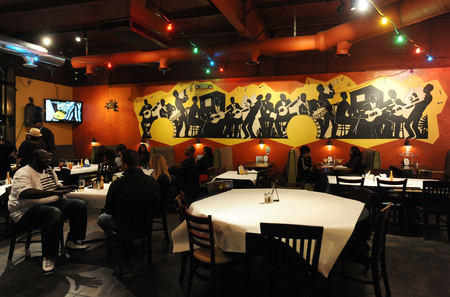 Melanie Maxwell | AnnArbor.com
The deep-fried catfish po boy was fresh and crunchy, topped with a wonderful remoulade sauce. A standout was the chicken and shrimp jambalaya. Loaded with spice and seasonings, it was wonderful.
My daughter's fried shrimp was also first-rate. The only problem was that there wasn't enough of it. Unlike the other portions, which were sizable, hers consisted of only a few shrimp, buried among a plate full of piping hot, heavily salted, yet addictive french fries.
The vegetable ravioli proved this place is as adept with more gourmet, non-Cajun offerings. Tender pillows of fresh pasta were bathed in a light cream sauce, accented with large sun-dried tomatoes.
Desserts are made in-house and vary daily. This was the only real weak spot we encountered. The chocolate cake was dry, and the peanut butter pie wasn't particularly rich or flavorful. Both were very small portions, not ideal for sharing.

Our food arrived in rapidly, delivered by a server who was so chummy she took time to sit down and chat with us. All in all, it was a great evening. Bayou Grill is definitely worth the drive from Ann Arbor, whether you're craving Cajun food or just a high quality dish.
Julie Halpert reviews restaurants for AnnArbor.com.