Posted on
Fri, Nov 18, 2011 : 7:42 a.m.
Beijing Guitar Duo making local debut in Rackham appearance
By Susan Isaacs Nisbett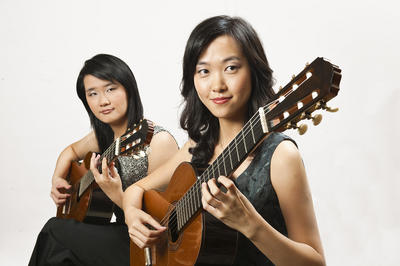 He may be partial to them: after all, they are his students. But when a guitar great like
Manuel Barrueco
tells you that
Meng Su
and
Yameng Wang
"will be known as the best guitar duo in the world," it's time to take notice.
That is, if you haven't already. The two guitarists, who bill themselves as the Beijing Guitar Duo—a Barrueco suggestion—have already released several albums that have critics strumming their praises.
The chance to hear the two live comes Sunday afternoon, when they appear at Rackham Auditorium, in their University Musical Society debut. There's a bonus for attendees: the pair's mentor and admirer, Barrueco, is on the bill as well. The three present solos, duos and trios that cross cultures and centuries, from Diabelli and Tarroba to Piazzolla and Tan Dun.
"I do believe it's a program that people will enjoy," Barrueco said in a recent phone conversation. "It's a guitar feast."

Su and Wang met as children at the Central Conservatory in Beijing, where they were both students of acclaimed professor Chen Zhi. The two women, now in their 20s, had a lot in common: they were both winners, at early ages, of the Tokyo International Guitar Competition; they both began playing the guitar at age 5 and a half.


PREVIEW
Beijing Guitar Duo
Who: Young classical guitarists, also with Manuel Barrueco.
What: A program of solos, duos and trios for guitar.
Where: Rackham Auditorium, 915 E. Washington St.
When: Sunday, 4 p.m.


How much: $20-$42, UMS League Ticket Office, 734-764-2538, and online at ums.org.
Su's mother had a colleague who taught guitar and violin; "I picked guitar," she recalled in a phone conversation from Baltimore. Wang didn't get to choose: "Her father gave her a guitar and said, 'practice,'" Su said.
She did, and so did Su.

"When you're that little, you don't know anything, whether you like it or not. It's your mission, your homework."

The two did their homework, becoming A students, and eventually their teacher wanted Barrueco to hear them.

"Mr. Barrueco is a huge name in China," Su said. Barrueco heard them, and in 2008, they came to study with him at Peabody Conservatory of Music in Baltimore.

"They worked very hard, they were very dedicated, and they improved like mad," Barrueco said.

Each was a superb player, "but when they played together, it was very special," he added. "I encouraged them to develop that further. It has been a joy to work with them and to know them."

Two is company on the guitar. "We don't want to give up the solo career," said Su, "but we love playing together. There is so much more you can do, technically and musically, with two guitars."

But three can be problematic. It's not that it's a crowd, but rather that there isn't that much music written for guitar threesome.

Su, Wang and Barrueco have a solution for the problem: have pieces written for guitar trio.

One such piece is Sergio Assad's "The Enchanted Island." Assad, who has written for the Beijing Duo before, had Cuba—Barrueco's birthplace—in mind when he wrote "Enchanted Island." He also had Havana's Chinatown in mind, and the work combines Cuban rhythms with the sounds of traditional Chinese music. "It combines all our roots," Barrueco said.

Barrueco had Su and Wang's roots in mind, meanwhile, in the arrangement he made of Tan Dun's "Eight Memories in Watercolor." The set of pieces "belongs" to China's piano superstar Lang Lang. But when Barrueco heard them, he was taken with the possibility of arranging them for Su and Wang as a duo. With Tan Dun's permission, he did so, and the work has been a hit - not only with Su and Wang, but with the composer.

"A few months ago, they had the opportunity to play it for him," Barrueco said, "and he went crazy for it. He thought it was even better than the piano version."