Posted on
Sun, Nov 4, 2012 : 5:56 a.m.
Belcea Quartet founder reflects on Beethoven program coming to Rackham Auditorium
By Susan Isaacs Nisbett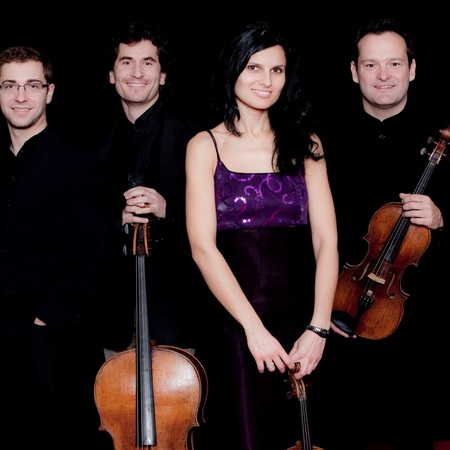 A Beethoven quartet cycle is a mighty thing, and for the members of the
Belcea Quartet
, which appears Nov. 11 at Rackham Auditorium in the University Musical Society Chamber Arts Series, it's been a long-held ambition.
It's an ambition the group—now composed of Corina Belcea and Axel Schacher, violins; Krzysztof Chorzelski, viola; and Antoine Lederlin, cello—has made a reality, both on the stage and in the studio. The group's Beethoven cycle is set for release this month.
When the group, a favorite with audiences locally and internationally, returns to Rackham, it's with two late Beethoven quartets—Op. 127 and Op. 130 (with the "Grosse Fuge" finale) that are an important installment not just in the Beethoven cycle but in this quartet's journey through these works.
First violinist and quartet founder Belcea, busy performing with the group in Europe, took some time from a hectic schedule to provide some exceptionally thoughtful answers to questions put to her via e-mail.
Here's what she had to say about playing the Beethoven quartets and about the upcoming program.
Q. What has playing and recording your current Beethoven cycle taught you? How does doing a complete cycle inform individual quartets?
A. Playing these incredible quartets has been a life-long ambition, and now that we are in the middle of playing them together, it's really a dream come true. Rehearsing, playing, listening and recording these works has and will always be a challenge, but with every rehearsal and concert we find new ways of expressing what we believe lies behind the black dots on the page. It is a constant quest and search for different colors, contrasts, variety of expression, both in the right hand and in the vibrato that could make these pieces more comprehensible to us and our audiences.
Recordings are always only a reflection of our conception of the quartets at one particular moment. A few weeks later and they sound totally different (better we hope!), so there is always a bit of frustration when you think back on what you have put down on disc. We always wish we could go back into the recording studio and record them all over again!
Playing them in a cycle, especially in chronological order, has given us a completely different perspective of these works. To start with the Op. 18s (Beethoven's first set of quartets) and play a concert every day feels really like a journey through the life of the composer; his struggles, his joy, his despair, prayers, triumphs, it is all there and every note tells a story. By the end of the week, both the audience and us were exhausted but incredibly elated. It was really the highlight of our career. From a compositional point of view, it is fascinating to discover how little cells in one quartet become the seed for a whole new work, more intricate and more interestingly crafted.
PREVIEW
The Belcea Quartet
Who: Respected chamber-music ensemble.
What: Two late Beethoven quartets.
Where: Rackham Auditorium, 915 E. Washington St.
When: Sunday, Nov. 11, 4 p.m.
How much: $24-$48, UMS Michigan League Ticket Office, 734-764-2538, and online at ums.org.
Q. What makes the Beethoven quartets a challenge?
A. There is no doubt the quartets are a challenge for any group. Starting from Op. 18, both the technical challenges and musical ones are obvious. The individual technical difficulties rise with each quartet, but from a strictly quartet-playing point of view, the troubles start already in bar one of Op. 18, No. 1!
Articulation, intonation, accuracy, homogeneity of sound, of vibrato, character, the list goes on. The textures are quite transparent, and you hear every voice and every stroke that is not entirely unanimous.
The greatest joy comes from the fact that these works are written in such a conversational manner. To find yourself on stage with your friends, "chatting" through music, sharing the greatest range of emotions you could possibly imagine, is a great joy.
I think the audiences pick up on that, too, and this is the big difference between listening to them on a CD, or being part of the story and playing an active role in the scenario. It is amazing how much it matters if the audiences are quiet and you feel they are really listening intently. It gives us such a sense of concentration, and it allows us to really forget about anything else and just get into the music.
Q. In the current program, you have Opp. 127 and 130 together. Could you say a few words about these two late quartets and the distance—emotionally, musically—that separates them.
A. The two quartets we are presenting in this program present a very different picture. Op. 127 opens with a fanfare-like statement, followed by the most lyrical fast movements Beethoven wrote. Marked "teneramente, sempre piano e dolce," its first phrase is also very contrapuntal, more so than any other theme in the earlier quartets. Lyricism is definitely at the heart of this quartet, and it seems to want to minimize dramatic contrast as much as possible. The Adagio ma non troppo e molto cantabile is one of the most beautiful slow movements Beethoven ever wrote, and it is the heart of the piece. Its calm directness, sense of freedom and simplicity are heartwarming. It is also unusual, as the use of variation form for a slow movement is not common in Beethoven's early years. In his third period, his preoccupation with song developed a new interest in variations. This movement is on a very large scale and the range and depth of feeling is second to none.
The Scherzando Vivace third movement provides the contrast in this work and in contrast with Op. 130, this dance movement is on a very large scale. Starting with a fanfare of pizzicati, which never appear again, it continues with a fugal scherzo where the counterpoint starts and ceases abruptly, only to begin and cease again and again. The fnale is one of the most simple and sweet-sounding movements, with a folk-like tone that always reminds me of Christmas and the 9th Symphony.
Op.130 is a brilliant, mercurial piece, where contrasts are pushed to such an extent that we almost start to doubt its sense of continuity, both within its movements and between the movements. The first movement deals with frequent confrontations between its adagio and allegro sections. The second movement, Presto, is over before you blink, a fast and furious dance which starts in a whisper, has a quick explosion in the maggiore trio and a decorated da capo which is over before one can admire the decorations. The slow movement is on a much smaller scaler than that of Op. 127 because this quartet contains another, slower movement, the Cavatina. This movement lacks solemnity but has plenty of grace and freshness and a certain amount of humor. Another dance movement follows, Alla danza Tedesca, very simple in structure and very innocent but with unusual dynamic markings.
The beautiful Cavatina (one of Beethoven's favorite movements, which always "brought tears to his eyes" when he thought about it) precedes the mighty Grosse Fuge. It comes as a shock, as none of the four movements before this slow, deeply felt movement prepares the listener for such a deep range of emotions. This shock, however is nothing in comparison with what happens just after the cavatina, with the overpowering violence of the Fuge. This quartet contrasts very much with 127 by its multiplication of movements and the way each of its movements is in one way or another extreme.
Q. What's the difference for you between Op. 130 with the Grosse Fuge finale and the "replacement" finale that Beethoven wrote? Do you prefer one version over the other? Does the Grosse Fuge still sound revolutionary today to you, or, in your experience, to audiences?
A. The "replacement" finale vs. the Grosse Fuge for me is a very unfair "battle." They are both so different and they give the quartet such a different balance, one can only make a very subjective choice. I think we all find the grosse fuge incredibly visionary, revolutionary, daring, almost incomprehensible and certainly light years ahead. I still cannot imagine what Beethoven's contemporaries must have thought when they heard it.. The contrast that it provides, especially to the Cavatina, is so shocking that for us it makes it one of the most powerful pieces we have ever played.
The alternative finale, on the other hand, gives the quartet a much more "relaxed" feeling, a more upbeat, Haydnesque ending. The other movements, however, sound a little lost without the Grosse Fuge and the whole quartet seems even more disjointed. The Fugue shifts the centre of gravity to the end of the work and gives tremendous strength to this piece.
Q. Since we last heard the quartet here, Axel has joined. What has this transition been like for the quartet?
A. Any change of personnel is a traumatic experience for a quartet. We spend years trying to find a sound that allows everybody to have their own freedom of expression but at the same time be part of a communal "unit," something which sounds like one instrument. The moment someone new comes in, this very fragile balance is totally destroyed and needs to be rebuilt. With Axel's arrival we tried not to make him come into our sound but to use his wonderful qualities and experiences to diversify our own range of colors, dynamics, etc. On a human level, it has been wonderful to get to know his charismatic personality, to enjoy his great sense of humor and friendship. Of course it is and will always be "work in progress." as one cannot run out of things to improve in a string quartet. I think we were lucky we realized from the beginning of the process that trying to find someone with Laura's qualities (our ex second violin) was like trying to find a needle in a haystack. We knew it was time to embrace something else and we were ready to go in a different direction, if we found the right person. Well, we certainly have and we are very happy and very grateful for that.