Posted on
Thu, Mar 4, 2010 : 5:13 a.m.
Bell's is a great diner and so much more
By Susan Isaacs Nisbett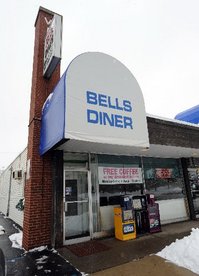 Lon Horwedel | AnnArbor.com
It's sandwiched between the driveways for Stadium Hardware and
Sze-Chuan West
on Stadium Boulevard, and in some ways you could say
Bell's Diner
is the perfect filling between the two.

It's at once a thriving piece of classic Americana — like Stadium Hardware, may it never close — and a Korean diner. Will it be eggs, pancakes and hash browns? Or mandoo and an order of bi bim bob?
Actually, that question is surprisingly hard to resolve. I head to Bell's determined to eat breakfast, and I'm sure I want two eggs over easy, savory, crisp-cooked sausage patties, hash browns and one of their cakey, warm homemade biscuits … until I'm confronted with the possibility of not eating the bi bim bob or the bulgogi, which, by the way, is good either sliced over rice or mixed with tender but toothsome slivered cabbage and other vegetables.
The best thing to do is to settle into a booth with a friend — or just someone who will let you mooch off his or her plate — and have a joint Korean-American feast, mixing and matching and trading and talking as the servers pass by with refills on the excellent coffee or more water for your tea. Just make sure you do it before the late-afternoon closing: 4 p.m. weekdays; 3 p.m. Saturday and Sunday.
---
Bell's Diner
2167 West Stadium Boulevard
734-995-0226
Bell's Diner in AnnArbor.com restaurant guide
Breakfast from morning till close; sandwiches, burgers, salads; and a large selection of Korean dishes.
Hours: Monday-Friday, 6:30 a.m.- 4 p.m.; Saturday, 6:30 a.m. - 3 p.m.; Sunday, 8 a.m. - 3 p.m.
Prices: Inexpensive: nothing is more than $8.99, and most items are in the $4-7 range.
Credit cards: Yes.
Value: Excellent.
---
Bell's is a cozy place, but not trendy, thank goodness. It's more frozen in time, circa 1955 grandma's kitchen, with prices that almost match and loyal clientele that prizes its easy comfort and friendliness. Chintz valences top the windows and wood shelves hang high over the booths, displaying decorative plates. A curtain blocks you from seeing inside at the front door (half the time, I'm afraid the place has closed), but a narrow mirror rimming the room, conveniently at eye-height, lets you check your makeup, the people across the room or the traffic flow outside.
You can't have absolutely anything you want at Bell's restaurant, but the choice is larger (and way less greasy) than you might expect.

Breakfast, American-style and all-day, is an option, with eggs, pancakes, waffles, excellent sausage and hash browns and those warm, coarse-crumbed, flying-saucer-sized biscuits as mainstays. Coffee is free with breakfast until 11 a.m.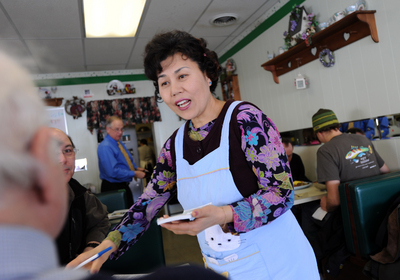 Lon Horwedel | AnnArbor.com
Come lunchtime, if breakfast doesn't tempt you, a burger — made with Knight's Market's excellent ground round — is a fine choice, in any of the iterations Bell's serves up. Try the Ann Arbor Burger, with mushrooms, tomato, green peppers, onions and Swiss. And the fries aren't half bad. Note that everything is custom-cooked, so ask if you want something that's not quite what you see on the menu.

There's a full list of sandwiches, hot and cold, freshly made soups and chili, a long list of salads and … the Korean menu, just the way there used to be at the late Steve's Lunch on South University Avenue or the way you still find it at Kosmo in Kerrytown.
Put Bell's bi bim bob on your regular rotation of Tree Town versions of this classic dish of rice topped with meat (or tofu) and vegetables, plus fried egg. And keep in mind their other Korean standards, from deep-fried vegetable dumplings (mandoo) to jopche (potato noodles with vegetables and slivers of egg and beef) and bulgogi and other Korean standards. (Note that there is also a good border-crossing kids' menu, which gives equal space to mandoo and chicken nuggets.)
Lunch brings a regular rotation of daily Korean and American specials for a price that's lower than the regular menu price. Whether you choose one of these or something else, it's served with warmth and a smile. It doesn't take too many visits to feel like a regular — or to want to become one.
Susan Isaacs Nisbett is a freelance writer who covers the arts for AnnArbor.com.