Posted on
Fri, Aug 9, 2013 : 10:12 a.m.
Chelsea's Ben Daniels learns from his famous father, carves out own niche as a blues musician
By Roger LeLievre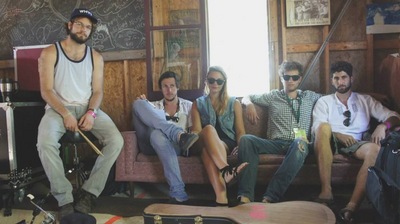 photo by Chris Casey
Proving the apple doesn't fall far from the tree,
Ben Daniels
—son of actor
Jeff Daniels
—has at various times been a filmmaker, an actor and a musician. It's in that latter capacity that he brings his blues-rock group the Chelsea-based
Ben Daniels Band
to
The Ark
Thursday night.
The band, which first formed in 2008, now also consists of George Merkel on guitar, Tommy Reifel on bass, Wesley Fritzemeier on drums/fiddle/trumpet/keyboard/spoons, and singer-songwriter Amanda Merte.
"Growing up I was always making movies. Me and my brother and sister, we'd make all kinds of things. I was always more into behind the scenes—I really liked editing and filming," Ben Daniels said. "Then I started getting into music and editing music, and I went to school out in Arizona for audio engineering and recorded myself."
Eventually he turned to the guitar, which, he said, delighted his famous father, also a talented blues-style musician.
PREVIEW
The Ben Daniels Band
Who: Chelsea residents Ben Daniels, George Merkel, Tommy Reifel and Wesley Fritzemeier.
What: Bluesy rock.
Where: The Ark, 316 S. Main St.
When: 8 p.m. Thursday Aug. 15.
How much: $15. Info: www.theark.org or 734-761-1800..
"He's been trying to get me to play guitar my entire life, but I was always playing with sports and other stuff. I finally decided I wanted to try it … He is very happy I am doing music. He wept openly when I finally came to him and said, 'I am ready to learn the guitar.'"
Ben Daniels said he enjoys jamming with his dad whenever their schedules permit.
"We sit out on the porch or wherever. He teaches me a couple of songs he's working on, we jam together, do whatever. Sometimes we will write stuff together for fun. He's definitely got the chops—he's got a lot to teach me. At the beginning, he just taught me five chords, he said that's all you need to know to start out.
"Writing a song is my favorite thing to do, my favorite place to be, and it's what happens naturally," Daniels added.
With six CDs under their belts—"Coming From The C," "Checkin' In To The Michigan Inn," "Can't You See," "The Mountain Home" EP, their dual album and movie release "Old Gold," and the release of their sixth studio album, "Roll," recently—the Ben Daniels Band is clearly serious about making it long term in the music business. And another album is already in the works.
"We're getting more shows, playing live, writing, writing and writing," Daniels said. "We have about 15 songs we've been playing for about a year so we can get them how we want them before we record them. We have enough material to put out another one. We're starting to record; (in fact) we're going to go record after this interview."
He said whoever comes to The Ark can expect a great show.
"We just played Blissfest; that was probably our best by far. … We're pretty much still on a high.
"We're feeling very good about The Ark and all the things that are happening before The Ark, we are excited about a lot of the new songs we've got now and probably a few we'll come up with between now and then," he added.