Posted on
Thu, Mar 14, 2013 : 10:50 a.m.
Ben Folds to play Hill Auditorium in charity concert; tickets on sale Friday
By Bob Needham
Note: The start time for online sales has been changed to 4 p.m. Friday, March 15.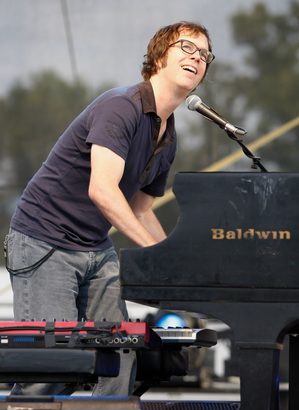 AP file photo
The University of Michigan student group
MUSIC Matters
today announced a solo concert by
Ben Folds
at Hill Auditorium on April 11.
Tickets start at $20, $35, $50 and $55, and go on sale at 11 a.m. March 15 at the Michigan Union Ticket Office, in the basement of the Michigan Union on State Street. They will be available online at www.michiganmusicmatters.com/tix starting at 4 p.m. that day.
The concert is presented by MUSIC (Michigan Undergrads Serving In the Community) Matters and sponsored by Michigan Hillel. This is the group's second year producing a charity concert; proceeds will benefit need-based scholarships for high school students to attend U-M.
"We are excited by Ben Folds' ability to bring together a wide range of students and community members," MUSIC Matters Acting President Coby Joseph said in a press release. "His engaging performance style and career-long commitment to charity make him the perfect artist for our benefit concert."
Folds became a star with his 2001 album "Rocking the Suburbs." His latest album, made with his band Ben Folds Five, is "The Sound of The Life of The Mind."
Folds played Hill Auditorium in 2008 as a headliner for the Ann Arbor Folk Festival. He played the Michigan Theater in Ann Arbor in 2006 and 2009.
More information from the press release:
The Ben Folds concert will be the capstone event for MUSIC Matters's entire Day of Festivities on the Diag at the University, called SpringFest 2013. Arts organizations, a cappella groups, and dance performances will all be featured along with club's booths, games, and a "Restaurant Row." It will be held from 10 a.m. until 2 p.m.

The goal of SpringFest is to unite the diverse University of Michigan community for a fun afternoon on the Diag," explains MUSIC Matters Founder and President Phillip Schermer. "The entire day of festivities, capped off with the Ben Folds concert, serves as a culminating event of the academic year, bringing the entire campus together for one big, final celebration."

MUSIC Matters (Michigan Undergrads Serving In the Community) is in its second year at the University of Michigan. Its goal is to bring one concert to the University of Michigan per year and donate the proceeds to charity. Last year, they brought Grammy-nominee, J. Cole, to Hill Auditorium and donated $10,000 to the C.S. Mott Children's Hospital.

This year, MUSIC Matters took on the issue of college affordability when choosing its charity. With the proceeds from the concert, MUSIC Matters will endow one of the first-ever student-funded scholarships at the University of Michigan. Megan Pfeiffer, MUSIC Matters Vice-President, explains, "As students of the University of Michigan, we are passionate about our education and giving that opportunity to others. We don't want financial need to be a roadblock for people when deciding their future, especially for becoming one of the leaders and best."

Michigan Hillel is the lead sponsor of this year's MUSIC Matters concert. Dalia Adler, Chair of Michigan Hillel, says "Michigan Hillel has gladly chosen to sponsor and partner with MUSIC Matters because it is an incredible way for us to support an event focused on the arts— an area that Hillel has really started to focus on this year. By collaborating to bring in Ben Folds, it's an opportunity for us to showcase not only our commitment to growing our own involvement with the arts, but our commitment to growing arts on campus as well." She continues, "the concert and the pre-concert events bring together the entire student body, and to be part of cultivating such a community is both an honor and at the crux of Hillel's values. MUSIC Matters unites Michigan in such a unique and inspiring way, leading to our eagerness and excitement to support a cause that empowers students and truly enhances the culture on Michigan's campus."
Bob Needham is director of entertainment content for AnnArbor.com. Reach him at bobneedham@annarbor.com or 734-623-2541, and follow him on Twitter @bobneedham.