Posted on
Wed, Nov 11, 2009 : 11:51 a.m.
Berlin Philharmonic, one of the world's great orchestras, returning to Ann Arbor
By Susan Isaacs Nisbett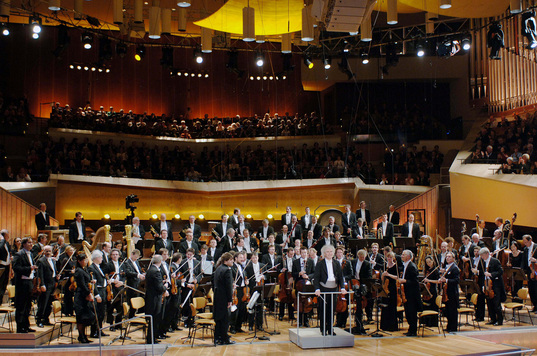 A new chief conductor. New repertoire. Younger personnel. More outreach. Webcasts.
Big changes have come to the venerable Berlin Philharmonic since it last appeared in Ann Arbor, in 2001, under the baton of Claudio Abbado. Some of those changes will surely be in evidence when the orchestra — under the direction of its current chief conductor and artistic director, Sir Simon Rattle, hired in 2002 and now contracted through 2018 — returns to Ann Arbor's Hill Auditorium on Tuesday, Nov. 17, under University Musical Society auspices. Ann Arbor is one of just six cities on the orchestra's U.S. tour.
Still, with an Ann Arbor program of the third and fourth symphonies of Brahms and film music of Schoenberg, we are squarely in Berlin territory. "You're getting the nucleus of the Berlin repertoire," said Olaf Maninger, a principal cellist with the orchestra since 1996.
And with the Brahms, the program emphasizes repertoire that has been central to the orchestra since its birth in 1882. The orchestra played all four of the Brahms symphonies — "newly minted," to borrow Sir Simon's words — in its first three years; in the 20th and 21st century, it has recorded them numerous times, most recently under Sir Simon, for an EMI set released here last month. Berliner Philharmoniker perform Brahms' Symphony No. 3 in F Major (excerpt) Berliner Philharmoniker perform Brahms' Symphony No. 4 in E Minor, Op. 98 (excerpt) Berliner Philharmoniker perform Schoenberg's "Begleitmusik zu einer Lichstspielszene," Op. 34 (excerpt)
So tradition — albeit transformed by a highly regarded, iconoclastic British conductor — lives on. Perhaps it's to emphasize that fact that the orchestra has asked to be known worldwide by its German name, the Berliner Philharmoniker.
But the orchestra is equally devoted to living in the current era:
"We really have to carry on," Rattle told the The Associated Press. Since taking over in 2002, he has reorganized the orchestra into a foundation run by the musicians and extended the reach of its music through education programs and state-of-the art distribution. "We have to carry on what we are doing, which is also to discover what an orchestra is in the 21st century, how it lives within its community, how it deals with new music, how it deals with old music."
Sir Simon Rattle talks about Brahms' symphonies:
Cellist Maninger, a moving force behind the orchestra's Digital Concert Hall, which brings all the orchestra's concerts to a global audience via the web, spoke by phone last week, before the orchestra left Germany for its U.S. tour, about what's been happening at the orchestra since Ann Arbor last heard it live.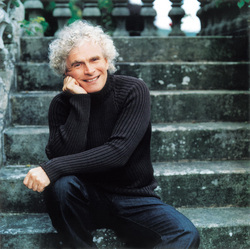 photo by Simon Fowler
Q: How different is the orchestra under Rattle?
A: A lot, really. There are two different ways of changing. Of course, the orchestra has changed by itself. It got younger and younger in the last 10 years and there is a real change of generations since the last 15 years. The cast of musicians on the stage looks like a youth orchestra more than a professional Berliner Philharmoniker. Of course, it's incredible, playing with so many good musicians, it's fantastic. When Abbado was here, for example, there were 13 in the cello group. Of them, there are still four now. You can imagine, our retiring age is 65, so the group is really old in those days, and it is much more fun now to play with these young people.
The move from Karajan to Abbado was a big change, but going from Abbado to Rattle was an incredible step for the orchestra because it's much more about music and social things, educational things. The orchestra is much more thinking why and for whom are we playing? Why are we playing where? Why should we go? Why do we tour? Thinking about doing these things is really a big change. I think for me it's interesting that it was possible for the last 35 or 45 years living without these questions, having a tradition by the tradition itself without knowing why.
But in conductorial style, in repertoire, to be honest, the change not so incredible. There are lots of things with modern music where Abbado has been really interested in lots of Italian music. Now we have a lot of British modern music. But just a change of repertoire, having new pieces, is always a thing that's important to the orchestra: Without the mirror of contemporary music, it's not possible to hear the old music in a new, dimensional way. You have the necessity to perform contemporary pieces.
Q: How did the Digital Concert Hall, the orchestra's webcasts, come about? You co-direct the media company that handles this, correct? A: Yes. I was thinking about it four years ago, about the question of how music can be distributed in our time. The number of people who can come to our hall, or hear us on tour, is of course limited. CDs and DVDs are diminishing more and more, and finding program slots for broadcasts is harder and harder here. It's the same in the States. So I thought what could be a model for having people near to the orchestra for the future? and not only people in Berlin or the people we are on tour with. And of course, having all the concerts broadcast through the internet worldwide for a global audience is really spectacular. It hadn't been possible until recently because broadband was not in a state to make good pictures and good sound. It took a long time, but now it's possible to make our orchestra and our concerts available in the whole world. If you buy a season pass, then you have the 30 concerts which the Berlin is playing in the hall as live concerts and a chance to see all the concerts whenever you want and the archive of the past seasons.
Q: Do most people watch in real time? A: Absolutely. It's a little bit like a soccer game. Being live with an artist seems to be really important. People are coming from all over the world; the second biggest market after Germany is Japan, then the States, which is 25 percent of all viewers. There is that time difference, so the Japanese watch early in the morning, and the U.S., in the afternoon.
Q: Have the webcasts affected the musicians? A: Yes. The biggest difference is that there's really pressure for everyone. Not because the people are watching live all over the world and not just in the Philharmonie. The pressure is that it will be in the archive always. They're absolutely used to live performances, and if something happens, it's history. If you think about having it in the archive, it's really different. And it's now all the days we work, not just one concert, but every single program.
But we are trying to reach new viewers, and an internet approach is a young approach for a young audience. We hope to broaden our audience. But the webcasts will never replace a live concert. They are different experiences.
Susan Isaacs Nisbett is a free-lance writer who covers classical music and dance for AnnArbor.com.
PREVIEW The Berliner Philharmoniker Who: One of the world's greatest orchestras, conducted by Simon Rattle. What: The music of Brahms and Schoenberg. When: Tuesday, Nov. 17, 8 p.m. Where: Hill Auditorium, 825 North University Avenue. How Much: $10-$125, UMS Ticket Office in the Michigan League, 734-764-2538, and online at ums.org.