Posted on
Sun, Dec 23, 2012 : 5:03 a.m.
The best albums of 2012: Django Django, the Stranglers, Jack White and more
By Martin Bandyke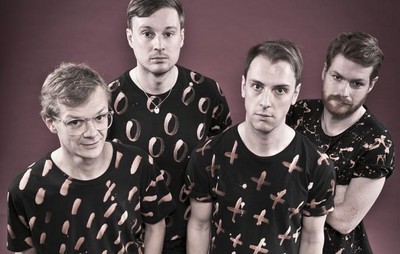 What are your top albums of the year? Leave a comment at the end of this article:
Musically speaking, it was a very good year, as I had an unusually tough time narrowing down the selections for my 2012 top ten album list. I left off compelling offerings from Beth Orton, Alejandro Escovedo, Spiritualized, Bill Fay and Patrick Watson, all of which richly deserved to make the cut.
As for the items that did do so, few match the effervescence level of indie-rock band Django Django's self-titled debut. Bearing absolutely no relation to Gypsy-jazz guitarist Django Reinhardt, the British quartet brings to mind the likes of XTC and early Roxy Music with its relentlessly inventive approach to writing and singing songs with an arty edge. Equally creative is Chicago-based multi-instrumentalist Andrew Bird, whose "Break It Yourself' is the warmest and most personal release in his impressive career.
Bob Dylan ("Tempest"), Dr. John ("Locked Down") and Neil Young & Crazy Horse ("Psychedelic Pill") proved that old guys can still deliver the goods, while veteran Afrobeat outfit Antibalas made an impressive comeback with its first release in five years.
The most unexpected group in my top 10 has got to be the Stranglers, the UK bad boys who've been around since the glory days of the punk-rock movement. I was a fan for many years, but I'd pretty much dismissed them ever since their guitarist and lead singer Hugh Cornwell left in 1990 to pursue a solo career. But "Giants" is as strong as anything in the quartet's catalog, and current front-man Baz Warne fills Cornwell's shoes quite nicely. This is no-frills hard-rock with a surprisingly melodic sensibility, and founding members Jean-Jacques Burnel (bass), Jet Black (drums) and Dave Greenfield (keyboards) are still in fine form after all this time.
Cat Power ("Sun") and Mark Eitzel ("Don't Be a Stranger") both serve as examples of triumph over adversity, prevailing over serious health issues and near-bankruptcy to produce some of the most brave and fearless work of the year.
And then there's Jack White. In the interest of full disclosure, I need to mention that Jack and I are related (we're first cousins), but ironically enough I think that has made me underrate much of his past work. Don't get me wrong—I'm insanely proud of him and think he's a gargantuan talent, but I've never wanted to come off as seeming overly partisan just because we're related. With that off my chest, I think "Blunderbuss" is a phenomenally supercharged trip through all manners of roots music, be it blues, country, rock or folk, and White's songwriting has never been so incisively brilliant. Nice job, cousin.
Here is my top ten list for 2012:
1. Jack White: "Blunderbuss" 2. Mark Eitzel: "Don't Be a Stranger" 3. Andrew Bird: "Break It Yourself" 4. Antibalas: "Antibalas" 5. Cat Power: "Sun" 6. Django Django: "Django Django" 7. Neil Young & Crazy Horse: "Psychedelic Pill" 8. Bob Dylan: "Tempest" 9. The Stranglers: "Giants" 10. Dr. John: "Locked Down"
Reasons to be musically cheerful about early 2013 include the anticipated release of new work by the Eels ("Wonderful, Glorious"), Nick Cave and the Bad Seeds ("Push the Sky Away"), Carrie Rodriguez ("Give Me All You Got"), Madeleine Peyroux ("The Blue Room"), Yo La Tengo ("Fade Out"), Erin McKeown "("Manifestra"), The Smiths' Johnny Marr ("The Messenger"), Ben Harper with Charlie Musselwhite ("Get Up!") and Emmylou Harris with Rodney Crowell ("Old Yellow Moon"). Merry Christmas and Happy New Year. Martin Bandyke, music host on Ann Arbor's 107one, continues a holiday tradition by playing Vince Guaraldi's classic album "A Charlie Brown Christmas" today at 4pm on his Fine Tuning program.