Posted on
Thu, Jan 5, 2012 : 1:13 p.m.
These were the best movies of 2011
By Ryan Levin
The great thing about year-end top 10 lists is the opportunity to champion the odd film that was under-appreciated and under-seen. Some choices for inclusion are fairly obvious, but 2011 was a rocky time for the cinema, cast even in the best light.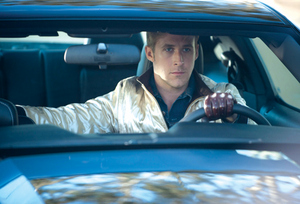 What seemed like an off-year for the master artisans of the silver screen had very few movies that could be praised without a caveat. There was hardly a single film this year that could be called unconditionally great.
Terrence Malick's "Tree of Life" was supposed to be the masterful 2011 art-house titan, but even it didn't live up to its own aspirations. David Fincher and Woody Allen released skillfully directed pictures, but failed to do anything that strayed too far from the strictures of genre.
Then again, there's nothing wrong with really great escapist cinema.
For some reason, 2011 seemed to be the year that the movies had their eyes on the sky.
There was Lars von Trier's 'Melancholia,' where we looked up to see breathtaking beauty in the face of cosmic ambivalence. "The Tree of Life" delved the heavens in the search for meaning. Indie debut "Another Earth" pondered a life of different choices in the mirror planet appearing in the sky above our own and "Take Shelter" channeled the paranoia of an uncertain decade into a storm lurking just over the horizon line.
A "best of" list is an artificial but irresistibly compelling exercise. It simultaneously stakes out your tastes and helps the reviewer find a position against a year of recently bygone film. It's a giddy and nail-biting exercise for a film-lover, taking whatever he or she passes off as "film criticism" into its most elementary state (qualitative ranking) and yet worryingly telegraphs clearly their likes and tastes.
It's difficult to get out to see everything one would like to, and undeniably the choice of films I did get to see were influenced by critical opinion, but what the films I choose to include I liked and I feel ready to back everything up as the best of the best of film this year.
And now for the fun part...
10. "Midnight in Paris"
Though there was nothing particularly challenging about Woody Allen's annual movie, the way it tackled nostalgia and the time travel storyline was nothing short of the work of a storytelling master. That the movie begins with a several minute ode to the streets Paris gives it a timeless feel that hopefully immortalizes the Parisian steps where Owen Wilson waited for his car ride to the past. Wilson carried his role with charm and a surprising honesty that helped make 'Midnight in Paris' pitch-perfect. It didn't reach for as lofty of heights as other films on this list, but then again it didn't have to.
9. "Cave of Forgotten Dreams"
Before 3D had a champion by the name of Scorsese, the medium was viewed with weariness and skepticism by most of the heavyweights in the film industry. Enter Werner Herzog, who managed to put together a documentary where 3D was not only an asset but practically a necessity. Cave paintings, some of the oldest surviving works of the artistic spirit, provided this year's best vehicle for 3D filmmaking. Herzog's overtly personal narration and the compassion he pays to the eccentrics who make the paintings their lifes' work turns the movie into a documentary about more than just beautiful scribbles on an ancient wall. It's about human capacity to make, love and need art.
8. "Moneyball"
What was lost a bit in the backlash against the generous praise heaped on Brad Pitt's performance was a sports movie that managed to make the background undercurrents of baseball compelling. "Moneyball" not only showed the moment our national pastime briefly arched away from the stranglehold of money buying wins, it hinted at the fact that as a species we might be better understood by statistics and cold numbers than we understand ourselves. Our instincts and intuitions may not be all we hold them to be. Directed by Bennett Miller (formerly of the terrific documentary "The Cruise") the film shone with a brilliant cast and gorgeous cinematography that made charts and rows of numbers visually compelling.
7. "The Girl with the Dragon Tattoo"
David Fincher made a masterfully dark mystery drama and did it while turning gender roles in mainstream narratives inconspicuously on their head. Not enough can be said about the gorgeous introductory credit sequence that looked something like a James Bond intro in a BDSM club, even as the rest of the story manages to be riveting start to finish. If you've ever considered a woman's role in a Hollywood movie to be unfairly meek and secondary there is something positively thrilling about seeing a tiny Rooney Mara physically scaring the crap out of a hulking pervert in an elevator. Mara's character is smart, aggressive and riveting without emasculating Daniel Craig's journalist/investigator. Plus the film's another great entry into the "humbug's Christmas movie list" along with 'Die Hard' and 'Gremlins.'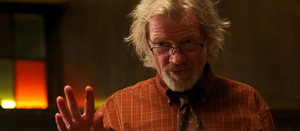 6.
"Red State"
The distribution method alone should be reason to see Kevin Smith's astoundingly good "Red State" included on any cineophile's list of the best of last year. The reception to this film was very clearly weighed down by Smith's personality and his early work but despite a painfully weak first few minutes that felt like the were ripped out of 'Porky's,' the meat of the movie is the solid and disturbing depiction of the in-bred Fred Phelps-esque Christian radicals. Michael Parks is fantastic, John Goodman is fantastic and the is ending the most audacious ten minutes of filmmaking I saw all year short of Lars von Trier.
5. "Drive"
Nicolas Winding Refn's "Drive" dripped style slicker than motor oil but did so with enough smarts and flair that the glossy surface extended well past skin deep through to the film's core. The aloof coolness of Gosling's nameless driver wasn't just a pose but created a protagonist that was minimalist and incredibly compelling. The beautiful cinematography was backed by an atmospheric soundtrack that at times quick literally voiced the emotions the characters were wrestling with internally. A movie about a stunt driver speaks to romantic movie lover in all of us and and every critical actor nailed their performance.
4. "Tree of LIfe"
What could nearly qualify as my personal biggest disappointment of the year was still a cinematic triumph that deserves all the praise it's been awarded. Though it failed to reach it, Malick's rumination on the very nature and origins of human existence reached so high and set such ambitious cinematic goals that it was incredible as far up as it did manage to reach. Nothing needs to be said about how absolutely gorgeous the film looks and the film's depiction of childhood in that period in American history is mesmerizing and peerless. The segments with Sean Penn depicting one of the boys in adulthood were like lines from some other beautiful poem Malick wrote and haphazardly inserted in but while they fail to perfectly jive they were no less radiant and ambitious.
3. "Melancholia"
Lars von Trier's mediation on depression and wickedness proved too bleak and negative for many but if it is the task of film to embody all the facets of human emotion and get the audience to feel what the characters are feeling, "Melancholia" was a success and a singular, arresting masterpiece of cinema. The haunting special effects of the rogue planet looming in the sky above earth along with the dull roar building in the background made a powerful and unforgettable sensation of the apocalypse that no other movie has managed to capture. Not only that, von Trier wove in a wonderful wedding day melodrama as the segue into his cataclysmic masterpiece in a movie that is without peer and without apology.
2. "Beginners"
"Beginners" has so many small things going for it that it would be nearly impossible to catalog its strengths in any kind of critical synopsis. At its core, it is a movie about confronting and embracing imperfect relationships among imperfect people. It uses photographs and archival images to convey memory and time periods in an overtly cinematic way. The technique is an example of film exercising a type of first-person narrative all its own. It contains a shy, magical romance in the strain of "Amelie" without being as much a fairy tale and boldly depicts an elderly man finally embracing his own homosexuality in his twilight years. 'Beginners' deals with our relationship with our parents and encourages the accepting of our immediate forebears as individuals with needs and desires that children are intentionally blind and blinded too. Christopher Plummer has already been nominated for his role but Ewan McGregor and Melanie Laurent are equally fantastic. Writer/director Mike Mills weaves an intricate movie about life, love, death and loneliness among imperfect people in a truly remarkable and singular way.
1. "Margin Call"
A movie about the housing market crash of 2008 that landed us squarely in the recession that we are currently mired in, "Margin Call" is as intensely relevant as it is brilliantly acted and written. Where so much of the modern cinema is about escapism, 'Margin Call' is almost confrontational cinema, simultaneously humanizing and decoding the class of people (the Wall Street trader) whose hands were at the wheel as the good ship Economy was driven into the ground without villainizing them and cathartically heaping blame. It's riveting from start to finish and manages to explain in a more clear and understandable way how the market works and what went wrong in 2008 than any financial article I've read to date. The ensemble cast is unbelievably good and the film is filled with monologues that not only capture the spirit of Wall Street but the illusions we have built up around the American Dream that makes Wall Street see itself as completely necessary as we reap the benefits of their money and decry their practices. This brilliant, Wall Street thriller is without a doubt the most timely, relevant and expertly crafted film of the year. And it was writer/director JC Chandor's feature debut.