Posted on
Mon, Apr 5, 2010 : 8:25 p.m.
Beyond Juice: A fresh alternative to Ann Arbor fast food
By Sarah Mintz
When I hear the words fast food, I think of nothing other than those tall golden arches: hamburgers, french fries and, of course, calories. Not anymore! I give you Beyond Juice.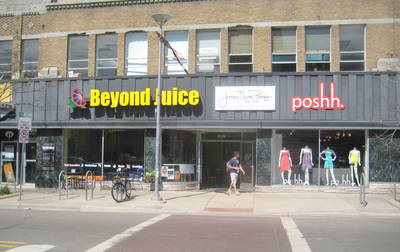 Sarah Mintz | Contributor
Beyond Juice is the answer to fast food, a healthy alternative to the normal artery-clogging and fat-filled fare found at so many chains across the country and within Ann Arbor.
Pancheros
,
Subway
,
Blimpy Burger,
or
Mr. Spots
anyone? With the help of nutritionists, doctors and health professionals, Beyond Juice has worked diligently to combine the most beneficial nutrients found in fruits, vegetables, grains and other various sources to serve healthy "Meals in a Cup" to customers everyday.
Although I have probably walked past more than fifty times, I never had the urge to give Beyond Juice a try. I figured it was all part of the nationwide health craze and would be gone in no time. And what was this place anyways? What did the name "Beyond Juice" really mean? What are these signature "meals in a cup" they advertise?
After being closed for over a month and reopening under new ownership in early February of this year, I decided it was time to give this place a fair shot. And anyway, after a big Easter brunch, I could use a healthy snack.
Located on East Liberty, between Poshh and the Rocky Mountain Chocolate Factory, I headed to Beyond Juice. The propped-open front doors were extremely welcoming as I headed in on this sunny Ann Arbor spring day. Inside, Beyond Juice was brightly lit, exceptionally clean and playing soothingly pleasant music; I could definitely imagine myself studying here. Although the place was fairly empty, I was greeted warmly at the front counter by Maureen, one of the new owners.
Maureen graciously guided me through the quite foreboding and crowded menu that took up one entire wall of the restaurant. She explained that each smoothie starts with a "basic blend," which is a powdered formula of more than 19 vitamins, minerals and amino acids that contains more fiber than a bowl of 100 percent bran cereal, no cholesterol, less than one gram of fat and all the daily vitamin and mineral requirements set by the United States Department of Agriculture. All smoothies at Beyond Juice are less than 400 calories. Also, beyond the honey, vanilla and agave nectar, no sugar is added. Extra ingredients like protein powder, bee pollen, ginseng, wheat germ and soy powder can be added for an additional $.95 while specialty formulas can be added for about $1.50.

With over 15 different smoothies to choose from - with names like Alive, Skinny Dip, Cranmango, Ultimate Buzz and Tahitian Tease - Maureen persuaded me to try her personal favorite, the Razzle Dazzle: strawberries, raspberries, papaya nectar, banana, honey, vanilla, purified ice and basic formula, all combined together for 213 calories (give or take a few). How could I not?
I also had a coupon to add a "specialty formula" to my smoothie for free. Since I did not have all day to analyze this menu either I chose one based on its name, sort of "eeny meeny miny mo" style. I know I did not need the Buff Body, Regulator, Allergy Away or Morning After, so I decided to add Immune Builder to my smoothie. Ginseng, beta carotene and goldenrod - whatever that may be - all sounded good to me. Why not stop the sniffle before it even starts?
Within two minutes, my 20-ounce low-fat fruit smoothie arrived. But that's not all. My smoothie arrived with a fresh slice of poppy seed bread. Sweet, but not too sweet, this light and airy bread was the perfect way to top off the "meal". Unfortunately, poppy seed bread is also the type that keeps on giving and giving - I was picking seeds out of my teeth for hours!
Two words: Frozen heaven. My smoothie was unbelievable. The mixture of fruit flavors was revitalizing, and the fruit itself could not have been fresher. This was a perfect natural midday energy boost. The raspberries and papaya nectar gave the smoothie a nice sweet flavor while the vanilla and ice balanced it out. Like Maureen, I too recommend the Razzle Dazzle with two big thumbs up.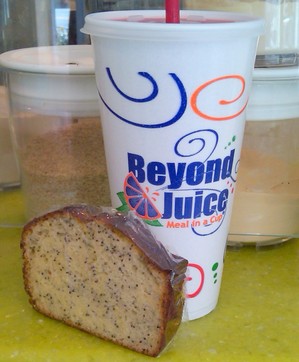 Sarah Mintz | Contributor
As always, no meal is complete without dessert (thanks mom and dad). I finished my "meal" with a huge peanut butter cookie. Freshly baked the morning of my arrival, this colossal cookie was nice and firm on the outside yet smooth and creamy on the inside. The best bites came every so often when I'd chomp down on a crunchy chopped peanut. Not sure how healthy this was, but nonetheless still delicious.
Although my smoothie came to about $6, which seems extremely overpriced at first, I was happy to spend the money. A meal at any other fast food joint would cost me at least $6 (sans the golden arches dollar menu), but to know my money was spent on a healthy, fresh, surprisingly filling and nutritious meal is worth so much more. Also, the service I received was extremely attentive and friendly, which only added to the value of my experience.
If you're not in the mood for a smoothie, food is also offered on the menu. Breakfast options include Belgian waffles, muffins and breakfast parfaits. Enticing soups, salads, sandwiches, fresh squeezed juices and desserts round out the rest of the menu. Next time I return, I plan to order the Turkey Cranberry sandwich with low-fat honey roasted turkey, cranberry sauce, lite cream cheese, sunflower seeds and raisins. I would also like to try the organic wheat grass or a fresh squeezed juice such as apple, cucumber, spinach, carrot and celery.
Quick, enjoyable and healthy, Beyond Juice is the perfect alternative to other campus eateries and fast food options. With extremely friendly and helpful service, comfortable seating, and 19 different vitamins, minerals and amino acids all in one 20-ounce cup, I will definitely be back to Beyond Juice soon. Anyone free for lunch tomorrow?

Beyond Juice
Address: 529 E. Liberty St., Ann Arbor, MI 48104
Web site: www.beyondjuice.com
Phone: 734-994-1111
Fax: 734-994-1112
Prices: Meal in a Cup $5-$6; sandwiches $6-$7
Dress: Casual
Payment: Cash or Credit
Catering: Yes
Delivery: Yes
Sarah Mintz is a contributor to AnnArbor.com's Food and Drink section. She is a senior at the University of Michigan's Ross School of Business. You can follow Sarah's other dining blog and contact Sarah at smintz@umich.edu.