Posted on
Wed, Aug 14, 2013 : 10:58 a.m.
Biercamp Artisan Meats offers tasty indulgences
By Kim Bayer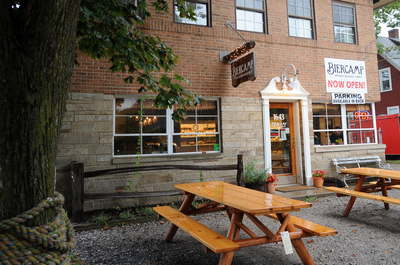 Melanie Maxwell | AnnArbor.com
The first thing to like about
Biercamp Artisan Meats
is the distinctive whiff of hard wood smoke when you pull into the tiny parking lot behind the storefront next to the Produce Station. Biercamp, a meat lover's paradise, is a trove of smoked and cured sausages, bacon and jerky (and a few meaty sandwiches) that you'd expect in either Escanaba or Brooklyn, but which has found a home in Ann Arbor.
As you approach the door, the atmospheric haze of woodsmoke starts some powerful associations and prepares you to enter feeling like Ernest Hemingway stocking up for adventure on a big two-hearted river—even if all you're on is your lunch hour.
Inside the minimalist, olde-timey space, there are perhaps four spindly little stools (on which I can't imagine Papa sitting) where you could pull up to perch near the window. Hemingway would doubtless have chosen the sturdy picnic tables outside under a tree.
If you are on your lunch hour, it's better if it's a nice day outside—unless you want to take your sandwich to go. And if you want a sandwich to go, plan on waiting a bit — at least five or 10 minutes even if you're first in line. This is slow food in a couple of different ways.
Biercamp offers just a few regularly scheduled prepared sandwich options (and grilled sausages on game days). Each of their sandwiches is served on a small, plain conveyance of a bun guaranteed not to distract you from the smoky meaty goodness inside. Mondays, the "16 hour" finely shredded pulled-pork sandwich becomes available. Tuesdays a smoky "12 hour" beef brisket option is added. And Fridays the "steamship round," a tender, long-cooked roast beef sandwich with horseradish dressing, is available.
RESTAURANT REVIEW
Biercamp Artisan Meats
1643 S. State St., Ann Arbor
734-995-2437
www.bier-camp.com
Hours: Monday - Saturday 11 a.m. to 7 p.m.
Plastic: All
Liquor: Beer is available for purchase but no consumption on site
Prices: Moderate. Smallish sandwiches start at $4.99
Noise level: Quiet
Wheelchair access: Yes
The bun may be nondescript, but all the sandwiches are yummy in a good back-yard cookout kind of way, and nicely complemented by the sweet onion and tart pickle that's included. The pulled pork could have been a tiny bit juicier, but the crispy burned bits in with the smoky shredded meat and the just barely spicy BBQ sauce made up for it. The brisket was also superior. Mine was lean but very tender and also appealingly smoky and served with the BBQ sauce. The steamship round was a juicy roast beef sandwich, but even with a tangy horseradish sauce it was a bit more bland than the brisket.
To go with your sandwich you can get some dill-pickle potato chips and beverages like Faygo's original root beer, Towne Club's "Michigan Cherry," or Squirt. What you cannot get is a beer to drink on-site, though you can get a growler to take away.
When we tried recently to get a growler on a Monday, they were out of beer and said it would be a few days before they'd have some again. I had wanted to try the beer with a tailgate kind of picnic — with a bunch of their summer sausages and sides. Instead, we had to be satisfied with just a grocery bag full of food.
In fact, I spent enough that one of the owners ringing me up gave me a reusable bag with the Biercamp logo on it, saying "you're so close to $100 that I just threw it in."
I did my best to get a representative selection of their house-made cured sausages and sides, enough to make the woman behind me comment, "I want to come to your place for lunch."
As an appetizer, the bright orange tavern cheese spread with scallions and bacon reminded me of the classic horseradish-spiked Win Schuler's Bar Scheeze and is just as hard to stop eating. The jerky pate with Michigan dried tart cherries was also a winner—cream cheese based, nicely balanced spices, and laced with corned beef jerky and tiny bits of cherry.
Some of the more interesting sides included smoked olives and pickled cherries — both unusual and strangely compelling. Others, like the sweet and sour sauerkraut salad and the boring picnic pasta macaroni salad with peas and carrots, were more prosaic. Somewhere in the middle were the pickled local eggs with lots of vinegar pucker, thin-sliced bread and butter pickles with the yellow mustard seeds, and double smoked Amish goat cheese—a very strong cheese dusky with infused smoky flavor.
Tasso Cajun ham in a spicy red coating of smoked paprika, cayenne and allspice was excellent, savory and lip-tingling. Sold in small pieces that look more like bacon, the package notes that it is "great for seasoning." Note to self next time I am making gumbo.
A well-known local chef gave his thumbs-up to the meaty and nicely balanced pork and beef smoked summer sausage saying Biercamp had hit the mark on their spice mix. The summer sausage also comes in a delicious version conveniently pre-stuffed with cubes of pepper jack cheese, saving that extra step of adding cheese to your cracker. I read a comment recently where someone said they were no longer bothering to eat sausages unless they were stuffed with cheese. This person should also try Biercamp's excellent cheesy hotdogs.
Nostalgia made me very interested in Biercamp's "braunschweiger smoked liverwurst." Braunschweiger is a taste of childhood to me, something that my grandmother served sandwiched with her own tart and hot pickled banana peppers. Where her braunschweiger was silky and smooth, the Biercamp version is more rustic, like a chunky pate de campagne with the earthy taste of liver just mildly present.
I was also excited to take another trip down memory lane with the dill pickle bologna spread. As a kid, I ate bologna in every configuration, including fried, pickled, ground, and spread with Miracle Whip and rolled into a tube. Ground bologna salad was a treat my mom made every once in a while with an old fashioned meat grinder. She told me recently that the secret to good bologna salad was Miracle Whip and lots of sweet pickle. Biercamp uses actual mayonnaise and plenty of dill pickle in theirs, and it is both meaty and pickle-y. Their ground bologna spread may have returned to its small-town roots, but it definitely had read better literature than the one my mom served on Hillbilly bread with iceberg lettuce.
At Biercamp, surrounded by northwoods general store touchstones and scores of jerkys, bacons, and sausages, I couldn't quite escape a sense of the ironic celebration of proletarian pleasures. But there's a reason why we like that. And they do a nice job with the smoke.
Kim Bayer is a freelance writer and culinary researcher. Email her at kimbayer at gmail dot com.