Posted on
Thu, May 20, 2010 : 5:23 a.m.
Big City Small World cooks up criminally delicious baked goods
By Julie Halpert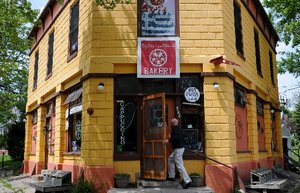 Melanie Maxwell | AnnArbor.com
Stopping by Big City Small World Bakery is reminiscent of a bygone era. It's the kind of place where neighbors of all ages regularly open the screen door, grabbing a cup of coffee and catching up on the latest news. This is a small, cozy bakery, housed on a corner in the midst of historic west-side homes, with an unmistakable burnt orange and yellow exterior. A mermaid made up entirely of wire, designed by local artist Stef Kopka, lounges on a wooden bench outside, along with other sculptures — setting this business apart from the adjacent homes.
Big City has been owned by Scott Newell for the past 10 years, but it's been around for twice that long and looks like it hasn't been redecorated much since then. But the eclectic, slightly dilapidated look is central to its charm. There are only two round bistro tables, along with a few chairs, so unless they happen to be empty, it's best to take your food to go. There is no table service; you order at the counter.
Though Big City provides a small selection of lunch fare, the main attraction here is the many appealing sweet treats. There's a huge selection, from scones, muffins and cookies to macaroons, cakes and homemade breads.
I headed there just after 7:00 on a weekday morning. Cutting a thick piece of challah bread, baked shortly before I arrived, was a great start to my day. All the baked goods look and taste as if someone just prepared them in their kitchen, instead of having that pre-formed, standardized appearance so common in chain bakeries.
I particularly enjoyed the gooey blueberry muffin, full of fresh fruit; I felt it was superior to the raspberry cream cheese muffin, which I found too rich. Other standouts were the chewy peanut butter cookie, the cinnamon roll, and the cupcake, topped with wonderful buttercream icing and decorated with star sprinkles for a festive look.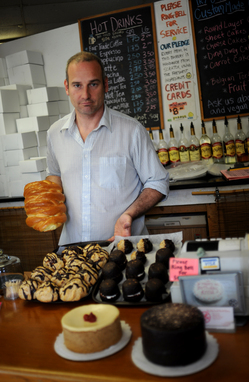 Melanie Maxwell | AnnArbor.com
Big City features vegan versions of some of its baked goods, and it was hard to notice the absence of eggs in the chocolate chip cookie. It was just as good as the non-vegan versions I've tasted.
Not to be missed, and the best pastry of all, was the ding-dong, a trademark here. It far surpasses the Hostess version of my youth (and the ding-dong, too, is available in a vegan version). A moist chocolate cupcake with real cream filling and melted chocolate poured over the top, this was, as my dining companion remarked, "so good it should be illegal."
The same can be said of the macaroon. It was a perfect melding of flaky coconut and meringue, along with a huge layer of rich chocolate. A blueberry scone, which I found dry and bland, was the only weak link in the items I sampled.
The bakery also has a variety of coffee drinks, and the latte I ordered was smooth and full-bodied, a wonderful complement to the delicious desserts offered here.
Big City also provides a small selection of lunch fare: soups, a couple of sandwiches, a variety of pasties and pizza. As for me, I would be content here with a mid-day dessert, skipping lunch entirely.
As for me, I would be content here with a mid-day dessert, skipping lunch entirely.
Julie Halpert reviews restaurants for AnnArbor.com.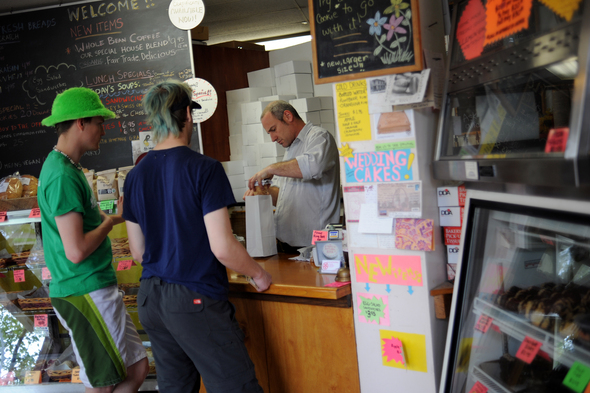 Melanie Maxwell | AnnArbor.com