Posted on
Thu, Apr 22, 2010 : 5:55 a.m.
Ann Arbor's Andrea and Darrell Hough talk about their time on "The Biggest Loser"
By Jenn McKee
For Darrell and Andrea Hough — the father-daughter team from Ann Arbor that was featured on the current season of "The Biggest Loser" — a lot has changed in the last 5 months.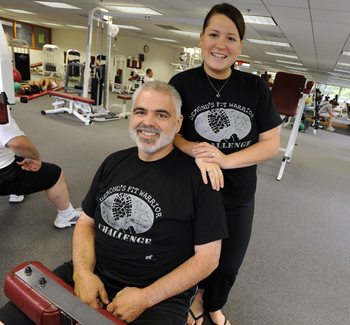 They've each donated bags and boxes of clothes that no longer fit them; Andrea expects the car she won on the show to arrive at an Ypsilanti dealership this week; they're recognized by strangers often, around town and beyond; and although they used to, as a weekly family event, get together for pizza to watch "Loser" on Tuesday nights, Darrell now has to record the show and watch it later in the week, since he does a daily, 2-hour workout at 4 a.m. with Andrea, then works 8-9 hours at his job, then returns to the gym for another 90-minute workout before heading home and going to bed by 8 p.m. (Darrell and Andrea are still competing with other eliminated contestants for a $100,000 prize, which will be determined during the show's May 25 finale.)
"It sounds worse than it really is," said Darrell regarding his schedule. "It's not a drudgery to work out. There's a lot of things that I don't do. There's hobbies and stuff that are put on hold, there's family obligations that are put on hold, but that's the short-term. The long term is, I'm going to have a good, healthy life to continue to do all those things."
Andrea, meanwhile, has developed a passion for Bikram yoga and spinning, and she's adapted, along with her father, to enjoying her favorite local restaurants while staying true to her goals.
"Mongolian Barbecue, we go there sometimes, because everything's raw and fresh, and you can control what you eat," said Andrea. "I've actually done Sidetrack a few times. They're really accommodating. And they have really good spinach and chicken and feta quesadilla, which you can have them do with no oil. It's delicious."
The pair can't share their current weights, since they'll appear for a final weigh-in during the finale; but they can share their thoughts about their experience on "Loser."
Q: Viewers always wonder about editing, and how that shapes the way someone is characterized. Do you think Melissa, for instance, was portrayed accurately on the show? Andrea: I honestly think they did a great job editing this season. I mean, obviously you're not going to see all the good parts of the people like Melissa and Lance that have been shown as the villains. But the things that they showed were honest. They really happened the way they happened.
Darrell: They let us know, and you need to be aware that you're mic-ed basically 24 hours, and when you're on camera, they're not going to make you say anything. So if it comes out of your mouth, they're going to use it. They're going to use it to make a reality television show. So, that in mind, when the camera's on there, they let you know that it will magnify your personality 5 to 10 percent above. And when I got home and started watching it, it's true.
Darrell and Andrea discuss why "Loser" is less cutthroat than other reality shows:

Q: One of the things you mentioned near the beginning of the season was how family get-togethers were centered on food. Are those gatherings now a matter of you resisting the food, or are family members trying to scale back to support your efforts? Darrell: People are accommodating. Everyone will try to bring something a little more on the healthy side, including ourselves. … But it was still a conscious decision. Thanksgiving, Easter, Christmas — I left those gatherings … a little upset, a little pouty, even, because part of the overindulgence of being with family was the eating part. It was difficult. But it comes down to resisting the temptation, and knowing what you're doing, and making the change for life. So as straightforward and as corny as that sounds, that's the bottom line. That's the reality of it.
Q: There's been some controversy about whether or not losing so much weight so quickly on "Loser" is healthy. What's your response to those critics? Andrea: It's funny to me when people make assumptions about things that happen on the ranch, because really, not many people know exactly what goes on. … The medical teams that take care of us on the ranch are ridiculously skilled, and they know exactly what they're doing. We work out, we eat healthy, and that's our life. So for us to lose weight at such a high percentage — I don't see how that could be unhealthy if you're doing it the right way.
Darrell: Definitely the time and the focus aspect comes into that, because you've got 24 hours a day to focus on yourself, with really nothing hindering you from that. There's no contact from home, no newspapers, no televisions. And you're not going to sit around at the ranch just to let time pass, either. So if you look at it as, you're eating clean and healthy, and you're working out several hours a day, it's the fast track to losing weight. But it's all done clean, with hard work. It's really nothing that anybody couldn't do, given that time.
Q: Inevitably, some contestants put weight back on when they return home. Wasn't that transition difficult? Andrea: By no means is it an easy thing to do. But when your focus on the ranch is the lifestyle change more than the game, you're going to walk away with more information and the ability to hold to that more than you would if your focus is off.
Darrell: There needs to be some accountability in your life, too. We hold each other accountable to our diet and to exercise. And it's not always a friendly thing when you're questioning, 'How have you really done today? Where have you been with your workout? How's your diet been?' So there's an aspect of accountability that you need to have somebody there in your life. Because when this show's over, and the limelight's off, and the goal in this given time period's gone, I'd be lying to you if I didn't have some issues in my mind of, wow, I've got to learn how to maintain this. What type things do I have set up that are going to keep me on track? There are things in my mind that I'll do. There are people I will surround myself with that will help. … But the unknown is what happens after May 25.
Q: Besides the exercise, there's the issue of making healthy meals for yourself. How has that gone? Darrell: Part of preparing your own meal and setting the time aside — it's just like any other maintenance in your life. … (Before the show) I was living life with a no-maintenance body. Everything was easy. Whatever was fast — I didn't really care. Preparing the food is a mindset that adds to this journey.
Q: Is it weird to watch these episodes after living through the experience? Andrea: When I first came home, I watched my very 1st 'Biggest Loser' episode with me on it in my hotel room, … and I was sitting on the edge of the bed … 5 inches away from TV screen, because it was so weird. At that point, though, I felt like I was watching a different person. Because I had changed so much, watching myself on TV, it was more like a character than it was who I am now.
Q: Are there things that don't make it onto the show that surprise you? Andrea: The pool is something that's not shown enough. Because we spend a lot of time in the pool.
Darrell: There's something about the pool (the show's production team) does not like, because there's a lot more time in the pool. And when the trainer's working you out in the pool, there's no floating. Your heart rate's in 80 percent of max, you're treading, kicking exercises, you're doing squat lunges in the shallow end, and sprints.
Q: What's changed for you personally, in terms of how you see yourself, since being on the show? Darrell: I'm way more outgoing than I ever thought I was. Typically a work party for my wife, the 1st thing that would come up is, no, I don't really want to go around people. … These people don't know me, they've never seen me, I don't want to deal with it. Now it's like, hey, it might not be number 1 on my list, but let's go have some fun. We'll do this. So being more outgoing and open to different things.
Andrea: I would say confidence. … I feel OK looking like a fool in front of people now because I know who I am, and I'm comfortable with who I am.
Andrea and Darrell talk about how their relationship was altered by their "Loser" experience:

Q: Emotions seemed to run very high at the ranch all the time. Why is that? Darrell: When your world is turned that upside down — I was away a couple of weeks, and I missed home like a kid at camp. I missed my wife, I missed the things that were steady in my life, plus the fact that I dreaded every time a trainer showed up. It was like, this is going to hurt, this is not going to be fun — and it took half the time I was on the ranch before I embraced the challenge as a challenge. Like, whoa, I got through that workout OK, and it really wasn't that bad. Why do I build it up so bad? It took half of that time to say, man, I need to grab hold of this and run with it and stop letting it drag me around.
Jenn McKee is the entertainment digital journalist for AnnArbor.com. Reach her at jennmckee@annarbor.com or 734-623-2546, and follow her on Twitter @jennmckee.