Bill Kirchen's great guitar sound returning to Ann Arbor for Ark show
Posted on Mon, Aug 27, 2012 : 5:29 a.m.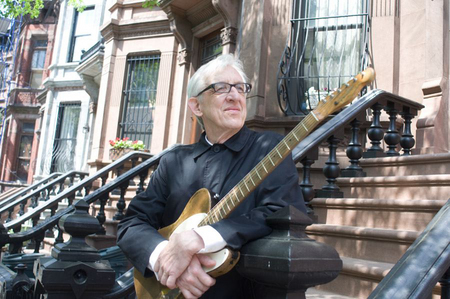 You heard it here first: Bill Kirchen's next album will be a re-recording of several songs by Commander Cody and the Lost Planet Airmen from back in the late 1960s-early-'70s—as well a a few tracks songs from his older solo albums.

Of course, the Airmen were first formed in Ann Arbor in 1967 by The Commander (George Frayne), Kirchen and several other Ann Arbor-area musicians, and then became terrifically popular in 1971 with their ubiquitous single "Hot Rod Lincoln," which was propelled by Kirchen's speedy, deep-twang guitar.

Kirchen, an Ann Arbor native and graduate of Ann Arbor High School (now Pioneer), moved to California in 1968, seeing greater opportunities in that region's burgeoning counter-culture music scene, and soon coaxed he others to join him.

The Airmen split up in 1976, and Kirchen formed the band the Moonlighters, a swingy ensemble whose first album was produced by Nick Lowe.

"We always get asked to play the old Airmen songs, and some of my older solo songs, because most people don't have access to the Airmen catalog, and over the years, the songs have sort of evolved, so we play them differently now," says Kirchen, who brings his trio to The Ark on Friday. "So the album is essentially new takes on older songs—we've re-invented a few things.

Among the Airmen tracks he's re-worked for the album are "Down to Seeds and Stems Again Blues," "Mama Hated Diesels" and "Two Triple Cheese," as well as "Too Much Fun," which Kirchen also recorded on one of his solo albums.
PREVIEW
Bill Kirchen
Who: Who: Roots-rock guitar hero and Ann Arbor native. With special guest George Bedard.
What: A lively, eclectic, roots-conscious romp through rockabilly, honky-tonk, blues, boogie-woogie and Western swing, with Kirchen's Telecaster twang front and center.
Where: The Ark, 316 South Main Street.
When: Friday, Aug. 31, 8 p.m.
How much: $20. Tickets available from The Ark box office (with no service charge); Michigan Union Ticket Office, 530 S. State St; Herb David Guitar Studio, 302 E. Liberty St. or online from MUTO.
"I love these songs, and they've aged gracefully over the years, and we've been doing a few of 'em in our live shows," says Kirchen. On the new version of "Too Much Fun," he says, "we do it less swingy, and more rock n roll. We're not doing anything too crazy with 'em, we just wanted to get people's favorites down on record."
When asked to describe more of the tracks from the upcoming album, Kirchen demurs, saying, "Well, I don't want to say too much more about it, because even though we've already recorded almost all of it, we still have some tweaking to do, so it won't be out until early next year, and when it does come out, I don't want people in Ann Arbor to think, 'Oh, we read about this already, it's old news," says Kirchen with a laugh.
But, if history is any guide, it will undoubtedly be another heady, lively, eclectic romp through honky-tonk, rockabilly, blues, Western swing and boogie-woogie—Kirchen's longtime sweet spot. (And of course the Airmen drank from that same well of influences.)
Kirchen's last album, "A Word to the Wise," from 2010, also gave him an opportunity to re-visit some classic songs—except on that project, he also got to hang out and perform with his favorite singers and musicians that he's worked with in the past, including Lowe, Elvis Costello, The Commander, Norton Buffalo, Blackie Farrell, Paul Carrack, Chris O'Connell and Maria Muldaur, among others.
"At first, when someone suggested a duets album, I wasn't too keen on it, because I didn't want to just call in a lot of favors," says Kirchen from his relatively new home in Austin, Texas, which he relocated to in 2011 after having lived in the Washington, D.C area since 1986.
"But then when we narrowed it down to just people I'd toured with, or recorded with, that made more sense, that felt more natural.
One of his first choices was Lowe. "Of all the guys I've worked with since the Airmen split up, Nick is the one I've spent more time with than any other," says Kirchen. "Besides him producing the first Moonlighters record, I've played on three or four of his albums, done some live work with him, and even was in his band for a world tour he did. Plus, I'm really fond of the guy. I think he's a fantastic pop music theoretician, songwriter, player, singer—he has a long of great ideas.
On "Word to the Wise," Lowe and Carrack deliver a swoony vocal duet on a cover of Merle Haggard's "Shelly's Winter Love." "Nick said that he and Paul used to talk about how much they liked that song, back when they were on the road together, in the '80s," says Kirchen. "I just played guitar on that one, I figured they had the vocals covered," he adds with a laugh.
Another highlight was Elvis Costello's intense vocal performance on "Man at the Bottom of the Well," which featured Costello singing the verses and dueting with Kirchen on the chorus. Kirchen wrote and recorded that song many years go, "and I thought it would be something Elvis could sink his teeth into—we wanted to get one of those patented, over-the-top, neck-vein-bulging rock vocals out of him, and he sang the hell out of it."
On that track, Kirchen let 'er rip on his Telecaster, tearing off a turbo-twang, reverb-drenched solo.
Of course, The Commander had to be involved in such a project, and for this confab, Kirchen chose I Don't Work That Cheap," co-written by Kirchen and his old pal Blackie Farrell, and showcasing The Commander's pounding piano. Farrell also played on the track.
Throughout, Kirchen drew on his deft and / or dazzling guitar chops, delivering sinuous guitar fills, or opening up and unleashing nimble, mercurial solos.
Kirchen, who was classically trained on trombone before getting into folk and country music in the 1960s, came out of the "clean country picking" school of guitar playing, so he was hesitant to embrace the guitar-hero handle and the Titan of the Telecaster honorific that was bestowed him many years ago.
"Yeah, in years past, I never felt compelled to take long solos, because I'm more of a melody guy—I like to paint a little picture with the guitar, using simpler melodies."
But, as his guitar prowess became more and more renowned, fans began requesting more of his crowd-pleasing guitar-slinger excursions. "So, I gradually became more comfortable with it, because people came to expect it, and it IS fun to play. And if people like it, I'm happy to do it."