concert preview
Billy Bragg returning to The Ark for sold-out show
Posted on Thu, Jun 21, 2012 : 9:30 a.m.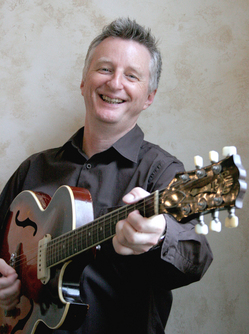 photo by Wiggy

As one in a generations-long line of singer-songwriters who wear their political hearts on their sleeves, Billy Bragg has a lot to live up to.

After all, it isn't easy always being mentioned in the same breath as Woody Guthrie, Bob Dylan, Harry Belafonte and Joe Strummer.

Thankfully for him—and us—Bragg can easily hold his own in the company of any songwriter.

Bragg brings his "Ain't Nobody That Can Sing Line Me" show to The Ark on June 24. The show marks the release of the "Mermaid Avenue: The Complete Sessions," a compendium of the unfinished Guthrie songs Bragg and Wilco put together more than a decade ago.

Even if he's mellowed ever so slightly during a 30-year career, Bragg's lefty politics remain a fundamental part of what he does. It's just that Bragg leavens them with generous doses of humor and self-depreciation.

It's a lesson he learned the hard way. Time and time again.

"I played with The Clash in 1984, when it was just Joe Strummer, Paul Simonon and three other geezers and I'd actually been going round slagging them off saying 'I've not been such a fan of The Clash since they dropped the 'L' from their name,' " Bragg told the British website Sabotage Times recently. "And Simonon had read it somewhere and wanted to have a word with me about it."
PREVIEW
Billy Bragg
Who: Influential English singer and songwriter.
What: His own songs and some Woody Guthrie songs.
Where: The Ark, 316 S. Main St.
When: 7:30 p.m. Sunday, June 24.
How much: SOLD OUT.
The takeaway, he said, is to be a little less strident and the message will come through on its own.
"I'm talking about politics - but it's kind of a wry sort of look because otherwise it can be a little bit too much," he said. "And also I tend not to like music that doesn't have any hint of self-awareness. It's really important to be humorous as well because when people laugh they open up but you can get your politics in there.
"If you come straight out with it—it's like throwing a bucket of cold water over the audience."
Don't expect it to happen at The Ark.
The first half of Bragg's Ark show will feature songs from the "Mermaid" sessions, as well as other Guthrie songs to commemorate the singer's 100th birthday. The second half will feature material from throughout Bragg's own career.
Bragg is underappreciated, both as a singer-songrwriter and as a showman. Even at his most political, his wit and charm always outweighed any doctrinaire posing.
In other words, just like Guthrie and Strummer and all those other great political songwriters in whose company he's always mentioned.
And with comes the wisdom that, now 54, his role has changed from one of leader and spokesman, to that of supporter.
So let the younger kids organize the marches and sit-ins, he said. He'll still be there to voice his support, share the message and share a song or two.