Posted on
Thu, Apr 12, 2012 : 5:49 a.m.
Celebrate the arts with Billy Collins; laugh with Judah Friedlander
By Ann Dwyer
EARTH DAY
Come to the "WCC Earth Day Event" on the second floor of the Student Center. 10 a.m.-2 p.m. There will be a special raptor presentation from 11:00 a.m.-noon by the Leslie Science Center. Environmentalists, recycling enthusiasts and sustainability experts are just some of the people who will be on hand. Free. WCC is at 4800 E. Huron River Dr., Ann Arbor.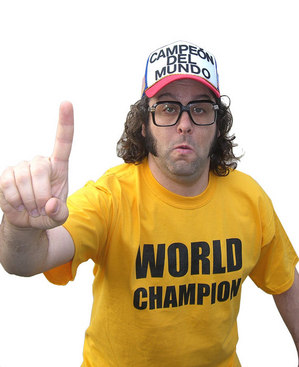 COMEDY
Judah Friedlander from NBC's "30 Rock" will play a special engagement at the Ann Arbor Comedy Showcase tonight. 8 p.m. On "30 Rock," he's the trucker hat-sporting writer. In his stand-up act, Judah is the World Champion. He's a great athlete, master of the martial arts, gets tons of chicks & is a role model to children. And he's better than you at everything. $18 in advance; $20 at the door. The AACS is at 314 E. Liberty St., Ann Arbor. 734-996-9080.
BOOKS
There will be a "Celebration of the Arts" featuring Billy Collins at Towsley Auditorium on the Washtenaw Community College campus. 7 p.m. Enjoy an array of poetry-themed activities. The evening will culminate in a reading by Collins followed by a Q&A session and a book signing. Free. WCC is at Washtenaw Community College Morris Lawrence Building 4800 E. Huron River Dr., Ann Arbor. 734-677-5033.
ENTERTAINMENT
Enjoy "Live Jazz and Soul Food" at the James Crawford Elks Lodge. Thursday and Friday, 5 to 10 p.m. Saturday 4 to 10 p.m. The kitchen offers soul-food main dishes and sides. Fridays feature the Tim Haldeman Trio. Following the live music, most nights feature DJs starting at 10 p.m. No cover, cost of purchases. The lodge is at 220 Sunset Road, Ann Arbor.
THEATER
See "White Buffalo" at The Purple Rose Theatre Company through June 2. Wednesdays through Saturdays at 8 p.m. Wednesday and Saturday matinees at 3 p.m. Sunday matinees at 2 p.m. Inspired by true events, this is the story of the miracle birth of a white buffalo calf on a family farm in Wisconsin that heralds a Sioux prophecy of peace on earth and unity to mankind. $20-$40. The Purple Rose is at 137 Park St., Chelsea. 734-433-7673.