Posted on
Fri, Sep 7, 2012 : 12:29 p.m.
Legendary songwriter Billy Joe Shaver making rare stop at The Ark
By Kevin Ransom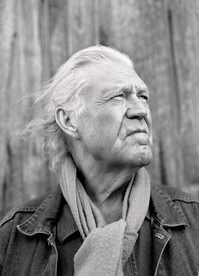 Do you miss Billy Joe Shaver? Of course you do. And, really, why wouldn't you?
Shaver is considered by most critics and fellow songwriters to be one of the most accomplished songwriters of the last half-century. Indeed, Willie Nelson calls him "the greatest songwriter alive today," and in 2009, Bob Dylan gave a nod to Shaver in his song "I Feel a Change Coming On," when he sang "I'm listening to Billy Joe Shaver, and I'm reading James Joyce." And literary giant John Steinbeck said his favorite song was Shaver's "Old Five and Dimers."
His songs have been prolifically recorded—by the likes of Nelson, Kris Kristofferson, Johnny Cash, Elvis Presley, Jerry Lee Lewis, The Allman Brothers, Bobby Bare, George Jones, Tex Ritter, Patty Loveless—and, especially, by Waylon Jennings: Shaver wrote 10 out of the 11 songs on Jennings' pioneering 1973 outlaw-country disc, "Honky Tonk Heroes."
But it's been six years since Shaver has played a show in Ann Arbor, or anywhere in the Ann Arbor / Detroit area. So, if you've been patiently awaiting his return, this is your chance: He comes back to The Ark on Sunday with his band.
One reason for Shaver's long absence from Michigan is that he's been dealing with some health problems in recent years. In 2010, he underwent minor heart surgery, including having a stent placed in a coronary artery supplying blood to the heart. (Previously, in 2001, Shaver suffered a heart attack onstage.) And, he's now 73. So he hasn't toured as much, and when he has, he usually hasn't strayed too far from his Texas homestead.
PREVIEW
Billy Joe Shaver
Who: Legendary, influential singer-songwriter-country-rocker from Texas who his pal Willie Nelson calls "America's greatest songwriter alive today.".
What: Shaver's songs can be poignant and ruminative, or swaggering and raucous, but he always writes with a plainspoken eloquence. Shaver's music draws on country, rock, the blues, folk, Western swing and sometimes even a little ragtime.
Where: The Ark, 316 S. Main St.
When: Sunday, Sept. 9, 7:30 p.m.
How much: $25. Tickets available from The Ark box office (with no service charge); Michigan Union Ticket Office, 530 S. State St; Herb David Guitar Studio, 302 E. Liberty St. or online from MUTO.
But there's another reason: In 2007, Shaver was charged with aggravated assault for shooting another man outside a bar in Waco. Shaver pleaded self-defense, saying that the other man shot first. It took three years for the case to wind its way through the Texas court system, and in 2010, a jury agreed with Shaver's self-defense claim, and found him not guilty.
But that whole experience took its toll, says Shaver.
"I feel like I've lost a lot of years that I could have been writing," Shaver recently told Rolling Stone. "But I didn't really want to be writing. I didn't want to get a whole bunch of bitterness into everything, I'm bitter enough as it is," he added with a laugh.
"I also had to be careful what I said, and I've had to walk away from places where I should have punched somebody in the mouth and I didn't—I just had to walk away from a lot of things."
In July, Shaver released a rousing, rollicking live CD / DVD, "Live at Billy Bob's Texas," his first disc in five years. It features live performances of 20 of his country-folk-rock classics, including "Georgia on a Fast Train," "Honky Tonk Heroes," "Old Chunk of Coal," "Live Forever," "Old Five and Dimers," "Hottest Thing in Town" "Thunderbird," "Good Old USA," and "You Can't Beat Jesus Christ."
The disc also features two new songs—"Wacko From Waco" (a witty recounting of the shooting incident, co-written with Nelson, a longtime pal), and "The Git Go."
Shaver has not had an easy life. His mother was absent from his early life, and he was raised in spartan surroundings by his grandmother—and as a child, he pitched in to make ends meet by working on farms and selling newspapers. He has struggled with drugs and alcohol at various points in his life, but he also became a born-again Christian in the '80s and is still a Christian today.
He also endured a period of great loss in the late '90s / early-'00s. In 1999, his wife and his mother died within just one month of each other, and then, on New Year's Eve of 2000, his son Eddy died of a heroin overdose at the age of 38. That was a huge loss on two levels: Ever since he was a young teenager, Eddy, a guitar prodigy, had been unleashing his blazing, careening, turbo-twang guitar solos, riffs and fills on Billy Joe's albums and in his live shows.
In '02, Shaver was honored with the first Americana Music Award for Lifetime Achievement in Songwriting, and in 2004 he was inducted into the Nashville Songwriters Hall of Fame. Some will also recall Shaver's commanding presence in the 1996 Robert Duvall film, "The Apostle." Duvall and Shaver are also friends, and in '04, Duvall produced a documentary on Shaver, "A Portrait of Billy Joe." In '05, Shaver published his autobiography, "Honky Tonk Hero."
And Shaver's touching, soul-stirring song "Live Forever" was featured in the Academy Award-winning film "Crazy Heart"—it played over the end credits.
Shaver is unbothered by the fact that, despite his considerable singing and songwriting gifts, and all of the critical hosannas he's earned, he's never drawn a large mainstream audience.
"I have a good following of people," he told Rolling Stone. "I have kind of cornered that simplicity thing. It's easy for me to be simple because I haven't gone to college or even finished high school, so you're not going to get any of them big 10-dollar words from me. And consequentially it's easier for dumbasses like myself to understand it, and of course the real smart people understand it and they appreciate it because it's real simple. And it says so much in so few words."
Kevin Ransom is a freelance writer who covers music for AnnArbor.com. He can be reached at KevinRansom10@aol.com.