Posted on
Mon, Nov 12, 2012 : 5:26 a.m.
'Perseverance: The Story of Billy Taylor' tells the inspiring tale of former Michigan running back
By Jenn McKee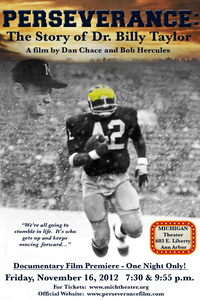 When watching the new, hour-long documentary, "Perseverance: The Story of Dr.
Billy Taylor
"—which will get two screenings at the Michigan Theater on Friday, Nov. 16—it's hard not to get swept up and excited while watching what is, at first, a highlight reel of Taylor's time as a star running back at the University of Michigan under Coach
Bo Schembechler
.
In Taylor's senior year, though, life took a profoundly dark turn, by way of a number of personal tragedies; and the promising young athlete turned to alcohol and drugs to ease the pain—a path that eventually led to prison time for being part of an attempted bank robbery.
"I don't recall a lot of the events of that day, but I do recall being handcuffed and arrested," said Taylor at a recent preview screening of the movie. "That's kind of like how you cope with something so horrible. You black it out."
As the film recounts, Schembechler—who, like Taylor, came from Barberton, Ohio—visited and spent time with Taylor in Ohio on the day he went to prison.
"I knew that he would," said Taylor, who'd developed a strong relationship with Schembechler after the coach took over U-M's team at the start of Taylor's sophomore year. " … But I didn't reach out to him or my family, teammates, friends. Because when you're doing something shameful, something negative, and that's really not you—I was out of control, and you want to hide that. You don't want people to know."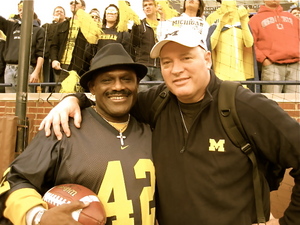 Photo courtesy of Dan Chace
Filmmaker and Ann Arbor native
Dan Chace
—who co-directed "Perseverance" with fellow U-M alum
Bob Hercules
, and will be on-hand with Taylor to answer questions after both screenings on Nov. 16—remembers this time vividly, since Taylor had been his childhood hero.
"My dad pointed out the (Ann Arbor News) article about his arrest … and said, 'Look what happened to Billy Taylor,'" Chace said. " … It was only two and a half years ago that I became interested again … and started looking into it. Reading (Taylor's) biography was the first thing that got me interested in reaching out and talking with him. But making a film was not my first impulse."
Indeed, Chace had studied theater at U-M and Yale, and had only dabbled in small film projects before taking on this documentary feature. But the cinematic arc of Taylor's life inspired Chace: for after battling addiction for years, and ending up homeless, Taylor eventually got sober, earned a PhD in educational leadership from UNLV, and opened a 160-bed facility (by way of his nonprofit organization, Get Back Up) for men in crisis in the Detroit area.
PREVIEW
"Perseverance: The Story of Dr. Billy Taylor"
What: One hour documentary about former Michigan star running back Billy Taylor who, in his last year of college, suffered numerous personal tragedies, which set him on the path of addiction, incarceration and homelessness. Eventually, though, Taylor turned his life around, and now dedicates himself to helping others in the Detroit area. Each screening will be followed by a discussion and Q&A with the filmmakers and Dr. Taylor.
Where: Michigan Theater, 603 E. Liberty St. in Ann Arbor.
When: Friday, Nov. 16 at 7:30 and 9:55 p.m.
How much: $15 ($12 for seniors and members, $10 for students). Advance tickets available at ticketweb.com.
"He had all this potential coming out of Michigan, and it wasn't until recent years, when he started his facility, that he really got plugged in, and now he's changing people's lives," said Chace. "For me, I had a similar experience with this project in that, I'd done many things, … but was never really accomplishing things at the level that I feel I should be at. I'm not beating myself up about it, but doing this project tapped into a feeling I had as a 10-year-old boy who was dreaming about a hero. … So it's been a delight, and it's been dream-like, and it's been one step at a time."
An inevitable difficulty in telling this kind of story, of course, is that Taylor necessarily had to re-visit himself at his worst, and hear some tough things from family members and friends.
"During the filming, my children … said what they had to say without me being present," said Taylor. "So it was their real feelings, and I was happy about that. And I fully understood. When I was gone, they didn't know if I was dead or alive. There was a two year period just prior to me getting clean and sober where I was eight miles away from my wife and kids, and they didn't see me. … There was no communication. I wanted to, but I was ashamed, I was embarrassed, I was hurting, so I self-medicated. … All the same time, I might add, I prayed. I was praying every day, … but I didn't think God was paying me any attention, because I kept doing the same thing over and over."
In 1997, though, while living on the street, Taylor heard a voice speak to him, and he hasn't had a drink, drug or cigarette since.
"Furthermore, I can say I've not had a bad day since August 17, 1997," said Taylor. "I'm not saying that I haven't had a headache. … I'm not saying my plans have worked out just like I wanted them to. … That's just life. … But to me, a bad day is being homeless; being addicted to drugs and alcohol; being incarcerated; sleeping in vacant houses and abandoned cars; being wet; being cold - those are bad days."
Taylor's Detroit facility, which opened in 2009, is decked out in maize and blue, has a Bo Schembechler meeting room, and spotlights not just Schembechler's famous "Those who stay will be champions" slogan, but also Taylor's own variation: "Those who stay clean will recover." But after all he's been through, how does Taylor feel when he watches old footage from his football days at Michigan?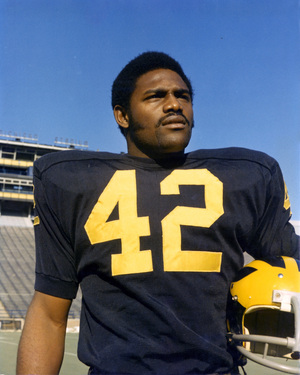 "I love it," said Taylor. "I'm a true blue Michigan fan, and I'm proud of my contribution here. It's rejuvenating to me. … I never worked so hard in all the days of my life as I did as a student athlete here at Michigan and playing for someone like Bo Schembechler. And I learned so much. The hard work, perseverance, setting goals, making plans, working to achieve those goals - all that stuff came in handy during my recovery."
Taylor, who now lives in Novi, tries to get to every Michigan home game. But that's not the only thing that excites him.
"My staff says to me, 'Dr. Taylor, why are you pumped up every day when you come in?'" Taylor said. "I say, 'I'm just blessed.' And I realize how blessed I am to have lived through all this. I've been shot at, been in accidents, been in fights—a lot of things that weren't good or nice. And yet I survived, and I'm in good health and in my right mind. … So I tell people that in my speaking, because I do some motivational speaking, that if I had to rename myself, it wouldn't be Billy Taylor or William Taylor or Dr. Taylor. It would just be one word: Grateful. Because that's me today. … When I wake up in the morning, I'm thanking God for another day."
Here's a trailer for "Perseverance."
Jenn McKee is the entertainment digital journalist for AnnArbor.com. Reach her at jennmckee@annarbor.com or 734-623-2546, and follow her on Twitter @jennmckee.