Posted on
Wed, Jul 20, 2011 : 1:03 p.m.
Bio-Artography booth at Art Fair merges science and art
By Jennifer Eberbach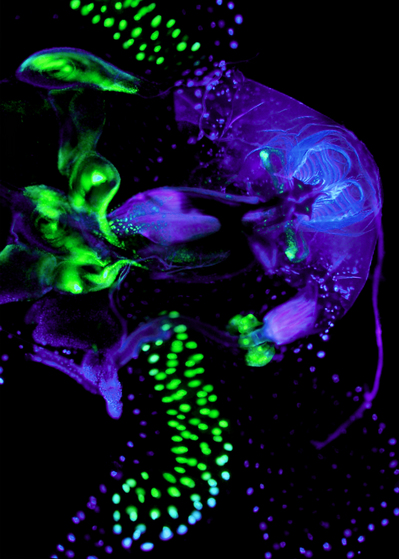 The
Bio-Artography booth
at the
Ann Arbor Art Fair
explores the intersections between science and art with a yearly display of artistic-looking scientific imaging. For the last six years, the
University of Michigan's Center for Organogenesis
has collected images taken under the microscope by students, postdoctoral researchers, faculty, and staff at the University of Michigan.
The Bio-Artography booth is # 155 located on the corner of East University and Willard at the South University Art Fair.
Deborah Gumucio, professor of cell and developmental biology and computations medicine and bioinformatics, uses her creativity to digitally clean up most of the images, sometimes changing their contrast, color, or composition to prepare them for Art Fair shoppers. A panel of professional artists and people associated with art, design, and architecture schools at U-M choose around 20 new images (from the 60 to 100 that are submitted each year) to feature in the booth, and they also bring back a handful of old favorites from past years.
"Mostly the images come from biological fields, but we also have bioengineering images that show inorganic things, like the scaffolds and structures that they make. We get images from chemistry, which are crystalline. For the most part, it is a whole ton of biological tissues of various animals," Gumucio explains. New this year, "we got images of bacteria and viruses for the first time."
All the money raised funds travel grants to send students and postgraduates to conferences and meetings. They give out the grant money in $500 chunks to applicants by lottery.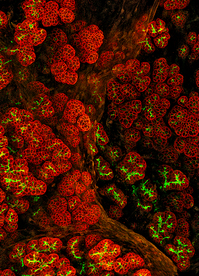 At the Art Fair booth, many people are first drawn in by the images' vibrant colors and aesthetically pleasing lines and abstractions. However, the science behind the images sparks many people's interest in the story behind them—perhaps it is a mouse pancreas, a picture of the hippocampus of the brain, or basel cell carcinoma.
A group of faculty and students from U-M sciences is on hand at the Art Fair booth to "field the questions and talk about the science," Gumucio explains.
The vast majority of biological tissues on display do not come from humans. Gumucio says there are human use issues that restrict that. However, certain cell lines that were sanctioned by the Bush administration before legislation against the use of embryonic stem cells appear at the booth. "There are certain established cell lines that are human lines including the famous HeLa line, which came from Henrietta Lax. It was the first cell line ever to be maintained and kept in a laboratory, and they were used for vaccine development and all kinds of things," she explains.
More on the fair
Additional Ann Arbor Art Fair stories:
Occasionally, "hot button issues" such as stem cell research, evolution, and the use of animals in research get people's back up at the Art Fair booth. However, according to Gumucio "it has seldom gotten confrontational," she says. "From time to time, it has gotten a little bit heated. We never tell them that their views are wrong, especially in the context of religious feelings about evolution. People come in with all sorts of world views, and our goal is not to change their world view." The group aims to "provide visitors with facts about science," and they "don't engage in ethereal projections," she explains.
The artworks toe the line between scientific authority and artistic creativity. Gumucio manipulates many of the images on the computer, applies filters, cleans images up when their resolution is low, changes hues and colors, adds things like dry brush or under painting in Photoshop, and plays around with the composition. Other images are unchanged or the scientist who takes the image is the one who adds artistic elements.
"It's blurring the line between art and science," Gumucio says.
She also points out that "scientific research relies on imagery," and scientists frequently manipulate tissues to better study them and see their inner workings. For example, "all tissues are transparent to begin with. To get the colors you see in scientific images we have to apply stains or antibodies" that alter the look, she explains. "We couldn't really study science they way we do without some level of creativity" coming into play, she says.
One of Gumucio's favorite works is called "Van Gogh's Skin," a picture of basel cell carcinoma. The image's creator Mark Hutchin (House Officer, Dermatology) added a yellow swirl to mimic the swirls in Van Gogh's painting "Starry Night."
She also reports that images of human embryonic stem cells are particularly popular with visitors at the Art Fair booth. And another favorite pictures the hippocampus of the brain, "the seed of memory," which appears like a blue and purple seahorse ("hippocampus" is the Greek word for "seahorse).
You can view a series of quilts inspired by the Bio-Artography project at the Biomedical Science Research Building (109 Zina Pitcher Place) at the U of M. Artists from Washington DC group Fiber Artists at Loose Ends visited the Art Fair booth and got the idea to travel quilts inspired by the original images at hospitals across the U.S.
Visit the Bio-Artography booth on East University Avenue, in the South University Art Fair. View and purchase Bio-Artography artworks anytime of year on their website, bioartography.myshopify.com