Posted on
Sun, Aug 29, 2010 : 5:20 a.m.
History - and some great music over the years - at fun, funky Blind Pig
By Roger LeLievre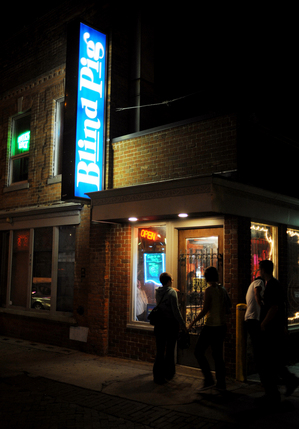 Melanie Maxwell | AnnArbor.com
One in an occasional series of feature articles on local music venues.
Ann Arbor's venerable Blind Pig is a place with plenty of history, probably because it's been around long enough to see it happen, and maybe even stir up a little notoriety itself.
The Pig's not fancy, and that's fine — in fact, some say the funkiness is part of the charm.
"I like it that it's kind of grungy. It's got a lot of personality," observed Ann Arborite Bill Melville, who was in the club recently to catch the monthly DJ gig from Ann Arbor Soul Club.
"It's just laid back and relaxed — not pretentious," agreed Laura Cooney, another local.
If you haven't been to the Pig in a while, don't worry — it probably hasn't changed much, except for one thing. As great an improvement as it is, a Blind Pig without cigarette smoke just doesn't seem the same, somehow.
In an Ann Arbor where nightspots seem to constantly change, the Blind Pig has been a cultural touchstone for almost 40 years. The club was opened by two University of Michigan seniors, Tom Isaia and Jerry Delgiudice, in 1971, according to a chronology posted on its Web page. The pair purchased an abandoned furniture store and named it Blind Pig after a slang term for police officers that had been bribed by speakeasy proprietors during '20s prohibition. When it opened, the Blind Pig was a café by day and a club by night, featuring blues music performed by some of the greats, including Koko Tayler, Boogie Woogie Red, Hound Dog Taylor and Roosevelt Sykes.
VENUE PROFILE
Where: 208 South First Street.
What: Down-to-earth Ann Arbor nightspot has hosted a wide range of performers, from local up-and-comers to national acts such as Nirvana and Soundgarden, since it opened in 1971.
Info: www.blindpigmusic.com or 734-996-8555.
In 1981, a local couple, Roy and Betty Goffett, bought and then expanded the business by purchasing an adjacent building and bringing the stage from the basement to the upper level. They also built an additional bar, the cozy 8 Ball Saloon, downstairs. The larger room soon became a destination for local acts and touring bands such as Joan Baez, Bo Diddley, George Thorogood, REM, 10,000 Maniacs, Sonic Youth, Soul Asylum, Soundgarden, Smashing Pumpkins, Pearl Jam and even Nirvana.
Jason Berry, who handles booking for the club, remembers the 1989 Nirvana show, as well as another act that just about destroyed the place.
"Nirvana's tour stop at the Pig went so well (singer) Kurt Cobain declared us his favorite venue on the planet. The tour was for s… until they came to the Pig, which sold out because the week before, Soundgarden told THEIR sold-out crowd to come back next week to catch 'their friends in a band called Nirvana,'" Berry recalled. He also remembers punk band Circle Jerks' near-destruction of the Pig in the early '80s. "The fans just started tearing the place apart after the show," he said.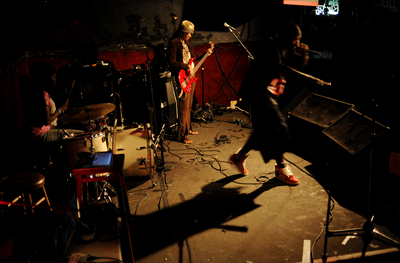 Melanie Maxwell | AnnArbor.com
Berry said it's the music at the Blind Pig that keeps customers coming back.
"People come here because of who's on the stage more than because it's the world- famous Blind Pig," he explained. "I think that's true for every room in the country. We're just a vessel. We facilitate and strengthen the ongoing relationship between the artist and their fans. The legendary status of the room is a byproduct of that. It is merely the result of bringing in what the people want to see for see for a very long time."
The things that make the Blind Pig so ideal for smaller acts such as the Ann Arbor Soul Club make it perfect other kinds of music as well — great sound, a decent-sized dance floor and an unpretentious atmosphere that makes it easy to let your hair down.
For Andrew Christopoulous of Grand Rapids, who drives over the club about once a month, the size of the Blind Pig is just right. "For Ann Arbor, it's a good venue to have. This is one of the few places that can accommodate a crowd of 100-200 people that actually want to dance," he said.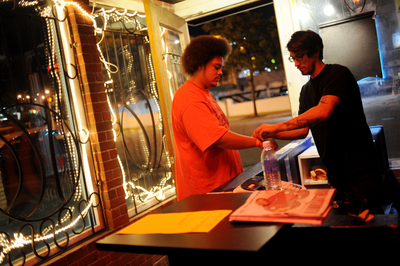 Melanie Maxwell | AnnArbor.com
As far as the decor goes, it's pretty typical, and definitely old-school. To enter, customers must first pass muster at the door ("Fake I.D.s and underage drinking don't happen here like they do elsewhere. We don't look the other way. We drop the hammer," Berry said). Mirrors make the club look bigger, red plush carpeting on some of the walls probably improve the acoustics. The bar and main seating area are up front, close to First Street, and the dance floor and stage are at the back. The 8 Ball is down a flight of stairs to the basement. Neon signs advertise various brands of beer, and framed drawings of musicians line the space above the bar. The Pig gives the impression of being solid and familiar, like it's been around for a while and has no plans to go anyplace else soon.
That's would be good news for Ann Arborite Melissa Landry, a frequent Pig-goer. "It's an outlet for all kinds of music," she said. "For a small venue the sound is pretty good, and they have good prices on drinks, which is important," added Ruby Hurliman, from the downriver Detroit area. Cooney agreed, adding that the Pig is "a good place to dance without the stereotypical Necto bump-and-grind thing. It's a more mature way to dance," she said.
Size is key to the Pig's success and longevity, said Berry, as is the club's proximity to the U-M. "A 400 (person) capacity allows us to survive on local music when the pickings are slim on the national touring circuit. Conversely, when the local scene is sparse, we can usually fill in the gaps with a billion tours available to us. We can adjust to ups and downs mainly because of our size."
As far as the U-M goes, "we only need 400 (students) to wander down here for a show to sell out." In the battle between Ann Arbor and Detroit for student business, Ann Arbor tends to win most of the time, Berry added.
Roger LeLievre is a free-lance writer who covers music for AnnArbor.com.