Posted on
Mon, Jun 17, 2013 : 1:18 p.m.
Bombshell Bingo at Cavern Club hosted by drag talent
By Ann Dwyer
This isn't your grandma's Bingo (but maybe it could be). Bombshell Bingo Blast is hosted by some of the most fabulous drag queens in the area at the Cavern Club.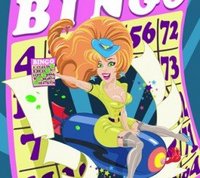 There will be prizes for the winners, and of course, entertainment and fun. The game will be hosted by Catia Lee Love, Barbra Seville, Hershae Chocolatae, Denise Russell, Daphne Ferraro, Tori Sass, Jadein Black, Chanel Hunter, Dazzle Dior and more
If you can't get enough drag entertainment, then be certain to stop by the Millennium Club on Fridays at 9 sand 11 p.m. for the Big Hair, Big Mouth, Big Fat Fun Show featuring even more drag queens than Bingo.
June 22 & 29, 2013. 7:30 & 10 p.m. $15 for entry and a Bingo card. The Cavern Club is located at 210 S. First St., Ann Arbor. 734-332-9900.