concert preview
Benefit concert to fund gravestone for local blues icon Boogie Woogie Red
Posted on Mon, Apr 23, 2012 : 6:49 a.m.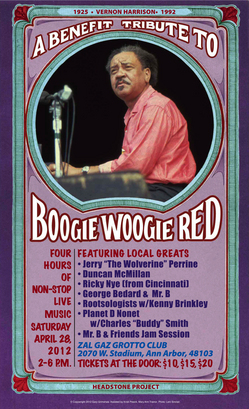 poster by Gary Grimshaw; photo by Leni Sinclair

The sad truth about many of the great old bluesmen (and women) who were a big influence on the generations of blues and rock musicians who followed is that many of them never earned much of a living from plying their musical trade.

So, they often died with little or no money left to pay for headstones for their graves. That's been a common tale all over America, for decades, but in recent years, various blues societies have done their part to rectify that sad situation.

In the Detroit area, the Detroit Blues Society's Memorial Project raises funds to pay for the grave makers for the various Detroit-area blues greats who have died in such circumstances.

Some of the local blues greats whose graves now have markers thanks to those efforts are Clarence Butler and Curtis Butler—The Butler Twins—as well as Uncle Jesse White, Willie D. Warren, Louis "Bo" Collins and, most recently, Vernon "Boogie Woogie Red" Harrison, who was a fixture on the Ann Arbor / Detroit blues scene for many years.

Indeed, Red had a standing gig at the Blind Pig in Ann Arbor every Monday night for 11 years, from the early '70s to the early '80s, and continued to play around the area until his arthritis forced him to quit. Red died in 1992, and the society has had a few fundraisers to pay for his grave marker. And last autumn, the society was finally able to buy the marker and have it installed on Red's grave in Lake Orion, in Oakland County.

So, as part of its ongoing fundraising for this kind effort, the society, in conjunction with other local groups, is presenting "A Benefit and Tribute to Boogie Woogie Red" on Saturday afternoon at the Zal Gaz Grotto club.

The proceeds will go to recoup the cost of Red's grave marker, and any surplus funds will be used to help the society continue the Project. The tribute will feature local blues and jazz artists like pianist Mr. B (Mark Braun)—a disciple of Red's who spent many hours listening to Red and then becoming friends with him—as well as RJ Spangler, George Bedard, Jerry "The Wolverine" Perrine and Duncan McMillan, as well as Ricky Nye from Cincinatti.
PREVIEW
A Benefit & Tribute To Boogie Woogie Red
Who: Mr. B, RJ Spangler's Planet D Nonet with Charles "Buddy" Smith, George Bedard, the Rootsologists with Kenny Brinkley, Jerry "The Wolverine" Perrine, Duncan McMillan, Ricky Nye and more. Guest hosts will be John Penney from WRCJ-FM, Jerry Mack from WCBN-FM and Michael G. Nastos from WEMU-FM.
What: A tribute to Boogie Woogie Red, the influential blues and boogie-woogie pianist who spent most of his life in Detroit and died in 1992. The event is also a fundraiser to help pay for Red's grave marker.
Where: Zal Gaz Grotto, 2070 W. Stadium Blvd.
When: Saturday, April 28, 2-6 p.m.
How much: $20, $15, $10. Tickets available at the door. More Info: 734-663-1202.
Spangler will actually front two bands at the show—The Rootsologists with Kenny Brinkley and Planet D Nonet with Charles "Buddy" Smith. Mr. B closes the show with a solo set and then a jam session with other artists on the bill.
"Red was a unique guy and a unique talent," says Braun, who has been banging the ivories around Ann Arbor and Detroit for more than 30 years, specializing in rollicking boogie-woogie and soulful blues. "He was a sweetheart of a guy, who meant a lot to me personally when I was young and learning what it meant to play piano blues.
"He was the first guy I started going to see regularly when I was old enough to go to clubs, and I think I saw him every Monday night at the Blind Pig for about 10 years. I have a lot of affection and remembrances of him, and could tell you many stories about him," says Braun.
"Red was an important and somewhat overlooked bluesman of the post-war generation," adds Spangler, who was chairman of the Society from 1992-'02 and now serves as vice president. "Putting headstones on unmarked bluesmens' and womens' graves is one way for us to pay homage to their legacies, and also draw attention to their music."
Red was born in Louisiana in 1924, and moved to Detroit with his family when he was just a child, and then spent most of the rest of his life in Detroit, save for a few years in Chicago, where he jammed with Lonnie Johnson, Tampa Red and Memphis Slim.
He also toured as the pianist in the bands of John Lee Hooker and Sonny Boy Williamson. He recorded a couple of solo albums for Blind Pig Records, a label that spun off from the Blind Pig club back in the 1970s and has been based in San Francisco for many years. Indeed, Red's "Live at the Blind Pig" was the label's very first release, according to the label's website.
"If it hadn't been for Red, I may not have stuck my neck out and gone on this odyssey to learn piano blues," says Braun.
By playing every Monday at the Pig, Red gave Ann Arbor audiences a glimpse into the world of blues musicians that they otherwise might not have had, says Braun.
"It was inspiring to see a real bluesman at work, and he was a good-natured guy who had a bit of the vaudevillian in him—his dad had been a vaudeville performer, and Red kept that tradition alive in his music. He was kind of a goofball onstage, constantly making jokes and delivering wisecracks.
"He could also be irascible at times, but I really loved him—that was a very exciting time in my life."
Braun remembers one night in the '70s, when he was standing outside of the Pig—"I was probably having a smoke," he recalls—when he saw that Red's car had stalled out on the railroad tracks near the Pig, and that a train was coming. "I could see that he couldn't get it started, and I ran over and pushed his car off before the train could hit it," remembers Braun with a wry, relieved laugh.
Braun also recalls going to see Red play in a Detroit club one night, when Red was on a bill with Blind John Davis and Sunnyland Slim. "All three of 'em played all night, and Red held his own, and maybe even came out on top.
"The thing about Red's style that I can hear in my own playing is that he had a very relaxed way of playing, as opposed to some younger players who came along later and came to it through the rock lens, and play really athletically," muses Braun.
"But like a lot of the older guys, Red came to it from the jazz perspective, and pulled some jazz into his playing, with his sense of swing and sense of timing. I always found that style, that approach to the piano, to be the most appealing, which is one of the many reasons I loved Red's playing."