Posted on
Wed, May 15, 2013 : 10:27 a.m.
Book-a-palooza to return to Common Language Bookstore
By Jenn McKee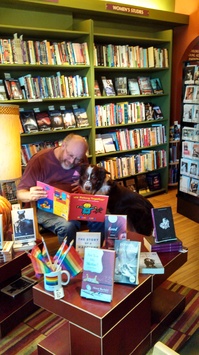 Though it's been a few years since the last one, Book-a-palooza—a large used book sale/fundraiser—is coming back to Ann Arbor's
Common Language Bookstore
. Funds from the sale support Common Language.
From the press release:
Hundreds of books have already been collected. Staff will accept further donations of books in good condition from any genre. They would also appreciate donations of plastic or paper grocery bags. If you would like to volunteer, there is plenty to do. The only items they are unable to accept are textbooks, VHS tapes, magazines or encyclopedias.

Book-a-Palooza will be held May 17th, 5 p.m.-10 p.m.; May 18th, 10 a.m.-10 p.m.; and May 19th, 10 a.m.-5 p.m., at 317 Braun Court in Ann Arbor. Used books from good to like-new condition will be available from all genres. There will be two tents set up: LGBT Favorites and Best Bargain Books. Everything is half-off on Sunday. We are hoping for warm weather, so free refreshments will also be available inside the bookstore.

Common Language Bookstore is an independent, Michigan-based bookstore that has been serving the feminist, lesbian, gay, bisexual and transgender (LGBT) community and their family and friends since 1991. For more information, call the store at 734-663-0036 or find us on Facebook.
Jenn McKee is an entertainment reporter for AnnArbor.com. Reach her at jennmckee@annarbor.com or 734-623-2546, and follow her on Twitter @jennmckee.